Marc Almert, World's Best ASI 2019 Sommelier and Chef Sommelier at Baur au Lac & Baur au Lac Vins, suggests a little trip with a selection of wines that delight him and certainly you too.
Marc's new discoveries and rediscovered classics are from winemakers with impressive personalities and signature like the following wines in his Selection. Click on the following wines to learn more about them:
More information about the first edition of the MARC ALMERT SELECTION here.
In the summer of 2018, I had the great pleasure of meeting Pierre-Luc Leyvraz and his team. Often called the "King of Chasselas" by numerous journalists, this definition is anything but exaggerated and seems fully justified you at the latest once you tasted his Saint-Saphorin "Les Blassinges" - a firework of aromas, salty minerality and great length on the palate, yet further enhanced by a buoyant lightness. A true "Grand Cru".
Order Les Blassinges here
Regrettably often underestimated and indeed almost unknown, the Chenin Blanc grape variety is one of the great classics of the wine world, particularly in its natural environment, the Loire Valley. There, biodynamic winegrowers such as François Chidaine create outstanding wines that delight the palate with a seductive blend of acidity and fruity sweetness. Popularly enjoyed locally with goat cheese, these wines also readily complement more spicy dishes, e.g. Sichuan-style cuisine.
Order Les Bournais here
It is in Bergheim, a picturesque little town nestled in the heart of wine-growing Alsace, that Marcel Deiss works the vines in a very classical way: different varieties of vines grow in what is known as wild and mixed cultures, an approach already common in the Middle Ages to guarantee stable yield and quality, also to make the vines more resistant. He cultivates them according to the historical principles of Rudolf Steiner, the founder of biodynamics. Stating that classical approaches often bring excellent fruit is proved by tasting his "Engelgarten": a fascinating wine that lingers on the palate, always changing in the glass, revealing a new aroma with every new swirl.
Order Engelgarten here
Even in Germany, the Middle Rhine is better known for the Loreley Rock than for the best Rieslings growing there - wrongly, however, as this perfectly balanced "Riesling Spätlese" (late harvest) proves impressively. Together with the know-how of a dedicated family of winegrowers and, in the meantime, a few years of bottle age, the steep slate slopes contribute to produce a wine that will be remembered for a long time: light in alcohol, with a lively acidity as well as a wonderful minerality and a cheerful fruity sweetness.
Order Wolfshöhle here
In French bistros, you are often served a fruity, strong and spicy wine by the glass. Looking at the label, it usually turns out to be a product of the southern Rhône region. Fortunately, it's now possible to enjoy these wines here at home too. Small wineries like the charming Domaine de Cabasse press a red wine that ideally accompanies a diversity of dishes. Moreover, after a rather generous wine tasting, you can even enjoy a wonderful night's sleep at the adjacent hotel.
Order Gigondas Jucunditas here
Few regions in France have recently reinvented themselves as markedly as the Beaujolais. While the local Gamay continued to be transformed into a fruity "Beaujolais Nouveau" until just a few years ago, wineries such as Perrachon are now creating wines of character with real ageing potential - even from partially century-old vines! Ideal for all those who are looking for a red wine that is both light and fascinating.
Order the Juliénas here
In recent years, Arnaud Mortet has become the Shooting Star of Gevrey-Chambertin. With an unbeatable price/quality ratio, he combines five sites to create a Gevrey-Chambertin Village that says it all. A beguiling fruit, a grandiose minerality and an almost infinite length on the mouth... Enough to make you want to taste one of his Premiers or Grands Crus as well.
Order the Gevrey-Chambertin here
Mourvèdre - known in Australia as Mataro - is allowed to play the leading role in only a few of the world's wines. So here it is in the limelight, alongside with a Grenache Noir and a Shiraz. The result? A dark, spicy and very intense wine with full-bodied tannins that will easily stand up to steaks, stews and game. Thanks to its slightly aromatic notes, it also stands out for its balanced freshness. Barossa at its best.
Order the Moonlight Run here
It all started with the bold idea of creating a new cult wine from South Africa. So, four friends - all with a 'G' in their name - joined forces to create a multi-district blend with a lot of international know-how and meticulous attention to detail. In fact, in various blind tastings, it has already beaten various classics. Even when still young, their 'Echo' proves an easily accessible wine, while in the cellar, its older brother is still waiting to reach optimal drinking maturity.
Order the Echo of G here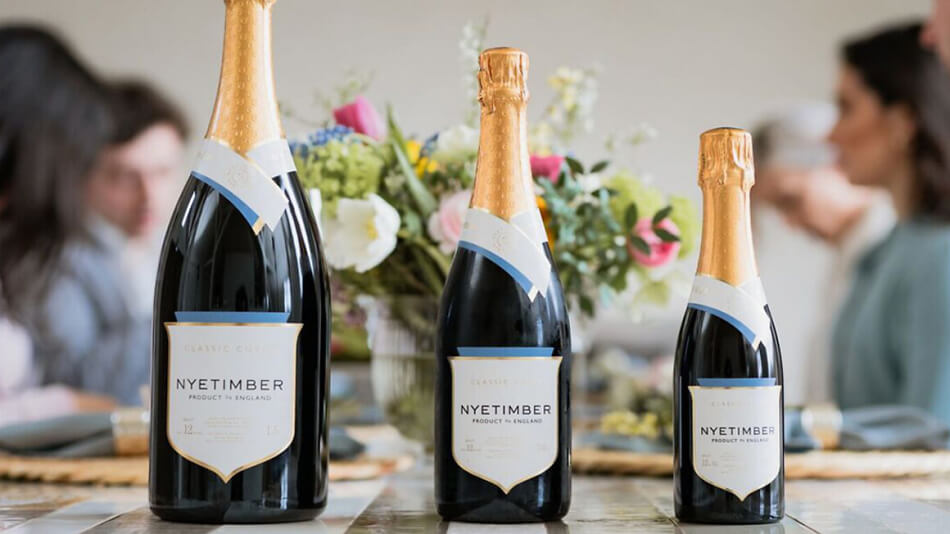 In the international wine world, British sparkling wines are currently on everyone's lips. Today, the average climate in the south of England resembles that of Champagne 20 years ago. The first pioneers - including Nyetimber - planted vines here several decades ago. Everybody knows the ancient chalk cliffs of England: that said, even the soils of the vineyards around Sussex, Kent & Co. are renowned for their high limestone content - as are the soils of the Champagne area. No wonder then, that England has now become one of the most dynamic 'sparkling' regions in the world.
Order Nyetimber Brut here
Sherry is having a hard time being liked... Many fear its sweetness, are not willing to discover its different styles and therefore prefer to avoid it completely. To me, simply incomprehensible because in Jerez, something has been produced that practically no other wine region in the country has been able to do: to focusing on long years of ripeness, drought, stimulating salinity and a history turned into liquid - all at a truly incredible price. In other words: an experience to be reattempted, preferably with this very successful Amontillado. Whether as pre-dinner drink or as an accompaniment to an 'apéritif riche' with salted ham, instead of a white wine with your starter, in combination with a hard cheese, as ...
Order Amontillado Sherry here