 Grahams Vintage Port
DO Douro, 1994
In stock
Article nr. 61020794
| | |
| --- | --- |
| Grape variety: | Tinta Roriz, Touriga Franca, Tinta Barroca, Tinta Cão, Touriga Nacional |
| Producer: | Diverse |
| Origin: | Portugal / Porto |
| Other vintages: | |
Product information
Wine description with logo
Wine description whitout logo
Wine description with logo
Wine description whitout logo
Attributes
| | |
| --- | --- |
| Origin: | Portugal / Porto |
| Grape variety: | Tinta Roriz, Touriga Franca, Tinta Barroca, Tinta Cão, Touriga Nacional |
| Volume: | 20.5 % |
Countries
Portugal
Portugal – Much more than port
Situated on the southwestern tip of Europe, this country is, despite its small size, blessed with a multitude of landscapes. Austere mountains alternate with green valleys and golden beaches. Vines have thrived against this backdrop for over 4,000 years, brought to the peninsula by Phoenicians, Greeks, and Romans.
Portugal has over 500 autochthonous varieties. The term derives from ancient Greek, and means roughly "of the land itself."
Grape varieties
Touriga Nacional
The Touriga Nacional originally comes from the Dão, in the heart of Portugal. There is a village there named Tourigo. But it became famous in the Douro Valley, where port wine is produced. When the five best varieties were selected from the motley assortment of grapes growing in the vine terraces in the 1980s, the Touriga Nacional was the first choice. It smells of cassis, raspberry, plum, violet and liquorice, and is concentrated on the palate with supple tannins. It does well not only in port wine, but also in dry reds. Solo, the Touriga Nacional tastes almost too intense; therefore, it is usually blended with other varieties such as Touriga Franca and Tinta Barroca. Developed in barriques, the wines show their full potential. In the past ten years, the cultivation area of this grape has more than doubled, and spread to the whole of Portugal.
Touriga Franca
Ingredient for red wine and port.
The Touriga Franca is at home in the rugged beauty of the Portuguese Douro Valley. On the slate terraces over the river, the grapes were traditionally grown in mixed settings. Up to 80 different vine varieties shared a single parcel. Not even the vintners knew which variety they were dealing with. In the 1980s, Ramos Pinto undertook to identify the five best grape varieties for port wine production. One member of this selection was Touriga Franca. It shines with its deep red colour, intense aromas of blackberry, rose and wildflowers, its full-bodied structure and velvety tannins. Port wine was once dominant on the Douro. But for 15 years the dry red wines here have experienced an unprecedented boom. The Touriga Franca almost always plays a part. It is mostly blended with Touriga Nacional and Tinta Roriz.
Tinta Barroca
It is aptly named: Tinta Barroca means "the dark baroque". In fact, this variety yields very dark wines with good body and opulent aromas. They smell of plum, cherry and blackberry, have a lot of alcohol and low acidity. The Tinta Barroca has its home in the northern Portuguese Douro Valley. Traditionally, it has gone into port wine, but it is now also an element of the booming red wines from this area. Alone, it turns out somewhat rustically. Therefore, it is wedded with other quality varieties from the Duoro, like Touriga Nacional or Tinta Roriz.
Tinta Roriz
leather and spices, it gives the Rioja its face. In the Ribera del Duero, it is known as Tinta del país. Here it turns out focused and muscular. As it has inhabited the Iberian Peninsula for centuries, it is known under countless synonyms. Across the border in Portugal, it is called Tinta Roriz, and lends colour and body to port wine. It also plays an important role in the booming wine scene of the Douro Valley. The Tempranillo owes its name to its early maturity – "temprano" in Spanish means "early". Tip: do it like they do in Spain and enjoy it with lamb.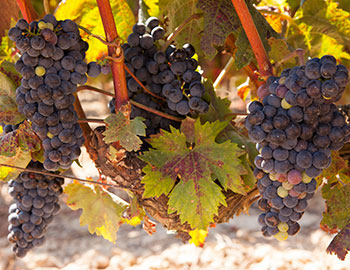 Tinta Cão
The wine that inspired Portuguese literature
This red Portuguese variety's name means "red dog." However, how it came by this rather strange name is completely unknown. Interestingly, the grapes are not toxic to most animals; yet in some dogs just 10 grams of grapes per kilogram of body mass can be fatal.
This autochthonous red variety was first mentioned in the mid-17th century in the Portuguese literature. The artist Rebello da Fonseca wrote succinctly: "Tinto Cão is one of the varieties that makes good wine in the Douro."