 Syrah/Bonarda Crios
Mendoza, Susana Balbo Wines, 2012
In stock
Article nr. 51035712
| | |
| --- | --- |
| Grape variety: | Syrah, Bonarda |
| Producer: | Susana Balbo Wines |
| Origin: | Argentina / Mendoza |
Description
Purplish red with blackish nuances. The nose offers aromas of black fruit and black olive. On palate this silky, nicely extracted wine delivers beautiful notes of coffee, cocoa and black fruit. Full tannins harmonise well with a balanced body and agreeable length.
Product information
Wine description with logo
Wine description whitout logo
Wine description with logo
Wine description whitout logo
Attributes
| | |
| --- | --- |
| Origin: | Argentina / Mendoza |
| Grape variety: | Syrah, Bonarda |
| Maturity: | 1 to 5 years |
| Serving temperature: | 16 to 18 °C |
| Vinification: | fermentation in steel tank |
| Harvest: | hand-picking |
| Maturation: | in used barriques |
| Maturation duration: | 9 months |
| Volume: | 13.5 % |
Countries
Argentina
Where nostalgia tangoes with innovation
Snow-covered Andean peaks and salt lakes, deserts, rugged mountain villages, elegant colonial cities, vibrant metropolises, red canyons and green valleys – Argentinian has them all. And, of course, excellent wine. Argentina is named after the Latin word for silver, "Argentum," because of the treasures expected to be found there. Among others, homesick colonialists and Catholic priests had a hand in cultivating these liquid treasures, and today there are approximately 220,000 hectares of vineyards.
Regions
Mendoza
Whenever someone talks about Argentinian wine, they generally mean wines from Mendoza. Roughly 60 percent of all Argentine wines are produced around the metropolis of the same name. In particular, Malbec, a red wine variety originating from southwestern France, has found a new home here, providing focused, well-structured wines. Cabernet Sauvignon and Chardonnay also thrive. The best wines result from high elevations, in the foothills of the Andes
Producers
Susana Balbo Wines
The mighty Aconcagua watches over the plain of Mendoza, 1000 kilometres from Argentina's capital Buenos Aires. A barren, semi-arid land where Jesuits and Franciscans, after the Spanish conquest in the 16th century, discovered favourable natural conditions for viticulture.
At 1000 to 3000 meters above sea level lies this oldest and most important wine region of the country. The village of Agrelo, near Luján de Cuyo, is home to the bodega founded by Susana Balbo in 1999. She is a woman with an impressive career. In 1981, she became the first woman in Argentina to successfully complete her degree in œnology. In 2015, Drinks Business magazine named her "Woman of the Year". In 2018, she was recognised as one of the ten most influential women in the international wine trade. She also presided over the national marketing organisation Wines of Argentina for several years.
Grape varieties
Syrah
The legend stubbornly persists that the Syrah variety came from the Persian city of Shiraz. Yet, researchers have shown that it is a natural crossing of two old French varieties: the red Dureza from the Rhône Valley and the white Mondeuse blanche from Savoy. Wines from Syrah are gentle and concentrated. They smell of dark berries, violets and liquorice, and amaze with a piquant touch of white pepper. As varietal wines, they are found on the northern Rhone, as in the Hermitage or Côte Rôtie appellations, as well as in Swiss Valais. In the southern Rhône Valley, Syrah is often wedded with Grenache and Mourvèdre. In 1832, a Frenchman brought the variety to Australia, where it became the emblem of the national wine industry. There, the weightiest versions develop with typical notes of tar and chocolate.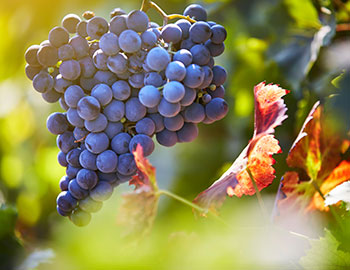 Bonarda
Confusion from Italy to Argentina
An epic confusion surrounds the Bonarda vine variety. At least six different grapes in northern Italy bear this name. The most widespread is the Bonarda Piemontese. Vintners from Piedmont gladly wed them with Nebbiolo in order to soften its youthful gruffness. For the Bonarda seduces with soft tannins and fragrant, red-berried fruit. Argentina also has a vine variety is known by Bonarda. However, this one is related to the Piedmontese Dolcetto.
Epicurean profile