 Malbec Winemaker Series
Valle de Uco - Mendoza, Marcelo Pelleriti Wines, 2016
In stock
Article nr. 51057716
| | |
| --- | --- |
| Grape variety: | Malbec |
| Producer: | Marcelo Pelleriti Wines |
| Origin: | Argentina / Mendoza / Valle de Uco |
Description
A youthful and fresh bouquet with notes of cherry, raspberry and red plum. Hints of rose petals, mint and white pepper gives this Malbec an intriguing spiciness. On the palate, sour and sweet cherries combine with plum compote and spicy, dark, warm notes of cinnamon sticks, vanilla and Mascavo sugar. Mint and noble cedar wood also contribute to the melody. A lively, velvety wine for connoisseurs with a pleasant, slightly bitter, finish. In short: a symphony of flavours, but none too loud: pure pleasure in the mouth that you will certainly not tire after a single glass.
Product information
Wine description with logo
Wine description whitout logo
Wine description with logo
Wine description whitout logo
Attributes
| | |
| --- | --- |
| Origin: | Argentina / Mendoza / Valle de Uco |
| Grape variety: | Malbec |
| Maturity: | 3 to 10 years |
| Serving temperature: | 16 to 18 °C |
| Drinking suggestion: | Latin American dishes, Spiced grillades, Bistecca fiorentina, T-Bone steak, Vegetable cous-cous, Hearty stew with pulses |
| Vinification: | Punching down, biological acid degradation in barrel, fermentation at low temperatures |
| Harvest: | hand-picking |
| Maturation: | in used barriques |
| Maturation duration: | 12 months |
| Volume: | 14.5 % |
Countries
Argentina
Where nostalgia tangoes with innovation
Snow-covered Andean peaks and salt lakes, deserts, rugged mountain villages, elegant colonial cities, vibrant metropolises, red canyons and green valleys – Argentinian has them all. And, of course, excellent wine. Argentina is named after the Latin word for silver, "Argentum," because of the treasures expected to be found there. Among others, homesick colonialists and Catholic priests had a hand in cultivating these liquid treasures, and today there are approximately 220,000 hectares of vineyards.
Regions
Mendoza
Whenever someone talks about Argentinian wine, they generally mean wines from Mendoza. Roughly 60 percent of all Argentine wines are produced around the metropolis of the same name. In particular, Malbec, a red wine variety originating from southwestern France, has found a new home here, providing focused, well-structured wines. Cabernet Sauvignon and Chardonnay also thrive. The best wines result from high elevations, in the foothills of the Andes
Grape varieties
Malbec
The Malbec once belonged to the classic assortment of varieties from Bordeaux. But it was demanding to cultivate, and in the changeable climate of the Bordelais it often became green and herbaceous, so winemakers replaced it with Merlot in the middle of the 20th century. Luckily, the Malbec found a new home in Argentina. In 1868, a Frenchman brought the first stocks along to the land of the Andes. Today, the Malbec is the most-planted variety there. Especially in Mendoza, it shows what it can do: it yields very dark, well-structured wines with aromas of black fruit, violets and game. They just call out for an Argentinean steak! The Malbec has its origins in Cahors, in southwestern France. There, it is kept today under the name Cot. Due to their earthy tannins, in the middle ages the growths from this area were also called "the black wines of Cahors".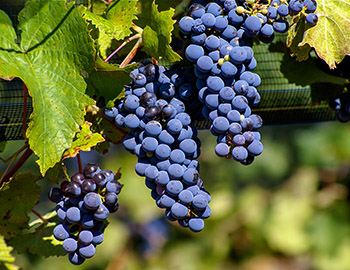 Epicurean profile
Rating