 Bin 707, Cabernet Sauvignon 1990
Penfolds, 750 ml
Gift box available!
In stock
Article nr. 52051798
Items available in the stores
Gift box available!
Grape variety
Cabernet Sauvignon
The Cabernet Sauvignon gives the Bordeaux its backbone, yielding deep violet wines with powerful tannins and endless ripening potential. It is the top dog in Médoc, and is placed in all five premier crus of Bordelais. When young, it often appears strict and unapproachable, but with advancing years, its tannins round off. It is wonderfully velvety, and yet always maintains its freshness. Typical flavours include cassis, graphite and cedar. Wherever Cabernet Sauvignon is found, Merlot is not far away. It complements the robust structure of Cabernet with softness, fruit and richness. The Cabernet Sauvignon is the most-exported vine in the world. It delivers persuasive qualities in Italy as an ingredient of the Super Tuscan, or as the flagship variety from California. There, it is lovingly titled "Cab Sauv". Meat fans should be aware that it fantastically accompanies a grilled entrecôte. The family tree of Cabernet Sauvignon is surprising: its parents are Cabernet Franc and the white Sauvignon blanc.
Subregion
Barossa Valley
Barossa Valley: well-proportioned abundance
The Barossa Valley is the epitome of Australian red wines with lavish fruit richness and focused strength. But the valley is not just a preferred terroir for Shiraz, Grenache, Cabernet, and co. – there are also huge winery facilities where grapes are processed from other cultivation areas in South Australia. Thus, the valley has become a center of Australian winemaking, bringing concentrated yet balanced crops into bottles.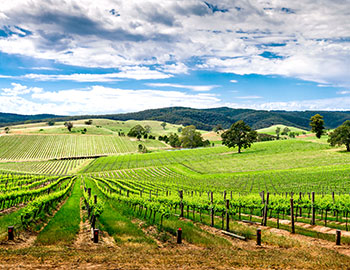 Region
South Australia
South Australia: Shiraz as a driving force
South Australia, with the Barossa Valley as the most well-known cultivation area and the city of Adelaide as a wine metropolis, is without a doubt the centre of the Australian wine economy. The wines produced here have brought the Shiraz from "down under" worldwide recognition. They are fully concentrated wines with dark-berried cassis fruit and masterfully supportive oak wood spices. But Chardonnay, Cabernet Sauvignon, Merlot and Riesling play more than just a supporting role.
Country
Australia
Australia – A rapid rise to the international elite.
Australia, separated from the other continents by oceans for roughly 50 million years, has almost two hundred years of viticulture history. For a long time, Australians pressed their wines for their own use, with simple, undemanding vines. But later the country began to specialize in classic, European varieties. And with great success –Australian wines today enjoy great prestige and are consumed worldwide..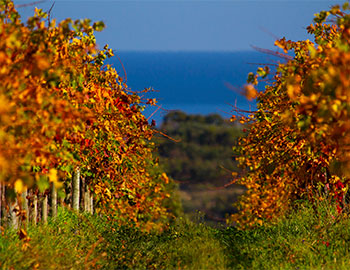 Rating