 The Moonlight Run
Barossa Valley, Massena, 2016
In stock
Article nr. 52036716
| | |
| --- | --- |
| Grape variety: | Mataro, Grenache, Shiraz, Cinsault |
| Producer: | Massena / Jayson Collins |
| Origin: | Australia / South Australia / Barossa Valley |
| Other vintages: | |
Description
Deep, lively red colour with purple hue. The nose has an intense concentration of overripe blackcurrant, eucalyptus and smokiness. On palate the wine is powerful and concentrated but also has a lively freshness that comes though to balance the opulence of the old vines. A wine of enormous length that represents what the Tanunda Valley does best.
Product information
Wine description with logo
Wine description whitout logo
Wine description with logo
Wine description whitout logo
Attributes
| | |
| --- | --- |
| Origin: | Australia / South Australia / Barossa Valley |
| Grape variety: | Mataro, Grenache, Shiraz, Cinsault |
| Maturity: | 2 to 12 years |
| Serving temperature: | 16 to 18 °C |
| Vinification: | fully destemmed, use of traditional basket press, fermentation in cement tank |
| Maturation: | in used barriques |
| Maturation duration: | 12 months |
| Volume: | 14.0 % |
Countries
Australia
Australia – A rapid rise to the international elite.
Australia, separated from the other continents by oceans for roughly 50 million years, has almost two hundred years of viticulture history. For a long time, Australians pressed their wines for their own use, with simple, undemanding vines. But later the country began to specialize in classic, European varieties. And with great success –Australian wines today enjoy great prestige and are consumed worldwide..
Regions
South Australia
South Australia: Shiraz as a driving force
South Australia, with the Barossa Valley as the most well-known cultivation area and the city of Adelaide as a wine metropolis, is without a doubt the centre of the Australian wine economy. The wines produced here have brought the Shiraz from "down under" worldwide recognition. They are fully concentrated wines with dark-berried cassis fruit and masterfully supportive oak wood spices. But Chardonnay, Cabernet Sauvignon, Merlot and Riesling play more than just a supporting role.
Subregions
Barossa Valley
Barossa Valley: well-proportioned abundance
The Barossa Valley is the epitome of Australian red wines with lavish fruit richness and focused strength. But the valley is not just a preferred terroir for Shiraz, Grenache, Cabernet, and co. – there are also huge winery facilities where grapes are processed from other cultivation areas in South Australia. Thus, the valley has become a center of Australian winemaking, bringing concentrated yet balanced crops into bottles.
Grape varieties
Grenache
Grenache seldom comes alone
Spaniards and Sardinians make the Grenache contentious: both claim it originated from their country. In fact, it had already appeared in both places by the 16th century. But a large number of mutations in Spain indicates that it has deeper roots on the Iberian Peninsula. The Grenache is meaty and spicy, with a wonderful, fruity sweetness and rich aromas of blackberry, cassis, plums and pepper. Under the name Garnacha, it contributes fullness to the Rioja. In Sardinia it is called Cannonau, where it yields strong, expressive wines. But its stronghold is in France. Grenache is the star in Châteauneuf-du-Pape and streams into many other assemblages from the south. Its preferred partners are Syrah and Mourvèdre. This blend is also very popular abroad. In Australia, these wines are simply called "GSM".
Mataro
Mataro is a synonym for the Monastrell / Mourvèdre vine.
Shiraz
The legend stubbornly persists that the Syrah variety came from the Persian city of Shiraz. Yet, researchers have shown that it is a natural crossing of two old French varieties: the red Dureza from the Rhône Valley and the white Mondeuse blanche from Savoy. Wines from Syrah are gentle and concentrated. They smell of dark berries, violets and liquorice, and amaze with a piquant touch of white pepper. As varietal wines, they are found on the northern Rhone, as in the Hermitage or Côte Rôtie appellations, as well as in Swiss Valais. In the southern Rhône Valley, Syrah is often wedded with Grenache and Mourvèdre. In 1832, a Frenchman brought the variety to Australia, where it became the emblem of the national wine industry. There, the weightiest versions develop with typical notes of tar and chocolate.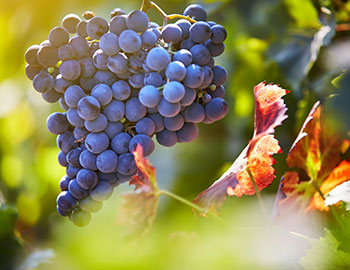 Cinsault
The southern French Cinsault, also written Cinsaut, is a curiosity among the grape varieties. It belongs to the so-called "dyer grapes". These are red grapes in which the pigments sit not only in the skins but also in the flesh. That means, when the Cinsault is pressed, pink juice results, rather than the white you see from other grapes. Previously, the Cinsault was used to spice up lighter-coloured Burgundy. But now it has become emancipated. With a soft, fruity style, seductive raspberry and strawberry aromas and good aging potential, it mixes with the most renowned growths from the southern Rhône, around the Châteauneuf-du-Pape. Solo, it yields wonderfully aromatic rosés.