 Shiraz Reserve
Heathcote, Wild Duck Creek, 2017
750 ml
Selection Baur au Lac Vins
30
In stock
Article nr. 52032717
Description
Expressive bouquet with a lot of ripe dark fruit, aromas of fruit in rum, blackcurrant, chocolate and coffee. On the palate rich and concentrated with a wonderful balance between fruit and acidity. Long, never-ending finale. Very good ageing potential.
Attributes
| | |
| --- | --- |
| Origin: | Australien / Victoria / Bendigo Heathcote |
| Grape variety: | Shiraz |
| Ripening potential: | 8 to 20 years |
| Serving temperature: | 16 to 18 °C |
| Vinification: | Punching down, use of traditional basket press |
| Harvest: | hand-picking |
| Maturation: | in new barriques |
| Maturation duration: | 24 months |
| Volume: | 16.0 % |
| Note: | Contains sulphites |
Countries
Australia
Australia – A rapid rise to the international elite.
Australia, separated from the other continents by oceans for roughly 50 million years, has almost two hundred years of viticulture history. For a long time, Australians pressed their wines for their own use, with simple, undemanding vines. But later the country began to specialize in classic, European varieties. And with great success –Australian wines today enjoy great prestige and are consumed worldwide..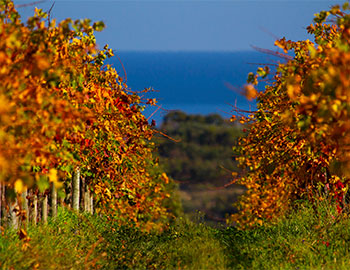 Regions
Victoria
Victoria: amazing variety
The wine region of Victoria, which surrounds the Melbourne metropolis, often stands in the shadow of South Australia. This is economically justifiable, as the 17,000 hectares planted with vines in Victoria amount to only a quarter of South Australia's cultivation area. On the other hand, Victoria is untouchable in terms of the diversity of its wines. In various climate zones, one can discover Burgundian Pinot Noirs, fully structured Shirazes and sweet wines that have matured for decades. Victoria is a true magician's cabinet of Australian wines.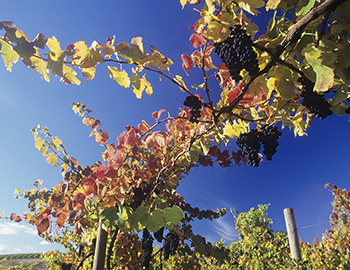 Subregions
Heathcote
Heathcote: Ein Terroir für Shiraz und mehr
Ein Gürtel aus verschiedenen Weinregion umschliesst im Bundesstaat Victoria die Millionen-Metropole Melbourne. Noch wenig bekannt sind die Appellationen in Central Victoria, die sich nördlich von Melbourne im Landesinnern befinden. Dabei hat gerade hier in den letzten Jahrzehnten eine dynamische Qualitätsentwicklung stattgefunden. Im ländlichen Heathcote etwa, reifen in einem gemässigten Klima auf rot schimmernden Verwitterungsböden kräftige, aber gut strukturierte Shiraz-Weine von mittlerem Alkoholgehalt.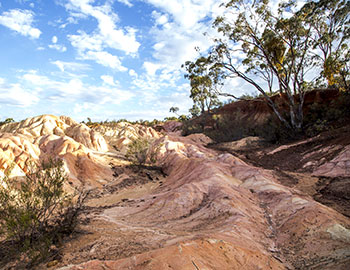 Grape varieties
Shiraz
The legend stubbornly persists that the Syrah variety came from the Persian city of Shiraz. Yet, researchers have shown that it is a natural crossing of two old French varieties: the red Dureza from the Rhône Valley and the white Mondeuse blanche from Savoy. Wines from Syrah are gentle and concentrated. They smell of dark berries, violets and liquorice, and amaze with a piquant touch of white pepper. As varietal wines, they are found on the northern Rhone, as in the Hermitage or Côte Rôtie appellations, as well as in Swiss Valais. In the southern Rhône Valley, Syrah is often wedded with Grenache and Mourvèdre. In 1832, a Frenchman brought the variety to Australia, where it became the emblem of the national wine industry. There, the weightiest versions develop with typical notes of tar and chocolate.