 Certified integrated production
Sankt Laurent
QWt Carnuntum, Weingut Trapl, 2013
750 ml
Selection Baur au Lac Vins
30
In stock
Article nr. 40036713
Countries
Austria
Austria – Sumptuous culture, accessible to all
Austria is characterized by unbelievable topographical diversity. A flat steppe in the east, forests and hills in the Alpine regions, wetlands and Mediterranean landscapes in the south. This in addition to a rich tradition and even greater love. It's no surprise that the Romans found joy on this patch of Earth and cultivated wine growing. Austrian wine is not abundant, but it is high quality.
Regions
Niederösterreich
Lower Austria: crus near and far from the Danube
Austria's largest state is also its largest wine region. 46,000 hectares are planted with vines in Lower Austria. It is a heterogenic wine region, consisting of eight wine growing areas. While white varieties like Grüner Veltliner and Riesling dominate in the areas north and west of Vienna, red varieties set the tone in the south and in the southeast (Thermenregion and Carnuntum). The internationally famous white crus from Grüner Veltliner and Riesling develop in the picturesque Wachau and Kamptal.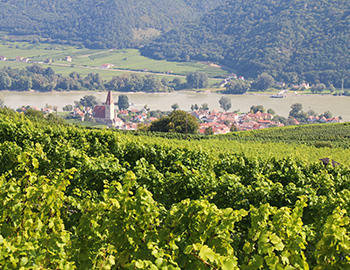 Subregions
Carnuntum
Carnuntum: Red finesse in Zweigelt country
With a cultivation area of just 910 hectares, stretching from Vienna's city limits to the Slovak border, Carnuntum is one of Austria's smallest wine regions. However, a wide diversity of red wines is cultivated here, from drinkable Zweigelt Rubin to multi-faceted Blaufränkisch from Spitzerberg to Merlot and Cabernet Sauvignon. Also highly interesting is the interplay between Bordeaux varieties and the native Zweigelt and Blaufränkisch cultivars.
Producers
Weingut Trapl
With such consistency, it is not surprising that Johannes Trapl has been farming his fine family business, on which 70% red grape varieties thrive, biodynamically since 2015 - followed by Demeter certification in 2019.
Grape varieties
Sankt Laurent
The berries of the Saint Laurent fade from the tenth of August, St. Lawrence's day, the patron saint of chefs. In its homeland in Austria, the variety was formerly called Laurenzitraube. With its aroma of fresh sour cherries and elegant tannins, it appears to be a more powerful version of Pinot noir. However, the two are not related. The Saint Laurent is currently undergoing a boom. Its wines are deep-red, velvety, full-bodied and aromatic. Above all, the qualities from the oak barrels delight lovers of softer, fuller reds. Yet the largest cultivation area is not in Austria, but the Czech Republic. A little anecdote: the Saint Laurent lost its halo there during the Soviet era, and was allowed only to be called Vavrinecké instead of Svatovavrinecké.