 Certified integrated production
Tilhofen
QWt Carnuntum, Weingut Trapl, 2013
750 ml
Selection Baur au Lac Vins
30
In stock
Article nr. 40031713
| | |
| --- | --- |
| Grape variety: | Cabernet Sauvignon, Zweigelt, Merlot, Blaufränkisch |
| Producer: | Weingut Trapl |
| Origin: | Austria / Niederösterreich / Carnuntum |
| Other vintages: | |
Attributes
| | |
| --- | --- |
| Origin: | Austria / Niederösterreich / Carnuntum |
| Grape variety: | Cabernet Sauvignon, Zweigelt, Merlot, Blaufränkisch |
| Serving temperature: | 16 to 18 °C |
| Food pairing suggestion: | Châteaubriand, Filet Wellington, Goulash, boeuf bourguignon, Rabbit ragout with olives, Roast saddle of venison, Hearty stew with pulses |
| Vinification: | long must fermentation, Punching down |
| Harvest: | strict selection, in small boxes, hand-picking with simultaneous grape sel |
| Maturation: | in tonneau, in used barriques |
| Bottling: | no filtration |
| Maturation duration: | 18 months |
| Volume: | 14.0 % |
| Note: | Contains sulphites |
Countries
Austria
Austria – Sumptuous culture, accessible to all
Austria is characterized by unbelievable topographical diversity. A flat steppe in the east, forests and hills in the Alpine regions, wetlands and Mediterranean landscapes in the south. This in addition to a rich tradition and even greater love. It's no surprise that the Romans found joy on this patch of Earth and cultivated wine growing. Austrian wine is not abundant, but it is high quality.
Regions
Niederösterreich
Lower Austria: crus near and far from the Danube
Austria's largest state is also its largest wine region. 46,000 hectares are planted with vines in Lower Austria. It is a heterogenic wine region, consisting of eight wine growing areas. While white varieties like Grüner Veltliner and Riesling dominate in the areas north and west of Vienna, red varieties set the tone in the south and in the southeast (Thermenregion and Carnuntum). The internationally famous white crus from Grüner Veltliner and Riesling develop in the picturesque Wachau and Kamptal.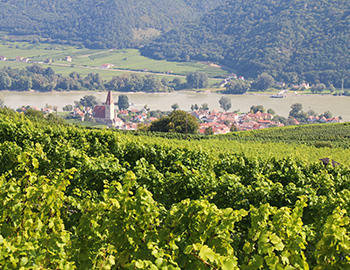 Subregions
Carnuntum
Carnuntum: Red finesse in Zweigelt country
With a cultivation area of just 910 hectares, stretching from Vienna's city limits to the Slovak border, Carnuntum is one of Austria's smallest wine regions. However, a wide diversity of red wines is cultivated here, from drinkable Zweigelt Rubin to multi-faceted Blaufränkisch from Spitzerberg to Merlot and Cabernet Sauvignon. Also highly interesting is the interplay between Bordeaux varieties and the native Zweigelt and Blaufränkisch cultivars.
Producers
Weingut Trapl
With such consistency, it is not surprising that Johannes Trapl has been farming his fine family business, on which 70% red grape varieties thrive, biodynamically since 2015 - followed by Demeter certification in 2019.
Grape varieties
Merlot
Merlot is the most charming member of the Bordeaux family. It shines with rich colour, fragrant fullness, velvety tannins and sweet, plummy fruit. It even makes itself easy for the vintner, as it matures without issue in cool years as well. This is in contrast to the stricter Cabernet Sauvignon, which it complements as a blending partner. Its good qualities have made the Merlot famous worldwide. At over 100,000 hectares, it is the most-planted grape in France. It also covers large areas in California, Italy, Australia and recently in Eastern Europe. The only catch is that pure Merlot varieties rarely turn out well. Its charm is often associated with a lack of substance. Only the best specimens improve with maturity. They then develop complex notes of leather and truffles. This succeeds in the top wines from the Bordeaux appellation of Pomerol and those from Ticino, among others.
Blaufränkisch
The Blaufränkisch fits in comfortably in Burgenland and in neighbouring Hungary. Caressed by the warm winds of the Pannonian Plain and protected by hills and mountains, the grapes can fully ripen. They yield fine, dark-berried, well-structured red wine. Depending on taste, the vintner presses them lightly and fruitily, or gathers them in wooden casks into firm, peppery wines. They are predestined for ripeness, and pair excellently with meat and game dishes. The name of this wine is deceptive: in the middle ages, grapes from southern Germany were called "Frankisch". They were seen as particularly sophisticated. The Blaufränkisch, however, is a native of Austro-Hungary. In Hungary, where it is called Kékfrankos, it even occupies twice as much vineyard space as in Austria. Some producers make wine on both sides of the border.
Zweigelt
Flatterer with a backbone
The Zweigelt is an Austrian original. Fritz Zweigelt crossed it in 1922 at the Klosterneuberg Orchard and Viniculture School ("Obst- und Weinbauschule Klosterneuburg") from the red varieties Blaufränkisch and Saint Laurent. Zweigelt's main quality is being marvellously drinkable. With its exuberant berry fruit and juicy structure, it fits like no other to the pleasurable lifestyle of our Austrian neighbours. One thinks, for example, of a hearty Brettjause in the wine tavern. It can, however, also assemble well with other grape varieties, and expand in wooden barrels for more backbone. No wonder it is the most planted grape variety in Austria. One curiosity: the Japanese island of Hokkaido grows 230 hectares of Zweigelt.
Cabernet Sauvignon
The Cabernet Sauvignon gives the Bordeaux its backbone, yielding deep violet wines with powerful tannins and endless ripening potential. It is the top dog in Médoc, and is placed in all five premier crus of Bordelais. When young, it often appears strict and unapproachable, but with advancing years, its tannins round off. It is wonderfully velvety, and yet always maintains its freshness. Typical flavours include cassis, graphite and cedar. Wherever Cabernet Sauvignon is found, Merlot is not far away. It complements the robust structure of Cabernet with softness, fruit and richness. The Cabernet Sauvignon is the most-exported vine in the world. It delivers persuasive qualities in Italy as an ingredient of the Super Tuscan, or as the flagship variety from California. There, it is lovingly titled "Cab Sauv". Meat fans should be aware that it fantastically accompanies a grilled entrecôte. The family tree of Cabernet Sauvignon is surprising: its parents are Cabernet Franc and the white Sauvignon blanc.