Merlot Privatkeller 2018
QWt Niederösterreich, Schloss Gobelsburg, 750 ml
Exclusivity Baur au Lac Vins
Gift box available!
In stock
Article nr. 40019718
Items available in the stores
Gift box available!
Description
The vines are grown on the Sachsenberg and are cultivated in the so-called "lyra" system, which ensures optimal ripeness. With a soft, opulent start, it lingers on the palate lined with fine sweetness extracts and ripe, smooth tannins. Its aroma ranges from rose and violet, currant jelly and cherry compote, Earl Grey tea, liquorice, mocha, cinnamon and cloves to black chocolate and cubeb pepper. You want to smell it forever and literally immerse yourself in the wine!
Attributes
| | |
| --- | --- |
| Origin: | Austria / Niederösterreich / Kamptal |
| Grape variety: | Merlot |
| Label: | Vegan |
| Ripening potential: | 3 to 10 years |
| Drinking temperature: | 16 to 18 °C |
| Food Pairing: | Moroccan specialities, Coq au vin, Saddle of lamb fillet with herb jus, Roast saddle of venison, Hot vegetable curries |
| Vinification: | fully destemmed, fermentation in wooden barrel |
| Harvest: | hand-picking, strict selection, in small boxes |
| Maturation: | in tonneau |
| Volume: | 13.0 % |
| Note: | Contains sulphites |
Producer
Weingut Schloss Gobelsburg
The first written evidence of Schloss Gobelsburg dates from 1074, but it was in 1171 that the Cistercian monks from the Zwettl monastery obtained the first vineyards at Heiligenstein and at Gaisberg in the Kamptal. Visitors entering the baroque-style complex built on a slight mound sense this tradition, this spirit, this experience accumulated over the centuries. The view takes in all the surroundings, from the village of Gobelsburg to the vine-covered hills of Heiligenstein. Inside, near the parish church where couples say yes for life, when the weather is pleasant, the pretty and romantic garden invites all to rest for a while.
Grüner Veltliner and Riesling cover most of the countryside, while Zweigelt, Pinot Noir, St. Laurent and Merlot occupy about a quarter of the surface. Production guidelines are strict, and the winegrowing has adapted to the latest developments while still respecting the methods practiced by the monks. Wines are vinified and aged exceptionally gently. The Gobelsburg team tries to obtain authentic wines which respect and express their origin's personality and individuality. Michael Moosbrugger's ingeniously simple idea illustrates this quest for progress: casks on wheels use gravity to avoid damaging the wine through pumping. The casks are made from wood from nearby Manhartsberg and not from popular French or American oak.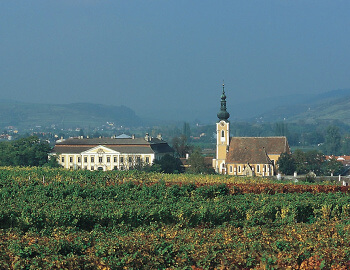 Grape variety
Merlot
Merlot is the most charming member of the Bordeaux family. It shines with rich colour, fragrant fullness, velvety tannins and sweet, plummy fruit. It even makes itself easy for the vintner, as it matures without issue in cool years as well. This is in contrast to the stricter Cabernet Sauvignon, which it complements as a blending partner. Its good qualities have made the Merlot famous worldwide. At over 100,000 hectares, it is the most-planted grape in France. It also covers large areas in California, Italy, Australia and recently in Eastern Europe. The only catch is that pure Merlot varieties rarely turn out well. Its charm is often associated with a lack of substance. Only the best specimens improve with maturity. They then develop complex notes of leather and truffles. This succeeds in the top wines from the Bordeaux appellation of Pomerol and those from Ticino, among others.
Subregion
Kamptal
Kamptal: a dynamic atmosphere north of the Danube
With an ever-growing number of leading vintners, Kamptal has increasingly stood out in recent years from the shadow of the legendary Wachau region. The basis for this are the various terroirs in this broad-ranging valley. At Loisium, the region is also host to a spectacular, futuristic visitor center.
Region
Niederösterreich
Lower Austria: crus near and far from the Danube
Austria's largest state is also its largest wine region. 46,000 hectares are planted with vines in Lower Austria. It is a heterogenic wine region, consisting of eight wine growing areas. While white varieties like Grüner Veltliner and Riesling dominate in the areas north and west of Vienna, red varieties set the tone in the south and in the southeast (Thermenregion and Carnuntum). The internationally famous white crus from Grüner Veltliner and Riesling develop in the picturesque Wachau and Kamptal.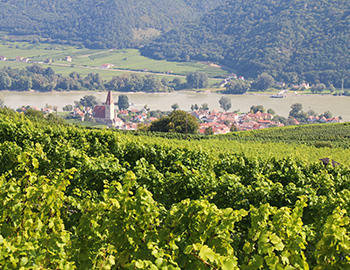 Country
Austria
Austria – Sumptuous culture, accessible to all
Austria is characterized by unbelievable topographical diversity. A flat steppe in the east, forests and hills in the Alpine regions, wetlands and Mediterranean landscapes in the south. This in addition to a rich tradition and even greater love. It's no surprise that the Romans found joy on this patch of Earth and cultivated wine growing. Austrian wine is not abundant, but it is high quality.
Epicurean profile