 Almaviva
Rothschild / Concha y Toro, 2017
In stock
Article nr. 51010717
| | |
| --- | --- |
| Grape variety: | Cabernet Sauvignon, Cabernet Franc, Carmenere, Merlot |
| Producer: | Dom. Baron de Rothschild & Concha y Toro |
| Origin: | Chile / Valle Central / Maipo |
Description
Deep, concentrated garnet colour with pleasing black nuances. Nose dominated by characteristic touches of wild berries and cedar with a vanilla element. A big wine bursting with ripe fruit, it is well structured and balanced, supported by the firm tannins that give a long, complex finish. A complex, elegant wine with ageing potential. With a label that symbolises a vision of the earth and the cosmos, this wine succeeds in creating a link between two cultures.
Attributes
| | |
| --- | --- |
| Origin: | Chile / Valle Central / Maipo |
| Grape variety: | Cabernet Sauvignon, Cabernet Franc, Carmenere, Merlot |
| Ripening potential: | 3 to 15 years |
| Serving temperature: | 16 to 18 °C |
| Food pairing suggestion: | Châteaubriand, Filet Wellington, Goulash, boeuf bourguignon, Rabbit ragout with olives, Roast saddle of venison |
| Vinification: | fermentation in steel tank, soft pressing |
| Harvest: | hand-picking, in several rounds (tries) |
| Maturation: | in new barriques |
| Volume: | 14.0 % |
| Note: | Contains sulphites |
Countries
Chile
Chile – Where fortune came from tragedy
Wine-growing in Chile was born less out of economic reasons than lifestyle. Like the rest of the world, its aristocratic landowners admired everything that came out of France. They imitated French culture, built their haciendas in French architectural styles, and took trips to France. In 1851, the first French vines were brought back and formed the basis for producing quality wines.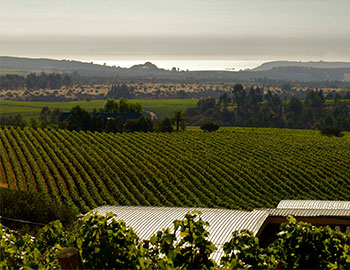 Regions
Valle Central
Valle Central: the heart of Chilean viticulture
Valle Central comprises the four most important wine-growing areas in Chile. It starts in the southern outlying districts of the capital, Santiago, and stretches around 400 kilometres to the south, ending at the city of Parral. Red Bordeaux varieties occupy over 70 percent of total vineyard area. Depending on how strongly the particular microclimate is influenced by the cool influence of the Andes or the Pacific, stylistically varied wines result. Specialties like Carménère, Syrah and Carignan are gaining ground.
Subregions
Maipo
Maipo Valley: Seat of wine-nobility
Wealthy landowners laid the foundations for today's Chilean wine wonder. Most of them set up grand estates south of the city in the 19th century, where, along with horse-breeding, wine cultivation has long been carried out. Today, these residences and their legendary vineyards have been enveloped by the city as it expands outward into the countryside. But many of the most prestigious Chilean red wines still originate here. Cabernet Sauvignon, Carménère and Syrah are the area's leading varieties.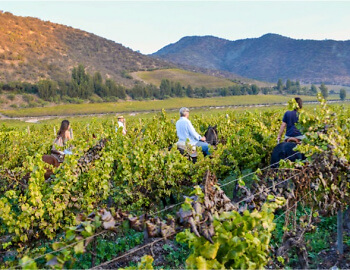 Grape varieties
Cabernet Sauvignon
The Cabernet Sauvignon gives the Bordeaux its backbone, yielding deep violet wines with powerful tannins and endless ripening potential. It is the top dog in Médoc, and is placed in all five premier crus of Bordelais. When young, it often appears strict and unapproachable, but with advancing years, its tannins round off. It is wonderfully velvety, and yet always maintains its freshness. Typical flavours include cassis, graphite and cedar. Wherever Cabernet Sauvignon is found, Merlot is not far away. It complements the robust structure of Cabernet with softness, fruit and richness. The Cabernet Sauvignon is the most-exported vine in the world. It delivers persuasive qualities in Italy as an ingredient of the Super Tuscan, or as the flagship variety from California. There, it is lovingly titled "Cab Sauv". Meat fans should be aware that it fantastically accompanies a grilled entrecôte. The family tree of Cabernet Sauvignon is surprising: its parents are Cabernet Franc and the white Sauvignon blanc.
Merlot
Merlot is the most charming member of the Bordeaux family. It shines with rich colour, fragrant fullness, velvety tannins and sweet, plummy fruit. It even makes itself easy for the vintner, as it matures without issue in cool years as well. This is in contrast to the stricter Cabernet Sauvignon, which it complements as a blending partner. Its good qualities have made the Merlot famous worldwide. At over 100,000 hectares, it is the most-planted grape in France. It also covers large areas in California, Italy, Australia and recently in Eastern Europe. The only catch is that pure Merlot varieties rarely turn out well. Its charm is often associated with a lack of substance. Only the best specimens improve with maturity. They then develop complex notes of leather and truffles. This succeeds in the top wines from the Bordeaux appellation of Pomerol and those from Ticino, among others.
Carmenere
The Carmenère had to emigrate to become famous. Once, it belonged to the main red varieties in Bordeaux. But it was not particularly loved by vintners there. It matured poorly, yielded little return and often turned out harsh and herbaceous. For this reason, it was replaced after the phylloxera epidemic by more low-maintenance varieties. Meanwhile, it found its way to Chile. In the warm climate of South America, the wines suddenly presented deep blackberry fruit, chocolate notes and velvety tannins. These were joined by a fine eucalyptus note, which became its trademark. The catch: for a long time, no-one knew that this had to be done with Carmenère. Instead, wine growers kept their vine stocks for Merlot. Since the error became apparent in 1997, this variety has experienced a phenomenal upturn. In Bordeaux as well, some châteaux are incorporating a dash of Carmenère in their grand crus.
Cabernet Franc
Forefather of the Bordeaux varieties
The Cabernet Franc is one of the oldest varieties of Bordelais and a parent of three other red grapes in the Bordeaux assortment: Cabernet Sauvignon, Merlot and Carmenère. It is distinguished by its complex, flavourful bouquet of raspberry, graphite, violet, liquorice and white pepper. In addition, it presents round, crisp tannins which turn out less strongly than those of Cabernet Sauvignon. While the Cabernet Franc always appears as part of a blend in Bordeaux, it is pressed alone on the Loire. The most renowned appellations are Chinon and Bourgueil. Incidentally, the Cabernet originates not in Bordeaux but in the Spanish Basque Country. Cabernet owes its name to the Latin "carbon", meaning black.
Rating