 La Dame de Montrose 2018
AC Saint-Estèphe 2ème vin du Château Montrose, 750 ml
Gift box available!
In stock
Article nr. 20510718
Items available in the stores
Gift box available!
Grape variety
Merlot
Cabernet Franc
Cabernet Sauvignon
Subregion
St-Estèphe
Saint-Estèphe: classic, full of vim and vigor
Thanks to their prominent acidity and robust tannins, the wines of Saint-Estèphe are considered absolute classics of the Médoc. The distinct profile of these wines is owed to the particular terroir. Saint-Estèphe borders Pauillac, and is the northernmost of the four famous communal appellations of the Médoc. At the appellation's best-known châteaux, Cabernet Sauvignon is the leading variety, but there are also producers here whose assemblages incorporate Merlot for the starring role.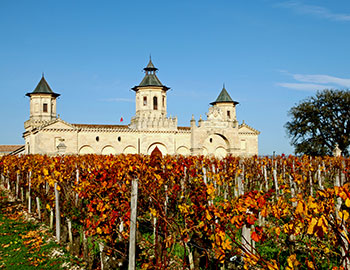 Region
Bordeaux
Bordeaux: high prestige, high quality
With a total area of around 115,000 hectares, Bordeaux may not be France's largest wine-growing region, but it is certainly its most prestigious. The range of wines produced here today is enormous: ranging from red everyday wines with a great relationship between price and quality to exclusive, and accordingly expensive, premier crus. Elegant white wines and noble sweet specialties round out the spectrum.
Country
France
France – Philosophy in a bottle
According to French philosophy, wine should be an expression of the soil and climate. They use the word "terroir" to describe this. Terroir makes every wine different, and many especially good. French wine is regarded worldwide as an expression of cultural perfection. The French believe that humans are responsible for the quality of the berries, the vine variety for their character, and nature for the quantity. This philosophy can be expressed succinctly as: "the truth is the vineyard, not the man."
Rating
Baur au Lac Vins
91-93
Points