 Juliénas Vignes Centenaires
AC, Domaine Laurent Perrachon et Fils, 2018
750 ml
Selection Baur au Lac Vins
30
In stock
Article nr. 27602718
| | |
| --- | --- |
| Grape variety: | Gamay |
| Producer: | Domaine Laurent Perrachon & Fils |
| Origin: | France / Bourgogne / Beaujolais |
Description
The vines for this Juliénas are on average 100 years old and produce a powerful, complex and concentrated wine. Distinctive notes of ripe fruits such as blackcurrants, blackberries, plums and figs form a broad range of aromas with the noble roasted notes of wood development. The tannins are perceptible and accompany the juicy acidity, which gives the wine a powerful structure and good storage potential. With its long, taste-intensive finish, it offers wonderful pleasure. *Vintage 2018 awarded 93+ points by WineEnthusiast.
Attributes
| | |
| --- | --- |
| Origin: | France / Bourgogne / Beaujolais |
| Grape variety: | Gamay |
| Ripening potential: | 2 to 8 years |
| Serving temperature: | 16 to 18 °C |
| Food pairing suggestion: | Cold fish dish, dried meat, Spiced grillades, Pork fillet with plums, Hearty stew with pulses |
| Vinification: | partly destemmed, Pumping over, Punching down, fining |
| Harvest: | hand-picking, strict selection |
| Maturation: | in large wooden barrel/foudre, in used barriques |
| Maturation duration: | 18 months |
| Volume: | 13.5 % |
| Note: | Contains sulphites |
Countries
France
France – Philosophy in a bottle
According to French philosophy, wine should be an expression of the soil and climate. They use the word "terroir" to describe this. Terroir makes every wine different, and many especially good. French wine is regarded worldwide as an expression of cultural perfection. The French believe that humans are responsible for the quality of the berries, the vine variety for their character, and nature for the quantity. This philosophy can be expressed succinctly as: "the truth is the vineyard, not the man."
Regions
Bourgogne
Burgundy: home of the crus
Burgundy and Bordeaux are France's most prestigious wine regions. Nonetheless, they are completely distinct in character: while Bordeaux, as the land of the chateaux, enjoys an aristocratic image, Burgundy has retained its rustic agrarian structure. Burgundy stretches for over 200 kilometres, from Dijon in the north to Lyon in the south. In a highly complex jigsaw of the most diverse of terroirs, Chardonnay and Pinot Noir demonstrate the subtle ways in which they embody their sources.
Subregions
Beaujolais
Beaujolais: the lightness of being
Though it always features an alcohol content of between 12.5 and 13.5 percent by volume, Beaujolais, a varietal Gamay, is considered a light wine. With its fruity vibrancy, it is a sociable wine that harmonizes exquisitely with simple and classic cuisine. The southern part, Bas Beaujolais, produces simple, highly drinkable wines, while the crus from the northern Haut Beaujolais – which ripen on weathered granite – demonstrate substantially greater individual expression.
Producers
Domaine Laurent Perrachon & Fils
Since 1877 the family's own vineyards have been cultivated by the 5th and 6th generation.
Established in Juliénas in 1877, we are the 5th (Laurent and Martine) and 6th generation (Adrien and Maxime) to run the family vineyards. The estate now extends over 6 Beaujolais vineyards: Juliénas / Moulin à Vent / Morgon / Chénas / Fleurie and Saint-Amour and also in Beaujolais Villages. In 2019, we acquired an additional 1.70 ha in Pouilly-Fuissé. We continue the work of our ancestors by upholding a time-honoured tradition, as the first mention of the PERRACHON family in the history of winegrowers in Juliénas dates back to 1601. We work the traditional way, hand-picking and goblet pruning. Our yield per vine is one of the lowest in France, but this guarantees the quality and authenticity of our wines: 6 vineyards in Beaujolais, Chénas, Fleurie, Juliénas, Morgon, Moulin-à-Vent and Saint Amour, our Beaujolais / Villages (red, rosé and white) and Pouilly-Fuissé. We also produce single-vineyard selections, from only the best plots of the estate on selected vineyards.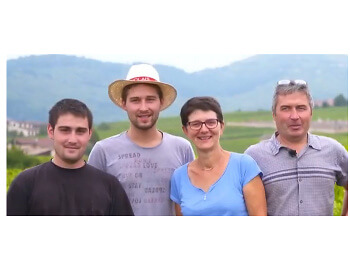 Grape varieties
Gamay
The first written mention of the Gamay grape was not particularly flattering. In 1395, Philip the Bold, Duke of Burgundy, wrote that the variety showed a "terrible bitterness" and was "very harmful to human beings". For this reason, the entire stock was to be pulled within five months. Luckily, it did not come to this. Otherwise, today we would have neither the excellent crus of Beaujolais, produced from this grape, nor the Dole du Valais a marriage of Gamay and Pinot noir. Admittedly, the Beaujolais nouveau, which was clamoured about in the 1980s, is not its best manifestation. But with good maturity and competent grapes, the Gamay shows great charm and a fragrant strawberry, raspberry and cherry fruit, backed by peppery notes. It is the ideal summer red: slightly chilled, it tastes great on the terrace, and is excellent with grilled fish.