 Givry 2019
AC, Remoissenet, 750 ml
Exclusivity Baur au Lac Vins
Gift box available!
In stock
Article nr. 27701719
Items available in the stores
Gift box available!
Description
t's the municipality of Givry, situated on the Côte Chalonnaise, which gives this red Burgundy its name. Famous tipplers of Givry go all the way back to King Henri IV! This is a very appealing Burgundy which gives fans of this region and newcomers alike a great deal of drinking pleasure. Its fruity-floral bouquet is open-hearted and brings to mind the savour of Amarena cherries, red summer berries, vanilla pods, allspice and tobacco with a hint of sweetness. On the palate, it leaves an impression that is both extremely well-rounded and delicate, with a lively acidity, accompanied by spicy and red-fruit aromas. An excellent price-pleasure ratio!
Attributes
| | |
| --- | --- |
| Origin: | France / Bourgogne / Côte Chalonnaise |
| Grape variety: | Pinot noir |
| Ripening potential: | 1 to 7 years |
| Drinking temperature: | 16 to 18 °C |
| Food Pairing: | Fegato alla veneziana, Goulash, boeuf bourguignon, Saddle of lamb fillet with herb jus, Roast saddle of venison, Cheese board, Coquilles Saint Jacques on lentils |
| Harvest: | strict selection |
| Maturation: | in partly new and used barriques/ Pièces, long cultivation |
| Maturation duration: | 14 months |
| Volume: | 14.0 % |
| Note: | Contains sulphites |
Producer
Remoissenet Père & Fils
Prestigious terroirs, work in micro-parcels, a distinctive style, exceptional quality right from the entry level... Remoissenet Père et Fils stands out for many things, and everything makes you want to taste these wines! Wines for the moment - or for eternity.
Founded in 1879 as a classic négociant in Beaune, Remoissenet Père et Fils today also holds 25 hectares of vineyards, some owned and some leased. In addition, it has access to some exceptional grapes from renowned winegrowers they are friends with. But whatever the source, the team around Pierre-Antoine Rovani and oenologist Claudie Jobard demand the highest quality for each and every wine. The grapes are given an extended time to ripen, until they develop the unmistakable power and complexity that distinguish a Remoissenet. Wood is essential, but never an end in itself. Both white and red wines are fermented and aged in barrels, usually 350 litres. New oak is perfectly adapted to each wine. It's the terroir and the grape variety that set the tone: intense, deep and very enticing, from Gevrey-Chambertin to Beaune, Meursault, Monrachet or Givry in Côte Chalonnaise.
Grape variety
Pinot noir
No other variety expresses its terroir as precisely as Pinot noir. It is a sensitive, fragile grape. But when it succeeds, it gives the world some of its very greatest wine plants. It especially excels in Burgundy, where it has been cultivated for at least 700 years. Even in the middle ages, it was considered so precious that it was kept separate from other grapes so as to not diminish its value. The finest examples are delicate and fragrant with aromas of cherries and red berries. With maturity, notes of forest floor, leather and truffles enter as well. An irresistible fruity sweetness still shines through, even after several decades. The Pinot noir does well in cool locations: in Switzerland and in Germany, where it is known as Blauburgunder and Spätburgunder respectively; in Alsace and in South Tyrol, in Oregon, New Zealand and Tasmania. Not least, it yields fantastic champagnes. It is a wonderful culinary companion. With its soft tannins and charming bouquet, it meshes with everything, from Güggeli and cheeses to fried fish.
Subregion
Côte Chalonnaise
Côte Chalonnaise: sincere crus with character
The Côte Chalonnaise is located west of the city of Chalon-sur-Saône, and connects with the Côte de Beaune region to the south. Even far from the prestigious top sites, Chardonnays and Pinots originate here which embody the best of the Burgundian characteristics, even if they do not have the fullness and complexity of premium wines from Beaune. They are sincere wines that, with their edges and corners, are ideal for pairing with food. The refreshing Crémant de Bourgogne is a particular specialty of this region.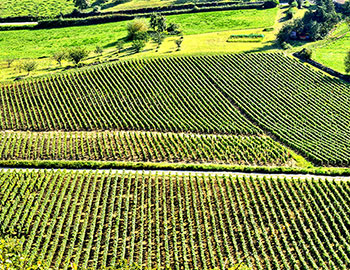 Region
Bourgogne
Burgundy: home of the crus
Burgundy and Bordeaux are France's most prestigious wine regions. Nonetheless, they are completely distinct in character: while Bordeaux, as the land of the chateaux, enjoys an aristocratic image, Burgundy has retained its rustic agrarian structure. Burgundy stretches for over 200 kilometres, from Dijon in the north to Lyon in the south. In a highly complex jigsaw of the most diverse of terroirs, Chardonnay and Pinot Noir demonstrate the subtle ways in which they embody their sources.
Country
France
France – Philosophy in a bottle
According to French philosophy, wine should be an expression of the soil and climate. They use the word "terroir" to describe this. Terroir makes every wine different, and many especially good. French wine is regarded worldwide as an expression of cultural perfection. The French believe that humans are responsible for the quality of the berries, the vine variety for their character, and nature for the quantity. This philosophy can be expressed succinctly as: "the truth is the vineyard, not the man."
Epicurean profile