 Corton-Bressandes Grand cru 2019
AC, Tollot-Beaut, 750 ml
Gift box available!
In stock
Article nr. 27256719
Items available in the stores
Gift box available!
Attributes
| | |
| --- | --- |
| Origin: | France / Bourgogne / Côte de Beaune |
| Grape variety: | Pinot noir |
| Label: | Vegan |
| Drinking temperature: | 16 to 18 °C |
| Food Pairing: | Saddle of lamb fillet with herb jus, Pork fillet with plums, Bistecca fiorentina, T-Bone steak, Vegetable cous-cous |
| Vinification: | short must fermentation, fermentation in steel tank |
| Harvest: | hand-picking |
| Maturation: | in new barriques |
| Maturation duration: | 18 months |
| Volume: | 14.5 % |
| Note: | Contains sulphites |
Producer
Domaine Tollot-Beaut / Nathalie Tollot
This fine family domaine has existed since the end of the 19th century. Initially, there were only a few vineyards in the village of Chorey. As time went on, it developed into 24 hectares in the communes of Beaune, Savigny and Aloxe-Corton. The estate is now run by cousins Nathalie, Jean-Paul, and Olivier Tollot.
On the approximately 30 different plots that are exclusively planted with Pinot Noir and Chardonnay, Jean-Paul and Olivier are very busy using traditional methods: the soil is tilled with a hoe, weeded and naturally everything is harvested by hand. No fertilisers are used at all. Knowledge and experience pertaining to the individual plots have been passed down to them across the generations. This is how they manage to express the particularities of each individual location through their wines.
The domaine is one of the most prestigious in Burgundy, with wines featured on the wine lists of the finest international restaurants. This is in no small part due to the lively and charming Nathalie, who is responsible for marketing and sales. When you pass through the low, seemingly small cellar, you will be greeted by her contagious cheerfulness and charmed by the purity of these wines – whether it's a simple Bourgogne rouge or blanc or a complex and elegant Grand Cru.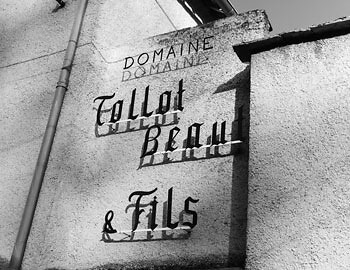 Grape variety
Pinot noir
No other variety expresses its terroir as precisely as Pinot noir. It is a sensitive, fragile grape. But when it succeeds, it gives the world some of its very greatest wine plants. It especially excels in Burgundy, where it has been cultivated for at least 700 years. Even in the middle ages, it was considered so precious that it was kept separate from other grapes so as to not diminish its value. The finest examples are delicate and fragrant with aromas of cherries and red berries. With maturity, notes of forest floor, leather and truffles enter as well. An irresistible fruity sweetness still shines through, even after several decades. The Pinot noir does well in cool locations: in Switzerland and in Germany, where it is known as Blauburgunder and Spätburgunder respectively; in Alsace and in South Tyrol, in Oregon, New Zealand and Tasmania. Not least, it yields fantastic champagnes. It is a wonderful culinary companion. With its soft tannins and charming bouquet, it meshes with everything, from Güggeli and cheeses to fried fish.
Subregion
Côte de Beaune
Côte de Beaune: guarantor of elegance
The city of Beaune is the cultural and economic centre of Burgundy. The prestigious vineyard sites, stretching in a band from Santenay (located about 20 kilometres south of Beaune) to the village of Aloxe-Corton (five kilometres north of Beaune), form the Côte de Beaune. Legendary, uniquely expressive crus originate here. In fact, the most prestigious Chardonnay growths in the world are produced around Chassagne-Montrachet, Puligny-Montrachet and Meursault.
Region
Bourgogne
Burgundy: home of the crus
Burgundy and Bordeaux are France's most prestigious wine regions. Nonetheless, they are completely distinct in character: while Bordeaux, as the land of the chateaux, enjoys an aristocratic image, Burgundy has retained its rustic agrarian structure. Burgundy stretches for over 200 kilometres, from Dijon in the north to Lyon in the south. In a highly complex jigsaw of the most diverse of terroirs, Chardonnay and Pinot Noir demonstrate the subtle ways in which they embody their sources.
Country
France
France – Philosophy in a bottle
According to French philosophy, wine should be an expression of the soil and climate. They use the word "terroir" to describe this. Terroir makes every wine different, and many especially good. French wine is regarded worldwide as an expression of cultural perfection. The French believe that humans are responsible for the quality of the berries, the vine variety for their character, and nature for the quantity. This philosophy can be expressed succinctly as: "the truth is the vineyard, not the man."
Rating