 Das Kreuz
QbA Pfalz, Weingut Rings, 2016
750 ml
Selection Baur au Lac Vins
30
In stock
Article nr. 40028716
Description
This deep Cuvee smells of cassis, redcurrant wood, white peppercorns, graphite, caraway seeds and crispy rye bread crust. After aeration, the fragrance of fine woods pampers the nose and ripe forest berry aromas and Mediterranean herbs come into play. An unbelievably dense, extract-rich wine with velvety, ripe tannins. On the palate, it presents itself with sour cherries, black olives, roasted coffee and cocoa beans and a hint of thyme. A power pack with spice, fruit and very long finish.
Attributes
| | |
| --- | --- |
| Origin: | Deutschland / Pfalz |
| Site / vineyard: | Schwarzes Kreuz |
| Grape variety: | Cabernet Sauvignon, Merlot, Saint Laurent, Cabernet Franc |
| Ripening potential: | 2 to 10 years |
| Serving temperature: | 16 to 18 °C |
| Food pairing suggestion: | Châteaubriand, Filet Wellington, Goulash, boeuf bourguignon, Rabbit ragout with olives, Roast saddle of venison, Hearty stew with pulses |
| Vinification: | long must fermentation, fermentation in wooden barrel |
| Harvest: | strict selection, hand-picking with simultaneous grape sel |
| Maturation: | in partly new and used barriques/ Pièces |
| Maturation duration: | 22 months |
| Acidity: | 5,6 g/l |
| Volume: | 14.0 % |
| Residual sugar: | 0,1 g/l |
| Note: | Contains sulphites |
Countries
Germany
Germany – Into the elite the hard way
Sitting in the heart of Europe, the hilly, lake-dotted landscape of Germany provides ideal, fertile soil for the most diverse vine varieties. From Albalonga to Zweigelt, over 140 different grape varieties are grown on about 100,000 acres, cared for by nearly 50,000 vintners. Most of these vintners are young, modern, internationally trained, inquisitive and urbane. It is hardly surprising, then, that German wine has a good reputation well beyond the country's borders.
Regions
Pfalz
Pfalz: Riesling meets Burgundy
Palatine winemakers manage the feat of vinifying top-tier crus from both white and red varieties. In addition, Riesling presents the same class here as Chardonnay and other Burgundy varieties. This versatility at high quality levels makes Germany's second-largest wine region a trove of discoveries of all kinds. Tranquil winegrowing towns with a diverse range of culinary offerings and hotels make the Palatinate region a perfect wine travel destination.
Producers
Weingut Rings
Weingut Rings, part of the Palatinate's vineyard premier league, lies embedded in the sun-drenched Palatinate, right in the middle of the Freinsheim winegrowing district. For more than a decade, the new generation of the Rings family has been passionately concentrating on the ecological production of high quality dry wines. The hallmarks of Weingut Rings are well-balanced, dense wines with pronounced character and great cellar potential.
The Palatinate region, also known as the German Tuscany, really is a charming district. Its mild climate enables almond trees to blossom, figs and bergamot oranges to ripen, pines and cypress trees to grow and the finest wines to thrive. No wonder that the Romans felt so at home here!
The Rings family are based in Freinsheim, a few kilometres north of the small and picturesque spa town of Bad Dürkheim. In 2008, brothers Andreas and Steffen took over responsibility of the vineyard from their parents. The two highly qualified vintners restructured the entire production so that the company would carry out its own bottling. Before this, their father exclusively produced cask wine, as well as being involved in fruit cultivation. Their indefatigable striving for quality ensured that experts soon took notice. Quite deservedly, in 2012 the brothers were awarded the German Red Wine Award for their Portugieser Reserve 2009, and were therefore distinguished as THE newcomers. In 2015, the estate was accepted into the VDP (Association of German Prädikat Wine Estates), and in 2017 was distinguished with 4 grapes by the Gault-Millau Wine Guide.
The original 12 hectares has since been expanded by a further 19 hectares. The estate owns high quality vineyards in the municipalities of Freinsheim, Ungstein and Kallstadt, and which have completely different soil properties. The most well-known sites are: in Freinsheim Das Kreuz, in Ungstein the Weilberg (around the Roman villa with its sensational view of the lowlands) and in Kallstadt the Saumagen. For a long time now, the brothers have been employing organic cultivation methods, and are currently in the process of becoming a certified organic winery. Their approach is to interfere with vinification as little as possible. The grape musts are fermented spontaneously without the addition of yeasts, and are in part only lightly filtered, or not at all. The yields are strictly controlled, and especially in the case of the single vineyard wines are kept very low.
The range of grape varieties grown includes international varieties such as Cabernet Sauvignon, Pinot Noir, Merlot and Cabernet Franc, as well as varieties typical of this region, such as Riesling, Silvaner, Saint Laurent and Dornfelder.
Steffen and Andreas Rings' motivation is to coax out the unique character of every site or indeed plot, and so to add their personal signature to each of their wines.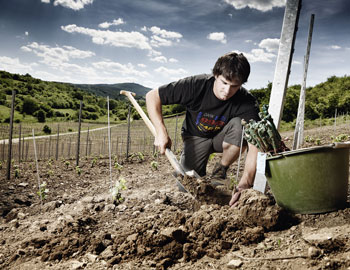 Grape varieties
Cabernet Franc
Forefather of the Bordeaux varieties
The Cabernet Franc is one of the oldest varieties of Bordelais and a parent of three other red grapes in the Bordeaux assortment: Cabernet Sauvignon, Merlot and Carmenère. It is distinguished by its complex, flavourful bouquet of raspberry, graphite, violet, liquorice and white pepper. In addition, it presents round, crisp tannins which turn out less strongly than those of Cabernet Sauvignon. While the Cabernet Franc always appears as part of a blend in Bordeaux, it is pressed alone on the Loire. The most renowned appellations are Chinon and Bourgueil. Incidentally, the Cabernet originates not in Bordeaux but in the Spanish Basque Country. Cabernet owes its name to the Latin "carbon", meaning black.
Merlot
Merlot is the most charming member of the Bordeaux family. It shines with rich colour, fragrant fullness, velvety tannins and sweet, plummy fruit. It even makes itself easy for the vintner, as it matures without issue in cool years as well. This is in contrast to the stricter Cabernet Sauvignon, which it complements as a blending partner. Its good qualities have made the Merlot famous worldwide. At over 100,000 hectares, it is the most-planted grape in France. It also covers large areas in California, Italy, Australia and recently in Eastern Europe. The only catch is that pure Merlot varieties rarely turn out well. Its charm is often associated with a lack of substance. Only the best specimens improve with maturity. They then develop complex notes of leather and truffles. This succeeds in the top wines from the Bordeaux appellation of Pomerol and those from Ticino, among others.
Saint Laurent
The berries of the Saint Laurent fade from the tenth of August, St. Lawrence's day, the patron saint of chefs. In its homeland in Austria, the variety was formerly called Laurenzitraube. With its aroma of fresh sour cherries and elegant tannins, it appears to be a more powerful version of Pinot noir. However, the two are not related. The Saint Laurent is currently undergoing a boom. Its wines are deep-red, velvety, full-bodied and aromatic. Above all, the qualities from the oak barrels delight lovers of softer, fuller reds. Yet the largest cultivation area is not in Austria, but the Czech Republic. A little anecdote: the Saint Laurent lost its halo there during the Soviet era, and was allowed only to be called Vavrinecké instead of Svatovavrinecké.
Cabernet Sauvignon
The Cabernet Sauvignon gives the Bordeaux its backbone, yielding deep violet wines with powerful tannins and endless ripening potential. It is the top dog in Médoc, and is placed in all five premier crus of Bordelais. When young, it often appears strict and unapproachable, but with advancing years, its tannins round off. It is wonderfully velvety, and yet always maintains its freshness. Typical flavours include cassis, graphite and cedar. Wherever Cabernet Sauvignon is found, Merlot is not far away. It complements the robust structure of Cabernet with softness, fruit and richness. The Cabernet Sauvignon is the most-exported vine in the world. It delivers persuasive qualities in Italy as an ingredient of the Super Tuscan, or as the flagship variety from California. There, it is lovingly titled "Cab Sauv". Meat fans should be aware that it fantastically accompanies a grilled entrecôte. The family tree of Cabernet Sauvignon is surprising: its parents are Cabernet Franc and the white Sauvignon blanc.
Epicurean profile