 Terra di Lavoro Roccamonfina 2016
IGT, Azienda Agricola Biologica Galardi, 750 ml
Assortment Baur au Lac Vins
Gift box available!
In stock
Article nr. 35164716
Items available in the stores
Gift box available!
Description
Intense garnet colour with bright almost black hue. Pleasant fruity nose of black cherry, wild fruit jam, pepper and chocolate. The palate is dominated by blackcurrant jam, vanilla and tobacco flavours. The structure of this wine from old vines is smooth with rounded tannins and good maturity. Long, harmonious finish.
Attributes
| | |
| --- | --- |
| Origin: | Italy / Campania |
| Grape variety: | Aglianico, Piedirosso |
| Ripening potential: | 4 to 18 years |
| Drinking temperature: | 16 to 18 °C |
| Food Pairing: | Brasato di manzo al Barolo, Spiced grillades, Saddle of lamb fillet with herb jus, Bistecca fiorentina, T-Bone steak, Spicy hard cheese, Mushroom ragout |
| Vinification: | long must fermentation, fermentation in steel tank, Punching down |
| Harvest: | hand-picking, strict selection |
| Maturation: | in new barriques, some months bottle storage before sale |
| Maturation duration: | 12 months |
| Volume: | 14.0 % |
| Note: | Contains sulphites |
Grape variety
Piedirosso
It is believed that the Greeks brought this rare, ancient red grape variety to the southern Italian region of Campania during antiquity. The name Piedirosso means "redfoot," and refers to the vine's red wood. The Roman scholar Pliny the Elder (23-79 CE) even mentions the variety in his encyclopedic work on natural history. He died during the eruption of Mount Vesuvius, where this historical variety now grows. The volcanic, ash-containing soil is extremely rich in minerals, and the grapes produce complex, multi-faceted wines.
Aglianico
Called the "Barolo of the South", the Aglianico shares its distinctive acidity and gripping tannins with the Barolo grape, Nebbiolo. And, similar to the Piemontese, this red Southern-Italian variety possesses an impressive aging potential. The best grow in volcanic soil, in the foothills of the extinct Mount Vulture in the Basilicata region, and in Taurasi in Campania, at the foot of the active Mount Vesuvius. Here, the Aglianico has long been at home. It can thank the Spanish for its name, as they ruled this stretch of land in the 15th and 16th centuries. They called it the wine from the plane, or "llano" in Spanish. When young, the Aglianico appears dark and concentrated with aromas of chocolate and plums, as well as mineral notes. After a few years of maturity, it surprises with an elegant stature one would not expect from the young muscleman.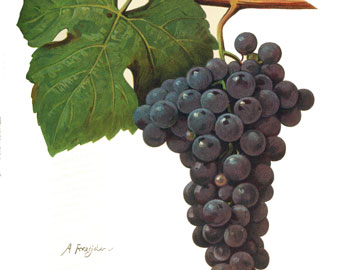 Country
Italy
Italy – Where wine is a way of life
The Italian wine regions are extremely diverse, and this is made clear in their wines. Established varieties such as Merlot, Syrah, and Sauvignon can be found on just 15 percent of the total vine growing area. The remaining 85 percent is reserved for autochthonous, indigenous varieties. More than 2,000 different grape varieties are grown under diverse conditions and pressed with various techniques into wines that reach the top tier of the international wine market.
Rating