 Certified organic or biodynamic wine
Faustina
IGT Lazio rosso, Villa Caviciana, 2012
In stock
Article nr. 35259712
| | |
| --- | --- |
| Grape variety: | Sangiovese, Tannat |
| Producer: | Villa Caviciana |
| Origin: | Italy / Lazio |
Description
The marriage of Sangiovese with Tannat is an uncommon one; both grapes are defined by their high acidity and plentiful tannins. The result is not for the faint hearted. Even the aficionados of very powerful wines are advised to decant this wine at least for an hour before tasting. Full-bodied, it fills the palate intensively with powerful tannins; the juiciness is assured by its acidity. One encounters in the mouth the same aromas already felt in the nose (among others dried pear, fig, dates, pepper, cloves, laurel, roasted almonds and cacao). In conclusion, it's a very complex wine, with a rather rustic character but well worth discovering. The jury at the International Bio Wine Prize 2016 gave it a silver medal.
Attributes
| | |
| --- | --- |
| Origin: | Italy / Lazio |
| Site / vineyard: | Gradoli |
| Grape variety: | Sangiovese, Tannat |
| Ripening potential: | 3 to 10 years |
| Serving temperature: | 16 to 18 °C |
| Food pairing suggestion: | Brasato di manzo al Barolo, Châteaubriand, Filet Wellington, Roasted lamb gigot, Beef Stroganoff, Bistecca fiorentina, T-Bone steak, Hearty stew with pulses |
| Vinification: | fermentation in steel tank |
| Harvest: | hand-picking |
| Maturation: | in partly new and used barriques/ Pièces, some months bottle storage before sale |
| Bottling: | filtration |
| Maturation duration: | 30 months |
| Volume: | 14.0 % |
| Note: | Contains sulphites |
Countries
Italy
Italy – Where wine is a way of life
The Italian wine regions are extremely diverse, and this is made clear in their wines. Established varieties such as Merlot, Syrah, and Sauvignon can be found on just 15 percent of the total vine growing area. The remaining 85 percent is reserved for autochthonous, indigenous varieties. More than 2,000 different grape varieties are grown under diverse conditions and pressed with various techniques into wines that reach the top tier of the international wine market.
Producers
Villa Caviciana
When, in the early morning, the sun slowly rises over the glittering mirror-smooth water of the Bolsena Lake, and the first blaring of the sheep, the quiet meowing of the domestic cat and the cheerful chirping of birds break the peaceful silence, then one understands that some people have found here their paradise on earth. Away from the big mass tourism of the coast, only an hour's drive away, in still largely intact nature, the lake spreads out in the charming hilly landscape, sometimes calm, sometimes foaming up, wild like the sea.
Before the Romans, Lazio was the land of the Etruscans. Time and again one comes across contemporary witnesses of that culture. The name Caviciana is derived from the ancient Etruscan name of the area where the vines grow today. The sphinx that adorns the name is a delicate Etruscan sculpture found in the surrounding caves. It stands for immortality.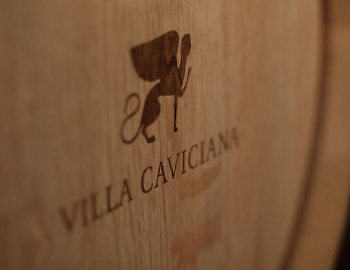 Grape varieties
Tannat
Dark as ink, good for the heart
Formerly, Tannat was almost a test of courage: no variety has more tannin. Its wines needed ten years before they showed any signs of drinkable maturity at all. The home of this idiosyncratic grape is Madiran, in southwestern France, at the foot of the Pyrenees. However, modern vintners have been able to tame the Tannat, thanks to modern wine production techniques. But the wines are still as dark as ink today – muscular, with plenty of bitter tannins and concise acidity. They smell of blackberries, cassis and tobacco, and with maturity of game and hide. A few hours in the decanter do such striking characters some good – then there's no better partner for meaty flesh. If you prefer it softer, reach for Tannat from Uruguay. The vine was settled there in the 19th century. No other variety contains more health-enhancing polyphenols than the Tannat. The age statistics of its home region in France prove it: twice as many people here reach 90 years of age than the national average.
Sangiovese
Chianti classico, Brunello di Montalcino, Vino nobile di Montepulciano: the Sangiovese is in each of the classic red wines from Tuscany. For a long time, it was assumed that its birthplace was here. After all, it appeared under various synonyms in Tuscan documents dating from 1600. But in 2004, researchers unveiled that one of its parents originated in Calabria in southern Italy. Today, it is the most planted variety in Italy. In addition to Tuscany, it fares well in Emilia-Romagna, Marche or Umbria. It is an exceptionally lovable wine: its aromas of cherry and plum, violets and spices are complemented by fresh acidity and a juicy texture. It wins people around both as cheerful, drinkable wines with pizza and pasta and as barrel-aged top class wines. Carried by Italian immigrants, it found its way to California and Argentina. However, it does not have the same reputation there.
Epicurean profile