 Il Paliotto
IGT Marsala, Terre di Santa Maria/Abbazia Santa Anastasia, 2013
750 ml
Selection Baur au Lac Vins
30
In stock
Article nr. 35114713
Attributes
| | |
| --- | --- |
| Origin: | Italien / Sizilien |
| Grape variety: | Syrah, Cabernet Franc |
| Ripening potential: | 2 to 8 years |
| Serving temperature: | 16 to 18 °C |
| Food pairing suggestion: | Brasato di manzo al Barolo, Roasted lamb gigot, Wild specialities, Spicy hard cheese |
| Vinification: | long must fermentation, fermentation in steel tank |
| Harvest: | hand-picking, strict selection |
| Maturation: | in partly new and used barriques/ Pièces, some months bottle storage before sale |
| Maturation duration: | 12 months |
| Volume: | 13.5 % |
| Note: | Contains sulphites |
Countries
Italy
Italy – Where wine is a way of life
The Italian wine regions are extremely diverse, and this is made clear in their wines. Established varieties such as Merlot, Syrah, and Sauvignon can be found on just 15 percent of the total vine growing area. The remaining 85 percent is reserved for autochthonous, indigenous varieties. More than 2,000 different grape varieties are grown under diverse conditions and pressed with various techniques into wines that reach the top tier of the international wine market.
Regions
Sicilia
Sicily: more than a wine island
The largest island in the Mediterranean has a greater variety and history of wine to offer than many wine-growing countries. The focus of this interest rests on the full, fruity, yet well-structured wines from the long-neglected red Nero d'Avola variety, and on the wholesome Catarratto white wines. In addition, two legendary wines are experiencing a well-deserved renaissance: the liqueur wines from Marsala and the growths from Mount Etna, with their impressive crispness and complexity.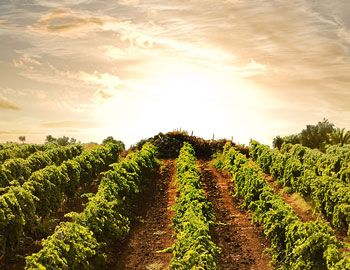 Grape varieties
Cabernet Franc
Forefather of the Bordeaux varieties
The Cabernet Franc is one of the oldest varieties of Bordelais and a parent of three other red grapes in the Bordeaux assortment: Cabernet Sauvignon, Merlot and Carmenère. It is distinguished by its complex, flavourful bouquet of raspberry, graphite, violet, liquorice and white pepper. In addition, it presents round, crisp tannins which turn out less strongly than those of Cabernet Sauvignon. While the Cabernet Franc always appears as part of a blend in Bordeaux, it is pressed alone on the Loire. The most renowned appellations are Chinon and Bourgueil. Incidentally, the Cabernet originates not in Bordeaux but in the Spanish Basque Country. Cabernet owes its name to the Latin "carbon", meaning black.
Syrah
The legend stubbornly persists that the Syrah variety came from the Persian city of Shiraz. Yet, researchers have shown that it is a natural crossing of two old French varieties: the red Dureza from the Rhône Valley and the white Mondeuse blanche from Savoy. Wines from Syrah are gentle and concentrated. They smell of dark berries, violets and liquorice, and amaze with a piquant touch of white pepper. As varietal wines, they are found on the northern Rhone, as in the Hermitage or Côte Rôtie appellations, as well as in Swiss Valais. In the southern Rhône Valley, Syrah is often wedded with Grenache and Mourvèdre. In 1832, a Frenchman brought the variety to Australia, where it became the emblem of the national wine industry. There, the weightiest versions develop with typical notes of tar and chocolate.