 Il Volano
IGT Toscana, Il Molino di Grace, 2016
In stock
Article nr. 35109716
| | |
| --- | --- |
| Grape variety: | Sangiovese, Merlot |
| Producer: | Il Molino di Grace |
| Origin: | Italy / Toscana / Chianti |
| Other vintages: | |
Description
Bright ruby red, the nose is marked by fruity and floral notes. Solid, balanced structure. Bold, fruity finish.
Product information
Wine description with logo
Wine description whitout logo
Wine description with logo
Wine description whitout logo
Attributes
| | |
| --- | --- |
| Origin: | Italy / Toscana / Chianti |
| Grape variety: | Sangiovese, Merlot |
| Maturity: | 2 to 5 years |
| Serving temperature: | 16 to 18 °C |
| Drinking suggestion: | Italian antipasti, Pork fillet with plums, Spaghetti alla bolognese, Spaghetti con sugo al basilico, Pizza or Flammkuchen |
| Vinification: | fermentation in steel tank, Punching down |
| Maturation: | in steel tank |
| Maturation duration: | 12 months |
| Volume: | 13.5 % |
Countries
Italy
Italy – Where wine is a way of life
The Italian wine regions are extremely diverse, and this is made clear in their wines. Established varieties such as Merlot, Syrah, and Sauvignon can be found on just 15 percent of the total vine growing area. The remaining 85 percent is reserved for autochthonous, indigenous varieties. More than 2,000 different grape varieties are grown under diverse conditions and pressed with various techniques into wines that reach the top tier of the international wine market.
Producers
Il Molino di Grace
Frank Grace acquired this estate in 1995 after holidaying in Tuscany with his wife and having fallen for the charm of this idyllic region.
No surprise given his origins in the state of Ohio, with nothing special and dominated by steel production. After major renovation and a partial replanting of the vines in 1999, the winery reopened its doors under the direction of Gerhard Hirmer, with Franco Bernabei, a well known figure in Italy, as winemaker. Marketing is left to Tim, Frank's son, and success has not been long in coming: in 2004 the Gambero Rosso guide raised expectations and in 2005 Decanter designated the estate one of the 25 best in Italy.
Il Molino di Grace, a historic old windmill, marks the entrance to the estate ('tenuta') a few kilometres south of Panzano amongst the hills of Chianti Classico. Sangiovese naturally plays the main role on the 14 hectare site at an altitude of 280 to 450 metres. Pockets of Cabernet Sauvignon, Merlot, Syrah and Canaiolo round out the complement of varietals. The oldest vines planted 55 years ago are reserved for the Gratius, the flagship wine made exclusively from Sangiovese grown on a soil called Gastestro, the best in Chianti, composed of clay-limestone marl and pebbles.
The viticulture adopts natural methods where possible, avoiding chemical fertilisers, herbicides and pesticides. The winemaking extends this approach with respect for indigenous yeasts and as little intervention as possible, and ageing is done in wood that integrates well with the structure of each wine. Most of the wines are not filtered, which can mean some sediment on ageing, leaving a rugged wine of full intensity and guaranteeing greater longevity. Here we present the Chianti Classico, a wine free of chic and fad but as it should be: honest, reliable and open. And that's why it finds friends even among the most sceptical of wine lovers.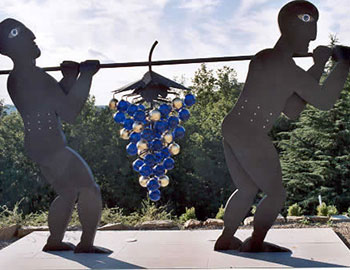 Grape varieties
Merlot
Merlot is the most charming member of the Bordeaux family. It shines with rich colour, fragrant fullness, velvety tannins and sweet, plummy fruit. It even makes itself easy for the vintner, as it matures without issue in cool years as well. This is in contrast to the stricter Cabernet Sauvignon, which it complements as a blending partner. Its good qualities have made the Merlot famous worldwide. At over 100,000 hectares, it is the most-planted grape in France. It also covers large areas in California, Italy, Australia and recently in Eastern Europe. The only catch is that pure Merlot varieties rarely turn out well. Its charm is often associated with a lack of substance. Only the best specimens improve with maturity. They then develop complex notes of leather and truffles. This succeeds in the top wines from the Bordeaux appellation of Pomerol and those from Ticino, among others.
Sangiovese
Chianti classico, Brunello di Montalcino, Vino nobile di Montepulciano: the Sangiovese is in each of the classic red wines from Tuscany. For a long time, it was assumed that its birthplace was here. After all, it appeared under various synonyms in Tuscan documents dating from 1600. But in 2004, researchers unveiled that one of its parents originated in Calabria in southern Italy. Today, it is the most planted variety in Italy. In addition to Tuscany, it fares well in Emilia-Romagna, Marche or Umbria. It is an exceptionally lovable wine: its aromas of cherry and plum, violets and spices are complemented by fresh acidity and a juicy texture. It wins people around both as cheerful, drinkable wines with pizza and pasta and as barrel-aged top class wines. Carried by Italian immigrants, it found its way to California and Argentina. However, it does not have the same reputation there.
Epicurean profile