Gambero Rosso
3 Bicchieri Vino Nobile di Montepulciano 2019
DOCG, Podere Le Bèrne, 750 ml
Exclusivity Baur au Lac Vins
Gift box available!
In stock
Article nr. 35180719
Items available in the stores
Gift box available!
Description
In southern Tuscany, in the province of Siena, in the middle of the beautiful countryside around Montepulciano, lies the family winery Le Bèrne and produces this Vino Nobile de Montepulciano with great artisanal skill. Its distinctive, red-fruited bouquet of red forest berries, dark cherries and Tahitian vanilla beguiles the nose. On the palate, it is balanced and full-bodied, accompanied by a slightly spicy pepper note and fine-grained, well-integrated tannins, which give the Tuscan from Prugnolo Gentile a good structure and longevity. Intense in its fruity- spicy aroma with a long, flavourful finish.
---
A product of the Marc Almert Selection IV
With the Marc Almert Selection, the ASI Best Sommelier of the World 2019, presents you a personally compiled selection of wines that not only touch his palate, but also his heart.
---
Marc Almert about the Vino Nobile di Montepulciano
Wine fairs: That sounds like excitement and enjoyment. In reality, however, they are usually quite "dry", hectic days on which you rush from one appointment to the next. This makes those moments when you get to talk to winemakers and the glass in front of you begs for a lot of attention all the more enjoyable. That's what happened to me at the last Vinitaly in Verona at the Le Bèrne booth, when we were chatting with the Natalini family and I thought to myself with this Prugnolo Gentile in the glass: "WOW, why haven't you opened something like this for so long?" My resolution for 2023: drink more Vino Nobile di Montepulciano, because its red fruit, peppery spice and animating flow make a bella figura both on its own and with an uncomplicated cold cuts platter.
Attributes
| | |
| --- | --- |
| Origin: | Italy / Toscana / Vino Nobile di Montepulciano |
| Grape variety: | Prugnolo gentile |
| Label: | Vegan |
| Ripening potential: | 3 to 8 years after harvest |
| Drinking temperature: | 16 to 18 °C |
| Food Pairing: | Brasato di manzo al Barolo, Cold fish dish, dried meat, Saddle of lamb fillet with herb jus, Saltimbocca, Spicy hard cheese, Risotto with ceps |
| Vinification: | long must fermentation, Pumping over |
| Harvest: | hand-picking, strict selection |
| Maturation: | in new barriques, some months bottle storage before sale |
| Volume: | 14.5 % |
| Note: | Contains sulphites |
Producer
Podere Le Bèrne / Fam. Natalini
Winemaker Andrea Natalini and his nephew Frederico, the budding oenologist at the winery, are the pillars of the family business. But at Le Bèrne, everyone pitches in to make great wines! Wines of excellent quality at fair prices, authentic, warm-hearted, and inviting, just like their producers. Welcome to Italy!
The winery Le Bèrne is located in south Tuscany, in the province of Siena, amidst the beautiful landscape of Montepulciano. The famous Vino Nobile has been produced here since the 14th century. In the 1960s, Egisto Natalini and his son Giuliano decided to vinify the grapes from their vineyards themselves. The winery was founded and it brought new splendour to the Tuscan winemaking tradition. In 1995, Giuliano's son, Andrea, a graduate agricultural engineer, joined the business. Andrea manages all the viticultural operations, supported by the renowned oenologist Paolo Vagaggini.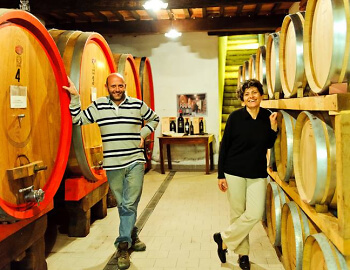 Grape variety
Prugnolo gentile
Chianti classico, Brunello di Montalcino, Vino nobile di Montepulciano: the Sangiovese is in each of the classic red wines from Tuscany. For a long time, it was assumed that its birthplace was here. After all, it appeared under various synonyms in Tuscan documents dating from 1600. But in 2004, researchers unveiled that one of its parents originated in Calabria in southern Italy. Today, it is the most planted variety in Italy. In addition to Tuscany, it fares well in Emilia-Romagna, Marche or Umbria. It is an exceptionally lovable wine: its aromas of cherry and plum, violets and spices are complemented by fresh acidity and a juicy texture. It wins people around both as cheerful, drinkable wines with pizza and pasta and as barrel-aged top class wines. Carried by Italian immigrants, it found its way to California and Argentina. However, it does not have the same reputation there.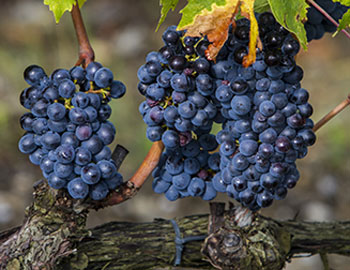 Country
Italy
Italy – Where wine is a way of life
The Italian wine regions are extremely diverse, and this is made clear in their wines. Established varieties such as Merlot, Syrah, and Sauvignon can be found on just 15 percent of the total vine growing area. The remaining 85 percent is reserved for autochthonous, indigenous varieties. More than 2,000 different grape varieties are grown under diverse conditions and pressed with various techniques into wines that reach the top tier of the international wine market.
Rating
Gambero Rosso
3 Bicchieri