 Syrah attimo
Vino varietale d'Italia, Paladin, 2018
750 ml
Selection Baur au Lac Vins
30
In stock
Article nr. 35284718
Attributes
| | |
| --- | --- |
| Origin: | Italien / Venezien |
| Grape variety: | Syrah |
| Ripening potential: | 1 to 6 years |
| Serving temperature: | 16 to 18 °C |
| Food pairing suggestion: | Brasato di manzo al Barolo, Cold fish dish, dried meat, Roasted lamb gigot, Saltimbocca, Vitello tonnato, Spaghetti alla bolognese |
| Vinification: | fermentation in steel tank |
| Harvest: | hand-picking, drying of the grapes |
| Maturation: | in large wooden barrel/foudre, some months bottle storage before sale |
| Bottling: | filtration |
| Maturation duration: | 6 months |
| Volume: | 13.5 % |
| Note: | Contains sulphites |
Countries
Italy
Italy – Where wine is a way of life
The Italian wine regions are extremely diverse, and this is made clear in their wines. Established varieties such as Merlot, Syrah, and Sauvignon can be found on just 15 percent of the total vine growing area. The remaining 85 percent is reserved for autochthonous, indigenous varieties. More than 2,000 different grape varieties are grown under diverse conditions and pressed with various techniques into wines that reach the top tier of the international wine market.
Regions
Veneto
Veneto: land of the Amarone and Prosecco
Veneto stretches from the Alpine foothills, through the flat Po Valley, to the Gulf of Venice on the Adriatic coast. Two types of wine in particular have been able to celebrate spectacular successes here in recent years: Amarone growths impress with their opulent body and force, while the cheerfully bubbling Proseccos please with their fruity, grape freshness. But the region also produces drinkable everyday wines, including the white Soave and the red Bardolino.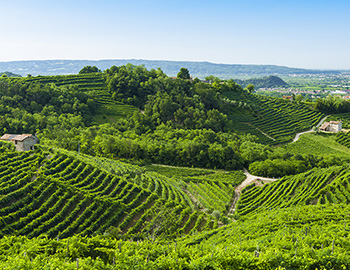 Producers
Paladin
The vineyards of the Paladin winery are located in the border area between the Eastern Veneto and Friuli, where wine was already being grown in Roman times. At that time, the wines of this area were shipped in amphorae from the nearby sea ports to Rome, as reported by the historian Pliny.
The company was founded 50 years ago by Valentino Paladin, and today is jointly managed by his three children: Lucia, Carlo and Roberto.

The calcareous clay soils were formed about 20,000 years ago, after the last ice age. At a depth of 50 to 100 centimetres, one runs into limestone, the so-called Caranto, which gives the wines their body, richness and flavour intensity. The region has a rather mild climate. To the north, the Dolomites and the Alps provide protection from the cold; to the south-east, the Adriatic has a moderating influence.
Grape varieties
Syrah
The legend stubbornly persists that the Syrah variety came from the Persian city of Shiraz. Yet, researchers have shown that it is a natural crossing of two old French varieties: the red Dureza from the Rhône Valley and the white Mondeuse blanche from Savoy. Wines from Syrah are gentle and concentrated. They smell of dark berries, violets and liquorice, and amaze with a piquant touch of white pepper. As varietal wines, they are found on the northern Rhone, as in the Hermitage or Côte Rôtie appellations, as well as in Swiss Valais. In the southern Rhône Valley, Syrah is often wedded with Grenache and Mourvèdre. In 1832, a Frenchman brought the variety to Australia, where it became the emblem of the national wine industry. There, the weightiest versions develop with typical notes of tar and chocolate.