 The Echo of G.
WO Western Cape, 4G Wines Estate, 2012
Product out of stock
Article nr. 53019712
| | |
| --- | --- |
| Grape variety: | Shiraz, Cabernet Sauvignon, Cabernet Franc |
| Producer: | 4G Wines |
| Origin: | South Africa / Coastal Region / Stellenbosch |
Description
Intense, complex bouquet with notes of cherries, blackberries and blackcurrants, subtly underscored by the aromas of Havana cigar and noble roasted aromas. On the palate, it is powerful and full-bodied with ripe, concentrated fruit, elegant freshness and juiciness. In style, The Echo of G. is reminiscent of a Pomerol or a Châteauneuf. Its finish is long and with a strong aromatic aftertaste.
Product information
Wine description with logo
Wine description whitout logo
Wine description with logo
Wine description whitout logo
Attributes
| | |
| --- | --- |
| Origin: | South Africa / Coastal Region / Stellenbosch |
| Grape variety: | Shiraz, Cabernet Sauvignon, Cabernet Franc |
| Maturity: | 5 to 24 years |
| Serving temperature: | 16 to 18 °C |
| Drinking suggestion: | Châteaubriand, Filet Wellington, Saddle of lamb fillet with herb jus, Bistecca fiorentina, T-Bone steak, Wild specialities, Spicy hard cheese |
| Vinification: | fermentation in wooden barrel, fermentation in steel tank, Pumping over, cooling period, fermentation at low temperatures |
| Harvest: | hand-picking |
| Maturation: | in partly new and used barriques/ Pièces |
| Bottling: | filtration |
| Maturation duration: | 18 months |
| Volume: | 15.0 % |
Producers
4G Wines
G. is set to become the Premier Cru or First Growth of the Cape – THE iconic wine of South Africa. Not because it builds on centuries of tradition and history – but the exact opposite, in fact.
4G Wines emerged from a mad idea of two oenophile friends who believed it must be possible to create an iconic wine, even without a professional background. One of which, Philipp Gerhard Axt, was enthralled – or downright obsessed – with the idea, and developed it further with tenacity, meticulousness, passion, savvy, and an entrepreneurial spirit. Two more friends joined subsequently: Giorgio Dalla Cia and Sohn Georges of the Meerlust Estate in Stellenbosch, South Africa. All four have names containing the letter G.
Grape varieties
Cabernet Sauvignon
The Cabernet Sauvignon gives the Bordeaux its backbone, yielding deep violet wines with powerful tannins and endless ripening potential. It is the top dog in Médoc, and is placed in all five premier crus of Bordelais. When young, it often appears strict and unapproachable, but with advancing years, its tannins round off. It is wonderfully velvety, and yet always maintains its freshness. Typical flavours include cassis, graphite and cedar. Wherever Cabernet Sauvignon is found, Merlot is not far away. It complements the robust structure of Cabernet with softness, fruit and richness. The Cabernet Sauvignon is the most-exported vine in the world. It delivers persuasive qualities in Italy as an ingredient of the Super Tuscan, or as the flagship variety from California. There, it is lovingly titled "Cab Sauv". Meat fans should be aware that it fantastically accompanies a grilled entrecôte. The family tree of Cabernet Sauvignon is surprising: its parents are Cabernet Franc and the white Sauvignon blanc.
Shiraz
The legend stubbornly persists that the Syrah variety came from the Persian city of Shiraz. Yet, researchers have shown that it is a natural crossing of two old French varieties: the red Dureza from the Rhône Valley and the white Mondeuse blanche from Savoy. Wines from Syrah are gentle and concentrated. They smell of dark berries, violets and liquorice, and amaze with a piquant touch of white pepper. As varietal wines, they are found on the northern Rhone, as in the Hermitage or Côte Rôtie appellations, as well as in Swiss Valais. In the southern Rhône Valley, Syrah is often wedded with Grenache and Mourvèdre. In 1832, a Frenchman brought the variety to Australia, where it became the emblem of the national wine industry. There, the weightiest versions develop with typical notes of tar and chocolate.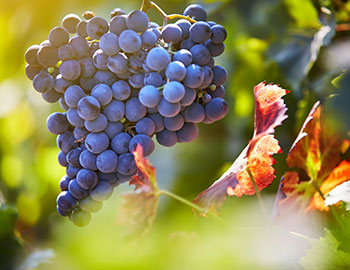 Cabernet Franc
Forefather of the Bordeaux varieties
The Cabernet Franc is one of the oldest varieties of Bordelais and a parent of three other red grapes in the Bordeaux assortment: Cabernet Sauvignon, Merlot and Carmenère. It is distinguished by its complex, flavourful bouquet of raspberry, graphite, violet, liquorice and white pepper. In addition, it presents round, crisp tannins which turn out less strongly than those of Cabernet Sauvignon. While the Cabernet Franc always appears as part of a blend in Bordeaux, it is pressed alone on the Loire. The most renowned appellations are Chinon and Bourgueil. Incidentally, the Cabernet originates not in Bordeaux but in the Spanish Basque Country. Cabernet owes its name to the Latin "carbon", meaning black.