 Milagros de Figuero 2018
DO Ribera del Duero, García Figuero, 750 ml
Exclusivity Baur au Lac Vins
Gift box available!
In stock
Article nr. 37058718
Items available in the stores
Gift box available!
Description
Committed to the tribute to the mother Milagros. Milagros is an extraordinary wine of delicate elegance and subtle force. It is aged in a 500-liter barrel, such that the noble notes of cigar, coconut, incense and the finest leather form a discrete, but perfect, base for the overlying main notes of fruit and spice. Its diverse tastes drag on in an extremely long-lasting bow of aromas, ending with the impression of sweet, ripe wild strawberries, bergamot and gingerbread spices. A wine for meditating, it does not need an accompaniment, but it harmonizes of course very well with refined dishes.
---
A product of the Marc Almert Selection IV
With the Marc Almert Selection, the ASI Best Sommelier of the World 2019, presents you a personally compiled selection of wines that not only touch his palate, but also his heart.
---
Marc Almert about the Milagros de Figuero
When the Figuero family and the Baur au Lac Vins team meet, we are always in each other's arms, so close has our collaboration become over the past decades. Accordingly, I am pleased and honoured to be able to recommend the "Milagros" to you. Only 7,000 bottles of this wine, named after Antonio's mother, are pressed each year and, like all Figuero wines, it is organically grown in La Horra. The rose on the label reflects the wine, Antonio always describes it as "elegant with enormous complexity". An earthy Tempranillo that is fun when caraffed young, but really enjoyable after a little bottle age. Salud!
Attributes
| | |
| --- | --- |
| Origin: | Spain / Castilla y León / Ribera del Duero |
| Grape variety: | Tempranillo |
| Ripening potential: | 5 to 20 years |
| Drinking temperature: | 16 to 18 °C |
| Food Pairing: | Châteaubriand, Filet Wellington, Roast veal with morel sauce, Wild fowl, Spicy hard cheese, Giant crevettes, grilled langoustines |
| Vinification: | fully destemmed, fermentation in steel tank, Pumping over, protein fining, cooling period |
| Harvest: | hand-picking, strict selection |
| Maturation: | in tonneau |
| Bottling: | no filtration |
| Maturation duration: | 16 months |
| Volume: | 15.5 % |
| Note: | Contains sulphites |
Producer
Viñedos y Bodegas García Figuero
The history of this Bodega is a prime example of those who do not let themselves be led astray, consistently and persistently go their own way, remain faithful to their convictions and who then reap the well-deserved success.
José María García was born in 1936 into a modest wine-growing family in the village of La Horra in Castile. At the age of 25, he married young Milagros Figuero from the same village, whose parents were also wine growers. The land belonging to the two families, which was planted with Tempranillo vines like virtually everywhere in Ribera del Duero, was subsequently merged and is the foundation of the modern family history today.
La Horra is located on a line between the villages of Sotillo in the North and Roa in the South, on the banks of the Duero River, which crosses the Spanish "Meseta" - a high-level plateau - from east to west. Driving to the provincial capital of Aranda del Duero takes approximately 20 minutes going east, over the rather flat countryside where vineyards alternate with corn and vegetable fields.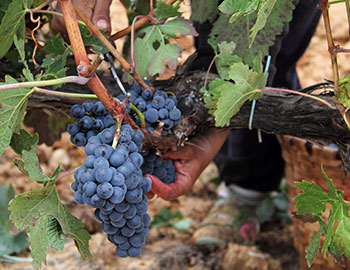 Grape variety
Tempranillo
The Tempranillo is the emblem of Spain. With its juicy cherry fruit, crisp tannins, and its notes of leather and spices, it gives the Rioja its face. In the Ribera del Duero, it is known as Tinta del país. Here it turns out focused and muscular. As it has inhabited the Iberian Peninsula for centuries, it is known under countless synonyms. Across the border in Portugal, it is called Tinta Roriz, and lends colour and body to port wine. It also plays an important role in the booming wine scene of the Douro Valley. The Tempranillo owes its name to its early maturity – "temprano" in Spanish means "early". Tip: do it like they do in Spain and enjoy it with lamb.
Subregion
Ribera del Duero
Ribera del Duero: Spanish temperament in a glass
The Tempranillo grape yields a particularly powerful wine with ripe berry fruit and alluring spice in the Ribera del Duero region, where it is called Tinta del País. It is no wonder that the region is seen internationally as a flagship for Spanish red wines. The designation of origin was first introduced in 1982. At the time, only few wineries existed; today, there are over 270. Many premium wines come from exceptionally old vines, sometimes over 80 years old.
Region
Castilla y León
Castile and León: Increasing diversity
Only 30 years ago, the autonomous region of Castile and León was an almost blank spot on the European wine list. This has changed immensely thanks to three grape varieties. The Tempranillo variety yields feisty, strong wines in Ribera del Duero and Toro. And Bierzo, the small wine area in the region's northwest, has experienced an impressive ascent, thanks to the character-laden Mencia variety. Finally, the fresh and fruity Verdelho pressings from Rueda have become the most successful Spanish white wines.
Country
Spain
Spain – Variety and perfection
"Somewhere in la Mancha, in a place whose name I do not care to remember...," begins Don Quixote's odyssey.
The most famous part is definitely when Don Quixote thinks windmills are his enemy and wants to fight them – until they nearly kill him. It's possible there was a bit too much of the La Mancha wine at play. Spanish vines fight for their survival in rugged landscapes, battling fierce drought and rough soils. But they fight well.
Epicurean profile