 Vega Sicilia Unico
DO Ribera del Duero, Vega Sicilia, 1999
Product out of stock
Article nr. 37030799
| | |
| --- | --- |
| Grape variety: | Tempranillo, Cabernet Sauvignon, Merlot |
| Producer: | Vega Sicilia |
| Origin: | Spain / Castilla y León / Ribera del Duero |
| Other vintages: | |
Attributes
| | |
| --- | --- |
| Origin: | Spain / Castilla y León / Ribera del Duero |
| Grape variety: | Tempranillo, Cabernet Sauvignon, Merlot |
| Maturity: | 20 to 40 years |
| Serving temperature: | 16 to 18 °C |
| Drinking suggestion: | Châteaubriand, Filet Wellington, Roast veal with morel sauce, Saddle of lamb fillet with herb jus, Roast saddle of venison, Wild specialities, Wild fowl |
| Vinification: | fermentation in wooden barrel |
| Harvest: | hand-picking, strict selection, in small boxes |
| Maturation: | in new barriques, long cultivation, some months bottle storage before sale |
| Bottling: | no filtration |
| Maturation duration: | 60 months |
| Volume: | 13.0 % |
Countries
Spain
Spain – Variety and perfection
"Somewhere in la Mancha, in a place whose name I do not care to remember...," begins Don Quixote's odyssey.
The most famous part is definitely when Don Quixote thinks windmills are his enemy and wants to fight them – until they nearly kill him. It's possible there was a bit too much of the La Mancha wine at play. Spanish vines fight for their survival in rugged landscapes, battling fierce drought and rough soils. But they fight well.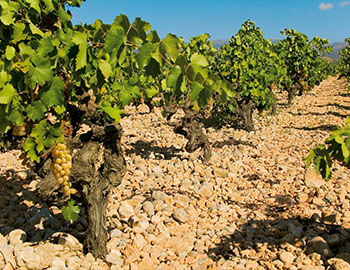 Regions
Castilla y León
Castile and León: Increasing diversity
Only 30 years ago, the autonomous region of Castile and León was an almost blank spot on the European wine list. This has changed immensely thanks to three grape varieties. The Tempranillo variety yields feisty, strong wines in Ribera del Duero and Toro. And Bierzo, the small wine area in the region's northwest, has experienced an impressive ascent, thanks to the character-laden Mencia variety. Finally, the fresh and fruity Verdelho pressings from Rueda have become the most successful Spanish white wines.
Subregions
Ribera del Duero
Ribera del Duero: Spanish temperament in a glass
The Tempranillo grape yields a particularly powerful wine with ripe berry fruit and alluring spice in the Ribera del Duero region, where it is called Tinta del País. It is no wonder that the region is seen internationally as a flagship for Spanish red wines. The designation of origin was first introduced in 1982. At the time, only few wineries existed; today, there are over 270. Many premium wines come from exceptionally old vines, sometimes over 80 years old.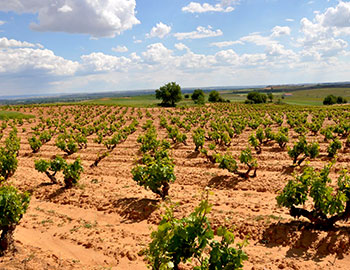 Grape varieties
Merlot
Merlot is the most charming member of the Bordeaux family. It shines with rich colour, fragrant fullness, velvety tannins and sweet, plummy fruit. It even makes itself easy for the vintner, as it matures without issue in cool years as well. This is in contrast to the stricter Cabernet Sauvignon, which it complements as a blending partner. Its good qualities have made the Merlot famous worldwide. At over 100,000 hectares, it is the most-planted grape in France. It also covers large areas in California, Italy, Australia and recently in Eastern Europe. The only catch is that pure Merlot varieties rarely turn out well. Its charm is often associated with a lack of substance. Only the best specimens improve with maturity. They then develop complex notes of leather and truffles. This succeeds in the top wines from the Bordeaux appellation of Pomerol and those from Ticino, among others.
Cabernet Sauvignon
The Cabernet Sauvignon gives the Bordeaux its backbone, yielding deep violet wines with powerful tannins and endless ripening potential. It is the top dog in Médoc, and is placed in all five premier crus of Bordelais. When young, it often appears strict and unapproachable, but with advancing years, its tannins round off. It is wonderfully velvety, and yet always maintains its freshness. Typical flavours include cassis, graphite and cedar. Wherever Cabernet Sauvignon is found, Merlot is not far away. It complements the robust structure of Cabernet with softness, fruit and richness. The Cabernet Sauvignon is the most-exported vine in the world. It delivers persuasive qualities in Italy as an ingredient of the Super Tuscan, or as the flagship variety from California. There, it is lovingly titled "Cab Sauv". Meat fans should be aware that it fantastically accompanies a grilled entrecôte. The family tree of Cabernet Sauvignon is surprising: its parents are Cabernet Franc and the white Sauvignon blanc.
Tempranillo
The Tempranillo is the emblem of Spain. With its juicy cherry fruit, crisp tannins, and its notes of leather and spices, it gives the Rioja its face. In the Ribera del Duero, it is known as Tinta del país. Here it turns out focused and muscular. As it has inhabited the Iberian Peninsula for centuries, it is known under countless synonyms. Across the border in Portugal, it is called Tinta Roriz, and lends colour and body to port wine. It also plays an important role in the booming wine scene of the Douro Valley. The Tempranillo owes its name to its early maturity – "temprano" in Spanish means "early". Tip: do it like they do in Spain and enjoy it with lamb.
Rating