 Vi de Vila Porrera
DOC Priorat, Cims de Porrera, 2015
Product out of stock
Article nr. 37035815
Description
The aroma palette on the nose as well as on the palate is broadly diversified, long and extensive in the finish: dried plums, black cherries, gingerbread and warm milk chocolate are accompanied by a fresh herbal fragrance. A wine of great expression, enormous power and richness, breadth and elegance that is certainly one of the best wines in Spain at a moderate price.
Attributes
| | |
| --- | --- |
| Origin: | Spain / Catalunya / Priorato |
| Grape variety: | Carignan, Garnacha |
| Ripening potential: | 3 to 12 years |
| Serving temperature: | 16 to 18 °C |
| Food pairing suggestion: | Cold fish dish, dried meat, Saddle of lamb fillet with herb jus, Roasted lamb gigot, Roast saddle of venison, Bistecca fiorentina, T-Bone steak, Goat's cheese |
| Vinification: | long must fermentation, fermentation in steel tank, Punching down, soft pressing |
| Harvest: | hand-picking, selecting the grapes (by hand) |
| Maturation: | in new barriques, long cultivation |
| Bottling: | filtration |
| Maturation duration: | 13 months |
| Volume: | 15.0 % |
| Note: | Contains sulphites |
Countries
Spain
Spain – Variety and perfection
"Somewhere in la Mancha, in a place whose name I do not care to remember...," begins Don Quixote's odyssey.
The most famous part is definitely when Don Quixote thinks windmills are his enemy and wants to fight them – until they nearly kill him. It's possible there was a bit too much of the La Mancha wine at play. Spanish vines fight for their survival in rugged landscapes, battling fierce drought and rough soils. But they fight well.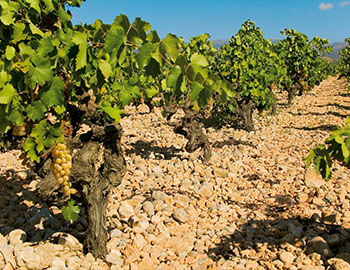 Regions
Catalunya
Catalonia: the great range
Spain's second largest wine region has an impressive variety to offer. As a result, there are eleven different designations of origin in Catalonia. As the home of cava, Catalonia is one of the leading producers of sparkling wines produced according to classical methods. There is a wide selection of both elegant white wines and well-structured reds. Areas such as Priorat or Montsant have experienced an enormous upswing in recent years. The traditional sweet wine Moscatel de Sitges is also produced here.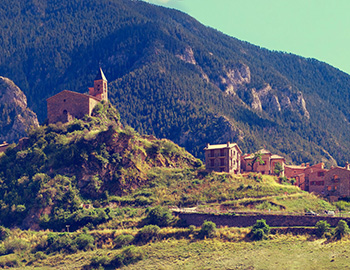 Subregions
Priorato
Priorat: Vergessen, wiederentdeckt, gefeiert…
Noch anfangs der 80er Jahre war das Priorat eine durch die Abwanderung geschwächte Problemregion. Dann entdeckten vier junge Winzer den verlassenen Talkessel, der nur eine Autostunde von der katalonischen Mittelmeerküste entfernt liegt, und begannen mit der Restauration der alten Rebanlagen. Heute sind die Priorat-Weine, die meistens von den alteingesessenen Sorten Garnacha und Cariñena geprägt werden, weltweit gefragt. Dank der spektakulären Renaissance der Priorat-Weine erlebt die ganze Region einen Aufschwung.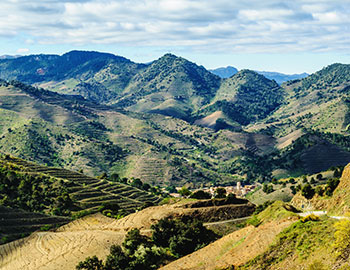 Grape varieties
Carignan
The red Carignan is a heat-loving Mediterranean grape. It has a bit of everything over other varieties: more colour, more tannins, more acid. It is not easy to press a harmonious wine from it alone. Hence it is most often encountered as a blend partner, as in the Côtes du Rhône wines. In Spain it is called Mazuelo and is part of the traditional Rioja recipe. It provides the wines' acidic backbone. The most exciting varietal specimens come from the slate slopes of the Catalan Priorat, from old bush vines in Chile or from Sardinia, where it is known as Carignano. When pressed properly, this oddball generates a lush bouquet of plums and dark fruits. Its origins lie in the northwest Spanish Aragon, near the town of Cariñena. The surrounding wine area is also named after it. In order to prevent confusion with the vine, it is called Samsó there.
Garnacha
Grenache seldom comes alone
Spaniards and Sardinians make the Grenache contentious: both claim it originated from their country. In fact, it had already appeared in both places by the 16th century. But a large number of mutations in Spain indicates that it has deeper roots on the Iberian Peninsula. The Grenache is meaty, rich in tannins and spicy, with a wonderful, fruity sweetness and rich aromas of blackberry, cassis, plums and pepper. Under the name Garnacha, it contributes fullness to the Rioja. In Sardinia it is called Cannonau, where it yields strong, expressive wines. But its stronghold is in France. Grenache is the star in Châteauneuf-du-Pape and streams into many other assemblages from the south. Its preferred partners are Syrah and Mourvèdre. This blend is also very popular abroad. In Australia, these wines are simply called "GSM".