 Cabernet Sauvignon/Tempranillo Crianza
DO Navarra, Vega Sindoa, 2015
750 ml
Selection Baur au Lac Vins
30
In stock
Article nr. 37016715
Description
Fruity on the nose: blueberry and strawberry. On palate, well-integrated tannins that fill the mouth, and a nice finish. A very seductive wine thanks to the harmony between the tannins and a flexible structure marked by a fine oakiness on the back palate.
Attributes
| | |
| --- | --- |
| Origin: | Spanien / Navarra |
| Grape variety: | Cabernet Sauvignon, Tempranillo |
| Ripening potential: | 2 to 8 years |
| Serving temperature: | 16 to 18 °C |
| Food pairing suggestion: | Brasato di manzo al Barolo, Spiced grillades, Saddle of lamb fillet with herb jus, Bistecca fiorentina, T-Bone steak, Spicy hard cheese, Paella |
| Vinification: | short must fermentation, cooling period |
| Maturation: | in used barriques, long cultivation |
| Bottling: | filtration |
| Volume: | 14.0 % |
| Note: | Contains sulphites |
Countries
Spain
Spain – Variety and perfection
"Somewhere in la Mancha, in a place whose name I do not care to remember...," begins Don Quixote's odyssey.
The most famous part is definitely when Don Quixote thinks windmills are his enemy and wants to fight them – until they nearly kill him. It's possible there was a bit too much of the La Mancha wine at play. Spanish vines fight for their survival in rugged landscapes, battling fierce drought and rough soils. But they fight well.
Regions
Navarra
Navarre: a land of many terroirs
Until 1841, Navarre was an independent kingdom with a rich wine culture. Thanks to varying soil types and equally diverse climatic influences, Navarra has an amazing array of wines. The spectrum ranges from substantial Chardonnays to drinkable rosés to red wines, where international varieties such as Cabernet Sauvignon and Merlot often set the tone along with Tempranillo and Garnacha. Exquisite sweet wines from Moscatel grapes are also vinified here.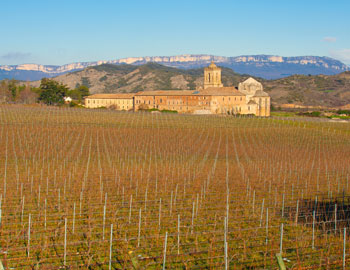 Producers
Bodegas Vega Sindoa
The vineyards for the Vega Sindoa wines are in the heart of Navarre, in the Valle de Nekeas, the valley where the wine lives, as the locals say. The 6th leg of the pilgrim's path to Santiago de Compostela leads through this charming hilly landscape, where wine has been grown for centuries.
In this area, protected to the north by the Pyrenees, a wide variety of vines – Chardonnay, Viura, Moscatel, Viognier, Tempranillo, Cabernet, Merlot, Garnacha, Syrah and Malbec – enjoy superb climactic and soil conditions. The climate is shaped both by the Atlantic Ocean and the Mediterranean Sea. The vineyards are situated at altitudes between 450 and 650 metres above sea level, with varying orientations and on very different soils. This wide variety of factors helps to ensure that the individual grape varieties are planted to grow in perfect harmony with their environment.
Grape varieties
Tempranillo
The Tempranillo is the emblem of Spain. With its juicy cherry fruit, crisp tannins, and its notes of leather and spices, it gives the Rioja its face. In the Ribera del Duero, it is known as Tinta del país. Here it turns out focused and muscular. As it has inhabited the Iberian Peninsula for centuries, it is known under countless synonyms. Across the border in Portugal, it is called Tinta Roriz, and lends colour and body to port wine. It also plays an important role in the booming wine scene of the Douro Valley. The Tempranillo owes its name to its early maturity – "temprano" in Spanish means "early". Tip: do it like they do in Spain and enjoy it with lamb.
Cabernet Sauvignon
The Cabernet Sauvignon gives the Bordeaux its backbone, yielding deep violet wines with powerful tannins and endless ripening potential. It is the top dog in Médoc, and is placed in all five premier crus of Bordelais. When young, it often appears strict and unapproachable, but with advancing years, its tannins round off. It is wonderfully velvety, and yet always maintains its freshness. Typical flavours include cassis, graphite and cedar. Wherever Cabernet Sauvignon is found, Merlot is not far away. It complements the robust structure of Cabernet with softness, fruit and richness. The Cabernet Sauvignon is the most-exported vine in the world. It delivers persuasive qualities in Italy as an ingredient of the Super Tuscan, or as the flagship variety from California. There, it is lovingly titled "Cab Sauv". Meat fans should be aware that it fantastically accompanies a grilled entrecôte. The family tree of Cabernet Sauvignon is surprising: its parents are Cabernet Franc and the white Sauvignon blanc.