 Santa Cruz de Artazu tinto 2017
DO Navarra, Artazu, 750 ml
Exclusivity Baur au Lac Vins
Gift box available!
In stock
Article nr. 37133717
Items available in the stores
Gift box available!
Description
An intense scent of stony forest soil, woody spices and baroque roses. On the palate juicy, fresh and incredibly powerful. Black cherry chocolate jam, black pepper, wet asphalt after a summer thunderstorm, radiant fruit, high extract and yet very elegant with fine Garnacha sweetness. Compact, polished tannin. A distinctly long finish with a mineral touch. A long-distance runner from Navarre with a strong character.
Attributes
| | |
| --- | --- |
| Origin: | Spain / Navarra |
| Grape variety: | Garnacha |
| Label: | Certified integrated production |
| Ripening potential: | 3 to 15 years |
| Serving temperature: | 16 to 18 °C |
| Food pairing suggestion: | Latin American dishes, Moroccan specialities, Spiced grillades, Pork fillet with plums, Hearty stew with pulses |
| Vinification: | fermentation in steel tank, Pumping over, fermentation at low temperatures |
| Harvest: | hand-picking, strict selection, in small boxes |
| Maturation: | in tonneau, in partly new and used barriques/ Pièces |
| Maturation duration: | 12 months |
| Volume: | 14.5 % |
| Note: | Contains sulphites |
Producer
Bodegas y Viñedos Artazu
Bodegas y Viñedos Artadi is a Spanish winery group whose vineyards are in Alicante (Valencia), in the northeastern region of Navarre and in Álava and Gipuzkoa in the Basque Country. In 1985, a group of winegrowers founded this private cooperative project, which, with one tiny exception, only produces single-grape-variety wines.

Today it is run by a nature-loving family in cooperation with the top winemaker Juan Carlos López de Lacalle, maintaining a high standard of quality and pursuing a consistent terroir philosophy. His passion is the Garnacha grape variety. Since 2011, the vineyards have been cultivated according to biodynamic guidelines. Juan Carlos' motto is "a sense for nature and tireless work will lead us to success".

Bodega Artazu is located in the medieval wine-growing town of Artazu (Valdizarbe) in northern Navarre, where the Artadi Group has been growing wine since 1996. The vineyards are located around Artazu and in San Martín de Unx at a slightly cooler altitude of up to 600 metres. Garnacha vines have been growing there for over 60 years. The perfect conditions for aromatically dense wines that reflect their unique terroir. Juan Carlos is a master at vinifying individual plots and developing their terroir character.
Grape variety
Garnacha
Grenache seldom comes alone
Spaniards and Sardinians make the Grenache contentious: both claim it originated from their country. In fact, it had already appeared in both places by the 16th century. But a large number of mutations in Spain indicates that it has deeper roots on the Iberian Peninsula. The Grenache is meaty, rich in tannins and spicy, with a wonderful, fruity sweetness and rich aromas of blackberry, cassis, plums and pepper. Under the name Garnacha, it contributes fullness to the Rioja. In Sardinia it is called Cannonau, where it yields strong, expressive wines. But its stronghold is in France. Grenache is the star in Châteauneuf-du-Pape and streams into many other assemblages from the south. Its preferred partners are Syrah and Mourvèdre. This blend is also very popular abroad. In Australia, these wines are simply called "GSM".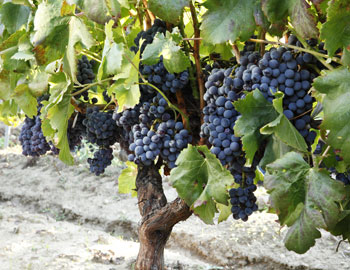 Region
Navarra
Navarre: a land of many terroirs
Until 1841, Navarre was an independent kingdom with a rich wine culture. Thanks to varying soil types and equally diverse climatic influences, Navarra has an amazing array of wines. The spectrum ranges from substantial Chardonnays to drinkable rosés to red wines, where international varieties such as Cabernet Sauvignon and Merlot often set the tone along with Tempranillo and Garnacha. Exquisite sweet wines from Moscatel grapes are also vinified here.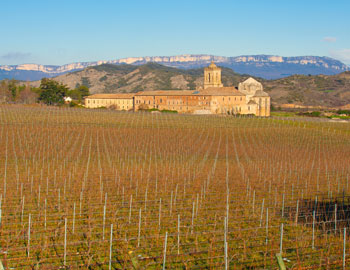 Country
Spain
Spain – Variety and perfection
"Somewhere in la Mancha, in a place whose name I do not care to remember...," begins Don Quixote's odyssey.
The most famous part is definitely when Don Quixote thinks windmills are his enemy and wants to fight them – until they nearly kill him. It's possible there was a bit too much of the La Mancha wine at play. Spanish vines fight for their survival in rugged landscapes, battling fierce drought and rough soils. But they fight well.
Epicurean profile
Rating