 Rioja Reserva Señorío Amézola
DOC Rioja, Bodegas Amézola de la Mora, 2014
750 ml
Selection Baur au Lac Vins
30
In stock
Article nr. 37004714
| | |
| --- | --- |
| Grape variety: | Tempranillo, Mazuelo, Graciano |
| Producer: | Bodegas Amézola de la Mora |
| Origin: | Spain / Rioja |
Description
Here, lovers of the time-honoured, classic Rioja style more than get their money's worth! Long ageing in oak barrels and some more years in the bottle express themselves with an impressive variety of flavours: vanilla, chocolate, cinnamon, coconut, honey and yeast pastries, as well as marzipan. The fruit is discreet, with bergamot, dried prunes and dates. On the palate, it presents itself with refreshing elegance, slender and juicy. The impression of honey pastry lingers until the end.
Attributes
| | |
| --- | --- |
| Origin: | Spain / Rioja |
| Grape variety: | Tempranillo, Mazuelo, Graciano |
| Ripening potential: | 4 to 8 years |
| Serving temperature: | 16 to 18 °C |
| Food pairing suggestion: | Brasato di manzo al Barolo, Calf's kidneys with mustard sauce, Roasted lamb gigot, Wild boar entrecôte with Spätzli, Spicy hard cheese, Hearty stew with pulses |
| Vinification: | long must fermentation, fermentation in steel tank, soft pressing |
| Harvest: | hand-picking, in small boxes |
| Maturation: | in used barriques, some months bottle storage before sale |
| Bottling: | filtration |
| Maturation duration: | 22 months |
| Volume: | 14.0 % |
| Note: | Contains sulphites |
Countries
Spain
Spain – Variety and perfection
"Somewhere in la Mancha, in a place whose name I do not care to remember...," begins Don Quixote's odyssey.
The most famous part is definitely when Don Quixote thinks windmills are his enemy and wants to fight them – until they nearly kill him. It's possible there was a bit too much of the La Mancha wine at play. Spanish vines fight for their survival in rugged landscapes, battling fierce drought and rough soils. But they fight well.
Regions
Rioja
Rioja: A legend in upheaval
It is the flagship of the Spanish wine industry: the Rioja region, with its elegant, yet storable wines, most of which are dominated by the Tempranillo, has decisively influenced the image of Spanish wine. Above all, the Reservas and Gran Reservas, aged for years in barrels, enjoy a magical reputation. For about 20 years, the Rioja houses have created a sensation with modern-designed, fruity wines, which are marked more by their terroir than their aging processes.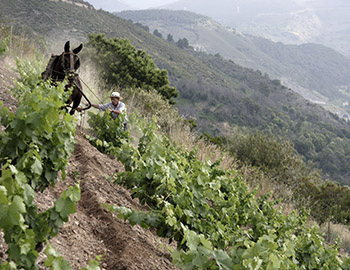 Producers
Bodegas Amézola de la Mora
The Amézola de la Mora family vineyard originated in the 19th century. Already then it enjoyed a good reputation in large parts of the country. With the appearance of the dreaded phylloxera plague, however, production unfortunately came to an end. In 1986, Iñigo Amézola de la Mora brought the family estate back to life.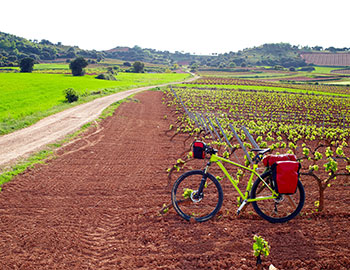 Grape varieties
Mazuelo
The red Carignan is a heat-loving Mediterranean grape. It has a bit of everything over other varieties: more colour, more tannins, more acid. It is not easy to press a harmonious wine from it alone. Hence it is most often encountered as a blend partner, as in the Côtes du Rhône wines. In Spain it is called Mazuelo and is part of the traditional Rioja recipe. It provides the wines' acidic backbone. The most exciting varietal specimens come from the slate slopes of the Catalan Priorat, from old bush vines in Chile or from Sardinia, where it is known as Carignano. When pressed properly, this oddball generates a lush bouquet of plums and dark fruits. Its origins lie in the northwest Spanish Aragon, near the town of Cariñena. The surrounding wine area is also named after it. In order to prevent confusion with the vine, it is called Samsó there.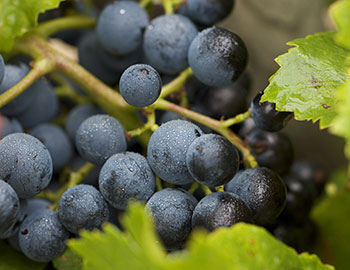 Graciano
A small, mundane black one
Graciano is an old red variety, originally from Sardinia. However, it was propagated diligently after the Spanish occupation of the island in the 16th century. Thus, today it is found in the Languedoc-Roussillon region of southern France, Bulgaria, Tunisia, Algeria, Argentina, Brazil and South Africa, among others. But this vine achieved particular importance in Spain.
Until 1850, Graciano was one of the most important varieties in Rioja. But the phylloxera epidemic afflicted the Graciano so seriously that it was threatened with extinction. In 1991, the Rioja region was classified as a controlled region of origin, whereby Graciano experienced an upturn.
The late-maturing, low-yielding vine generates small blue-black bunches with extremely hard-skinned berries. Purely Graciano wines are dark in color with striking acidity and intense tannins. In blends, Graciano lends acidity, structure and bouquet to red wines. It also enhances the aging potential.

Tempranillo
The Tempranillo is the emblem of Spain. With its juicy cherry fruit, crisp tannins, and its notes of leather and spices, it gives the Rioja its face. In the Ribera del Duero, it is known as Tinta del país. Here it turns out focused and muscular. As it has inhabited the Iberian Peninsula for centuries, it is known under countless synonyms. Across the border in Portugal, it is called Tinta Roriz, and lends colour and body to port wine. It also plays an important role in the booming wine scene of the Douro Valley. The Tempranillo owes its name to its early maturity – "temprano" in Spanish means "early". Tip: do it like they do in Spain and enjoy it with lamb.
Epicurean profile