 Clos des Corbassières Gamay Vieilles Vignes 2021
AOC Valais, Domaine Cornulus, 750 ml
Assortment Baur au Lac Vins
Gift box available!
In stock
Article nr. 30037721
Items available in the stores
Gift box available!
Description
The old Gamay vines (35 - 80 years old) grow on steep, sunny terraces within the historic Clos des Corbassières. The first Gamay vines were planted at the beginning of the last century. This Gamay exudes a generous scent of raspberries, rose petals, red cooked plums, vanilla and sweet tobacco. It unfolds on the palate velvety, juicy and fresh. It has a drinkable effect and is a great drinking pleasure when slightly chilled. The aromas are reminiscent of blueberry jam, morello cherries and some graphite. The finish is long and full-bodied. A culinary passe-partout that pleasantly surprises connoisseurs. Serve as an alternative to white wine.
Attributes
| | |
| --- | --- |
| Origin: | Switzerland / Wallis |
| Grape variety: | Gamay |
| Ripening potential: | 2 to 7 years |
| Drinking temperature: | 14 to 18 °C |
| Food Pairing: | Fish terrine, Cold fish dish, dried meat, Succulent chicken breast with cream sauc, Wild fowl, Fondue and raclette |
| Harvest: | hand-picking with simultaneous grape sel |
| Maturation: | in large wooden barrel/foudre |
| Volume: | 13.5 % |
| Note: | Contains sulphites |
Producer
Domaine Cornulus
What started out from humble beginnings over 20 years ago is now one of Valais' flagship wineries and the byword for both a way of working in harmony with nature and premium wines, all of which strongly bring out their individual terroir.
Valais natives and cousins Stéphane Reynard and Dany Varone are perfectionists who love what they do. They tend to their vines, which live and thrive above Sion in the village of Savièse, as if they were their own children. Thanks to Dany Varone's meticulous and expert work in the wine cellar, they craft terroir wines of the highest quality. This winemaking duo – now part of the Valais elite – laid the foundation for their successful Domaine Cornulus project in 1986, setting up the "Buteo" wine cellar and launching their "Garage Winery". They bought their first harvests straight off the vines of various Savièse winegrowers and started pressing them in a garage. The following year, they leased their first vines in the vineyards above Sion (less than 1 hectare). In 1989 they created the Sélection Cornulus, after which their winery is named. A few harvests later, they acquired their first plots in the Clos de Mangold in 1995. Their dream of establishing a real domaine of their own gradually took shape. "After all, you will rarely find a good wine without terroir," say Stéphane and Dany. In 1999 there followed the "prime cut", the famous Clos des Corbassières, the jewel in the domaine's crown. In the course of the "noughties", they successively acquired various Grand Cru plots between Sion and Sierre as well as Clos Chamaray, St-Charles and La Follie. The rich palette of exquisite vines was finally rounded off to perfection by the magnificent Clos des Monzuettes.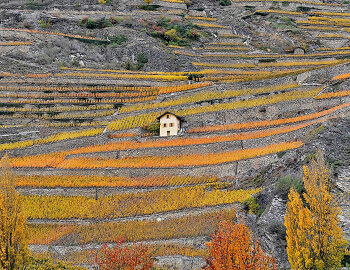 Grape variety
Gamay
The first written mention of the Gamay grape was not particularly flattering. In 1395, Philip the Bold, Duke of Burgundy, wrote that the variety showed a "terrible bitterness" and was "very harmful to human beings". For this reason, the entire stock was to be pulled within five months. Luckily, it did not come to this. Otherwise, today we would have neither the excellent crus of Beaujolais, produced from this grape, nor the Dole du Valais a marriage of Gamay and Pinot noir. Admittedly, the Beaujolais nouveau, which was clamoured about in the 1980s, is not its best manifestation. But with good maturity and competent grapes, the Gamay shows great charm and a fragrant strawberry, raspberry and cherry fruit, backed by peppery notes. It is the ideal summer red: slightly chilled, it tastes great on the terrace, and is excellent with grilled fish.
Region
Wallis
Valais: Alpine wines with class
More than 20 varieties of grapes can yield wines in Valais that are full of character. A large number of them grow on spectacular, steep slopes. Sealed off by mighty chains of mountains, old plantings like Petite Arvine, Amigne and Cornalin have survived in Valais, and today they are highly sought-after by wine enthusiasts. The highest vineyards in Europe are also found in Valais: the Savignin vines (known here as "Heida"), rooted in the mountain community of Visperterminen.
Country
Switzerland
Switzerland – A small country with enormous diversity
Switzerland is famous for its banks, watches, and cheese, but not necessarily for its wine. The Swiss didn't invent wine, but they have been extremely open and curious to it. Wine culture arrived in what is now modern Switzerland via several routes: from Marseilles to Lake Geneva and the Lower Valais region; from the Aosta Valley through the Great St. Bernard Pass to the rest of Valais; from the Rhone through Burgundy, across the Jura Mountains to Lake Constance; and from Lombardy to Ticino, and then on to Grisons.
Epicurean profile