 Cornalin
AOC Valais, Didier Joris, 2018
In stock
Article nr. 30165718
| | |
| --- | --- |
| Grape variety: | Cornalin |
| Producer: | Didier Joris |
| Origin: | Switzerland / Wallis |
Product information
Wine description with logo
Wine description whitout logo
Wine description with logo
Wine description whitout logo
Attributes
| | |
| --- | --- |
| Origin: | Switzerland / Wallis |
| Grape variety: | Cornalin |
| Maturity: | 1 to 6 years |
| Serving temperature: | 16 to 18 °C |
| Volume: | 14.0 % |
Countries
Switzerland
Switzerland – A small country with enormous diversity
Switzerland is famous for its banks, watches, and cheese, but not necessarily for its wine. The Swiss didn't invent wine, but they have been extremely open and curious to it. Wine culture arrived in what is now modern Switzerland via several routes: from Marseilles to Lake Geneva and the Lower Valais region; from the Aosta Valley through the Great St. Bernard Pass to the rest of Valais; from the Rhone through Burgundy, across the Jura Mountains to Lake Constance; and from Lombardy to Ticino, and then on to Grisons.
Regions
Wallis
Valais: Alpine wines with class
More than 20 varieties of grapes can yield wines in Valais that are full of character. A large number of them grow on spectacular, steep slopes. Sealed off by mighty chains of mountains, old plantings like Petite Arvine, Amigne and Cornalin have survived in Valais, and today they are highly sought-after by wine enthusiasts. The highest vineyards in Europe are also found in Valais: the Savignin vines (known here as "Heida"), rooted in the mountain community of Visperterminen.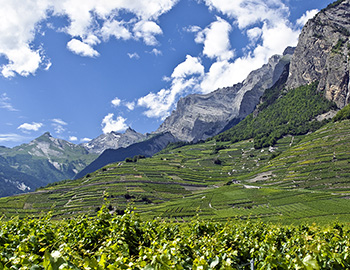 Grape varieties
Cornalin
The Cornalin is the victim of confusion. It is one of the oldest specialities of Valais. Traditionally, it was known there under the name Rouge du Pays, or "country red". But, as there was already a variety bearing that name in the Aosta Valley, it was officially rechristened Cornalin. It was thought that this referred to the same grapes. Yet genetic analysis showed that the two, while related, are not identical. There are thus two completely different grapes with the name Cornalin. The Valais Cornalin – or the Rouge du Pays – is a merry, everyday wine. It tastes of black cherry, raspberry and violets and fills the palate with plenty of velvety tannins. A slightly spicy note, as of cinnamon or cloves, is typical. It tastes great with mature Valais cheese and ham from a mountain pig!