 Le Tourmentin
AOC Wallis, Rouvinez, 2016
750 ml
Assortment Baur au Lac Vins
20
In stock
Article nr. 30010716
Attributes
| | |
| --- | --- |
| Origin: | Schweiz / Wallis |
| Grape variety: | Cornalin, Humagne rouge, Pinot noir, Syrah |
| Ripening potential: | 2 to 7 years |
| Serving temperature: | 16 to 18 °C |
| Food pairing suggestion: | Châteaubriand, Filet Wellington, Spiced grillades, Roast veal with morel sauce, Wild fowl, Cheese board |
| Vinification: | short must fermentation, fermentation in steel tank |
| Harvest: | hand-picking |
| Maturation: | in partly new and used barriques/ Pièces |
| Maturation duration: | 12 months |
| Volume: | 13.5 % |
| Note: | Contains sulphites |
Countries
Switzerland
Switzerland – A small country with enormous diversity
Switzerland is famous for its banks, watches, and cheese, but not necessarily for its wine. The Swiss didn't invent wine, but they have been extremely open and curious to it. Wine culture arrived in what is now modern Switzerland via several routes: from Marseilles to Lake Geneva and the Lower Valais region; from the Aosta Valley through the Great St. Bernard Pass to the rest of Valais; from the Rhone through Burgundy, across the Jura Mountains to Lake Constance; and from Lombardy to Ticino, and then on to Grisons.
Regions
Wallis
Valais: Alpine wines with class
More than 20 varieties of grapes can yield wines in Valais that are full of character. A large number of them grow on spectacular, steep slopes. Sealed off by mighty chains of mountains, old plantings like Petite Arvine, Amigne and Cornalin have survived in Valais, and today they are highly sought-after by wine enthusiasts. The highest vineyards in Europe are also found in Valais: the Savignin vines (known here as "Heida"), rooted in the mountain community of Visperterminen.
Grape varieties
Humagne rouge
With this wine, you have a choice. Either drink it young, when its lush berry fruit dominates, or wait three to five years and experience its wild side. Even when young the Humagne rouge demonstrates echoes of tree bark and animal hide. These aromas truly come into their own with maturation. They are joined by hints of smoke, brushwood and pepper. The question of where it fits seems almost unnecessary: in the wild, of course. Its origins are confusing. The Humagne grape variety should have actually been called Cornalin. It is identical to the Cornalin from the Italian Aosta Valley. Another Valais grape – the Rouge du Pays – was erroneously named after this, which in turn operates mostly as Cornalin. Thus they are both falsely named.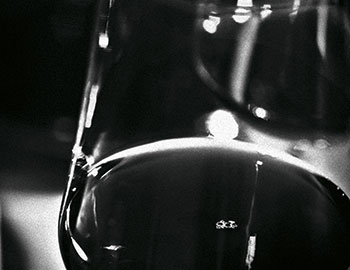 Syrah
The legend stubbornly persists that the Syrah variety came from the Persian city of Shiraz. Yet, researchers have shown that it is a natural crossing of two old French varieties: the red Dureza from the Rhône Valley and the white Mondeuse blanche from Savoy. Wines from Syrah are gentle and concentrated. They smell of dark berries, violets and liquorice, and amaze with a piquant touch of white pepper. As varietal wines, they are found on the northern Rhone, as in the Hermitage or Côte Rôtie appellations, as well as in Swiss Valais. In the southern Rhône Valley, Syrah is often wedded with Grenache and Mourvèdre. In 1832, a Frenchman brought the variety to Australia, where it became the emblem of the national wine industry. There, the weightiest versions develop with typical notes of tar and chocolate.
Pinot noir
No other variety expresses its terroir as precisely as Pinot noir. It is a sensitive, fragile grape. But when it succeeds, it gives the world some of its very greatest wine plants. It especially excels in Burgundy, where it has been cultivated for at least 700 years. Even in the middle ages, it was considered so precious that it was kept separate from other grapes so as to not diminish its value. The finest examples are delicate and fragrant with aromas of cherries and red berries. With maturity, notes of forest floor, leather and truffles enter as well. An irresistible fruity sweetness still shines through, even after several decades. The Pinot noir does well in cool locations: in Switzerland and in Germany, where it is known as Blauburgunder and Spätburgunder respectively; in Alsace and in South Tyrol, in Oregon, New Zealand and Tasmania. Not least, it yields fantastic champagnes. It is a wonderful culinary companion. With its soft tannins and charming bouquet, it meshes with everything, from Güggeli and cheeses to fried fish.
Cornalin
The Cornalin is the victim of confusion. It is one of the oldest specialities of Valais. Traditionally, it was known there under the name Rouge du Pays, or "country red". But, as there was already a variety bearing that name in the Aosta Valley, it was officially rechristened Cornalin. It was thought that this referred to the same grapes. Yet genetic analysis showed that the two, while related, are not identical. There are thus two completely different grapes with the name Cornalin. The Valais Cornalin – or the Rouge du Pays – is a merry, everyday wine. It tastes of black cherry, raspberry and violets and fills the palate with plenty of velvety tannins. A slightly spicy note, as of cinnamon or cloves, is typical. It tastes great with mature Valais cheese and ham from a mountain pig!