 Opus One 2007
Mondavi/Rothschild, 750 ml
Gift box available!
In stock
Article nr. 50027707
Gift box available!
Description
"Two of the strongest wines ever made at Opus One, the 2007 has terrific black currant fruit, licorice, incense, and subtle smoke, an opulent, even voluptuous mouthfeel, dazzling purity and texture, and a skyscraper-like mouthfeel. This is a sensational Opus One, with sweet tannin and impressive precision and depth. It can be drunk now or cellared for 25+ years." (Robert Parker - Robert M Parker jr.)
Grape variety
Malbec
Merlot
Petit Verdot
Cabernet Sauvignon
Cabernet Franc
Region
California
California: Lots of fruit and ripe tannins
Around 90 percent of the wine produced in the USA comes from California. The Napa Valley, situated roughly 100 kilometers north of San Francisco, is the most prominent wine region in the western hemisphere. California vintners first caused an international sensation with Chardonnay and Cabernet Sauvignon. Today, however, superior wines are also produced from Pinot Noir, Syrah and other varieties. California's wine country shows more variety today than ever before.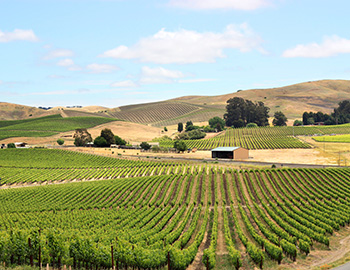 Country
USA
The United States is the third-largest nation on the planet in terms of both land area (after Russia and Canada) and population (after China and India). Every conceivable climate zone can be found in the US, from hot deserts to arctic frost. Thanks to immigration from all over the world, the US is probably the most multicultural country on the planet. Thus it has the ideal conditions for producing internationally recognized wine.
Rating