 Opus One 2013
Mondavi/Rothschild, 750 ml
Gift box available!
In stock
Article nr. 50027713
Gift box available!
Description
"Deep garnet colored, the 2013 Opus One needs a little swirling before exploding with preserved black and blue fruits—blueberry compote, blackberry pie and blackcurrant cordial—giving way to notes of unsmoked cigars, new leather, beef drippings and menthol with wafts of roasted rosemary and rose oil. Medium to full-bodied, the palate is both powerful and ethereal, charged with energy and backed up by profound black fruits, supported with plush tannins and seamless freshness, finishing very long and beautifully perfumed." (Robert Parker - Lisa Perrotti-Brown)
Grape variety
Merlot
Cabernet Sauvignon
Petit Verdot
Cabernet Franc
Malbec
Region
California
California: Lots of fruit and ripe tannins
Around 90 percent of the wine produced in the USA comes from California. The Napa Valley, situated roughly 100 kilometers north of San Francisco, is the most prominent wine region in the western hemisphere. California vintners first caused an international sensation with Chardonnay and Cabernet Sauvignon. Today, however, superior wines are also produced from Pinot Noir, Syrah and other varieties. California's wine country shows more variety today than ever before.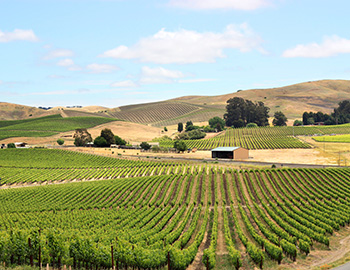 Country
USA
The United States is the third-largest nation on the planet in terms of both land area (after Russia and Canada) and population (after China and India). Every conceivable climate zone can be found in the US, from hot deserts to arctic frost. Thanks to immigration from all over the world, the US is probably the most multicultural country on the planet. Thus it has the ideal conditions for producing internationally recognized wine.
Rating