 Profile
AVA St. Helena, Merryvale Vineyards, 2015
1500 ml
Selection Baur au Lac Vins
30
In stock
Article nr. 50002815
Description
Deep purple colour. Intense aromas of liquorice and plum. On palate, undergrowth and bracken supported by an elegant, silky structure. Long, elegant finish.
Attributes
| | |
| --- | --- |
| Origin: | USA / Kalifornien / Napa Valley |
| Grape variety: | Cabernet Sauvignon, Petit Verdot, Malbec, Cabernet Franc |
| Ripening potential: | 5 to 15 years |
| Serving temperature: | 16 to 18 °C |
| Food pairing suggestion: | Châteaubriand, Filet Wellington, Spiced grillades, Saddle of lamb fillet with herb jus, Roasted lamb gigot, Roast saddle of venison, Cheese board |
| Vinification: | long must fermentation, fermentation in steel tank, soft pressing |
| Harvest: | hand-picking with simultaneous grape sel |
| Maturation: | in new barriques |
| Bottling: | no filtration |
| Maturation duration: | 18 months |
| Volume: | 15.0 % |
| Note: | Contains sulphites |
Countries
USA
The United States is the third-largest nation on the planet in terms of both land area (after Russia and Canada) and population (after China and India). Every conceivable climate zone can be found in the US, from hot deserts to arctic frost. Thanks to immigration from all over the world, the US is probably the most multicultural country on the planet. Thus it has the ideal conditions for producing internationally recognized wine.
Regions
California
California: Lots of fruit and ripe tannins
Around 90 percent of the wine produced in the USA comes from California. The Napa Valley, situated roughly 100 kilometers north of San Francisco, is the most prominent wine region in the western hemisphere. California vintners first caused an international sensation with Chardonnay and Cabernet Sauvignon. Today, however, superior wines are also produced from Pinot Noir, Syrah and other varieties. California's wine country shows more variety today than ever before.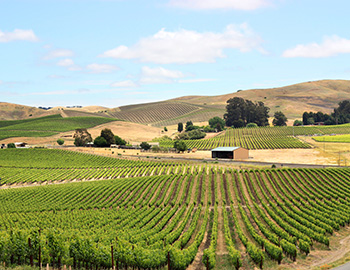 Producers
Merryvale Vineyards
At a young age, Jack Schlatter travelled from Switzerland to Dallas in the 1950s to work in the cotton trade. He later moved to Mexico and São Paulo (as a coffee tester) and back to Zurich to develop the cotton business in the Eastern bloc. But he always had one foot in Dallas and entered the real estate business there. The wine business also appealed to him early on. But it was a while before he met Bill Harlan, the owner of Merryvale.
The winery was founded in 1933 by a group of partners shortly after the Prohibition era ended, and it attracted over the decades several famous personalities as partners, consultants or owners: Peter and Robert Mondavi from the beginning and then Bill Harlan in the 1980s. Jack Schlatter became a fifty-fifty partner in 1991 and brought the winery into the European and Asian markets. He purchased the winery outright in 1994. Today, his son René stands firmly at the helm.

The historic building is located in the south of the small town of St. Helena at the heart of Napa Valley. The winery-owned Estate Vineyards lie to the east of St. Helena at about 280 metres above sea level. Around 10 hectares of Cabernet Sauvignon, Cabernet Franc and Petit Verdot were planted here in 1997. At that time, Michel Rolland was the expert consultant for Merryvale.
Grape varieties
Cabernet Franc
Forefather of the Bordeaux varieties
The Cabernet Franc is one of the oldest varieties of Bordelais and a parent of three other red grapes in the Bordeaux assortment: Cabernet Sauvignon, Merlot and Carmenère. It is distinguished by its complex, flavourful bouquet of raspberry, graphite, violet, liquorice and white pepper. In addition, it presents round, crisp tannins which turn out less strongly than those of Cabernet Sauvignon. While the Cabernet Franc always appears as part of a blend in Bordeaux, it is pressed alone on the Loire. The most renowned appellations are Chinon and Bourgueil. Incidentally, the Cabernet originates not in Bordeaux but in the Spanish Basque Country. Cabernet owes its name to the Latin "carbon", meaning black.
Cabernet Sauvignon
The Cabernet Sauvignon gives the Bordeaux its backbone, yielding deep violet wines with powerful tannins and endless ripening potential. It is the top dog in Médoc, and is placed in all five premier crus of Bordelais. When young, it often appears strict and unapproachable, but with advancing years, its tannins round off. It is wonderfully velvety, and yet always maintains its freshness. Typical flavours include cassis, graphite and cedar. Wherever Cabernet Sauvignon is found, Merlot is not far away. It complements the robust structure of Cabernet with softness, fruit and richness. The Cabernet Sauvignon is the most-exported vine in the world. It delivers persuasive qualities in Italy as an ingredient of the Super Tuscan, or as the flagship variety from California. There, it is lovingly titled "Cab Sauv". Meat fans should be aware that it fantastically accompanies a grilled entrecôte. The family tree of Cabernet Sauvignon is surprising: its parents are Cabernet Franc and the white Sauvignon blanc.
Malbec
The Malbec once belonged to the classic assortment of varieties from Bordeaux. But it was demanding to cultivate, and in the changeable climate of the Bordelais it often became green and herbaceous, so winemakers replaced it with Merlot in the middle of the 20th century. Luckily, the Malbec found a new home in Argentina. In 1868, a Frenchman brought the first stocks along to the land of the Andes. Today, the Malbec is the most-planted variety there. Especially in Mendoza, it shows what it can do: it yields very dark, well-structured wines with aromas of black fruit, violets and game. They just call out for an Argentinean steak! The Malbec has its origins in Cahors, in southwestern France. There, it is kept today under the name Cot. Due to their earthy tannins, in the middle ages the growths from this area were also called "the black wines of Cahors".
Petit Verdot
It is commonly said that the Petit Verdot originated in Bordeaux. But genetically, it is closer to a group of vines from near the Pyrenees, which are most likely descended from wild clematis. In French, these wild plants are called "lambrusques", and the Petit Verdot is also known under the synonym Lumbrusquet. It is a high quality grape: very dark and spicy with notes of cassis and graphite, plenty of robust tannins and strong acidity. Most major Bordeaux contain a small proportion of Petit Verdot. Appropriately, it is valued wherever wines are produced according to the Bordeaux recipe. For example, in Italian Maremma or in California, where it covers the largest area worldwide. It is almost never vinified purely by itself. Incidentally, its name, derived from "vert", meaning green, alludes to its Achilles heel: in cool weather it tends to form small, seedless green grapes.