 Cabernet Sauvignon Au Paradis 2015
AVA Napa Valley, Peter Michael Winery, 750 ml
750 ml
Selection Baur au Lac Vins
40
In stock
Article nr. 50030715
Description
Deep, dense ruby color, Au Paradis offers stunning notes of black currant, black cherry, chocolate, licorice, cloves, cinnamon and subtle aromas of cassis bud and earth. In the mouth, the texture is velvety and loaded with cassis, game, iron-minerals, black cherry liqueur and plum eau-de-vie. Round, refined, complex, meaty with incredible length are the best words to define the mouth feel and finish of the 2011 Au Paradis. It will continue to age gracefully for three decades or more.
Producer
Peter Michael Estate
In the 1970s, Sir Peter Michael came to California as a young engineer and discovered the emerging wine world of California, with some excellent names already drawing international attention.
This awakened his desire to try something new. The search for a suitable piece of land ended in the secluded Knights Valley on the western slope of Mount St. Helena, in the east of Sonoma County, north of Napa Valley. The first vines were planted in 1983. His son Paul was helping out at the time and was full of enthusiasm, although the rows of vines were extremely difficult to set up on the very steep (inclines of up to 40%), stony layers of primarily volcanic rock. Later, Sir Peter was able to buy more plots of land on the coast and in Oakville, in Napa: Fort Ross-Seaview, with perfect growing conditions for Pinot Noir, and Au Paradis, planted with Cabernet Sauvignon and Cabernet Franc.
The winery is not easy to find. If you're not careful, you can easily drive past it and continue up the hill, where you will be rewarded with a fantastic view over the vineyards and two lakes. It seldom rains, which is why the artificial lakes were built for irrigation. The dry climate promotes sustainable and natural resource management.
In the Les Pavots area, Cabernet Sauvignon, Merlot and Petit Verdot ripen to produce the eponymous cult wine. In the vineyards of Belle Côte and La Carrière they grow Chardonnay and in L'Après-Midi Sauvignon Blanc. The Ma Belle-Fille and Ma Danseuse vineyards are planted with Chardonnay and Pinot Noir and have been named in honour of Sir Peter's daughter-in-law and of Lady Michael, who as a young woman was an enthusiastic dancer.
In the cellar, Frenchman Nicolas Morlet has been in charge since 2005, producing successful wines year after year, many of which feature in the top League of California. With a cool glass of wine, resting on the terrace of the winery in a deck chair, you will feel like a king in California. You could almost forget that you are in the United States, because the wines are reminiscent of their counterparts in France. Sir Peter has achieved his goal: to produce wines which combine the best of California and France.
Grape variety
Cabernet Franc
Forefather of the Bordeaux varieties
The Cabernet Franc is one of the oldest varieties of Bordelais and a parent of three other red grapes in the Bordeaux assortment: Cabernet Sauvignon, Merlot and Carmenère. It is distinguished by its complex, flavourful bouquet of raspberry, graphite, violet, liquorice and white pepper. In addition, it presents round, crisp tannins which turn out less strongly than those of Cabernet Sauvignon. While the Cabernet Franc always appears as part of a blend in Bordeaux, it is pressed alone on the Loire. The most renowned appellations are Chinon and Bourgueil. Incidentally, the Cabernet originates not in Bordeaux but in the Spanish Basque Country. Cabernet owes its name to the Latin "carbon", meaning black.
Cabernet Sauvignon
The Cabernet Sauvignon gives the Bordeaux its backbone, yielding deep violet wines with powerful tannins and endless ripening potential. It is the top dog in Médoc, and is placed in all five premier crus of Bordelais. When young, it often appears strict and unapproachable, but with advancing years, its tannins round off. It is wonderfully velvety, and yet always maintains its freshness. Typical flavours include cassis, graphite and cedar. Wherever Cabernet Sauvignon is found, Merlot is not far away. It complements the robust structure of Cabernet with softness, fruit and richness. The Cabernet Sauvignon is the most-exported vine in the world. It delivers persuasive qualities in Italy as an ingredient of the Super Tuscan, or as the flagship variety from California. There, it is lovingly titled "Cab Sauv". Meat fans should be aware that it fantastically accompanies a grilled entrecôte. The family tree of Cabernet Sauvignon is surprising: its parents are Cabernet Franc and the white Sauvignon blanc.
Region
California
California: Lots of fruit and ripe tannins
Around 90 percent of the wine produced in the USA comes from California. The Napa Valley, situated roughly 100 kilometers north of San Francisco, is the most prominent wine region in the western hemisphere. California vintners first caused an international sensation with Chardonnay and Cabernet Sauvignon. Today, however, superior wines are also produced from Pinot Noir, Syrah and other varieties. California's wine country shows more variety today than ever before.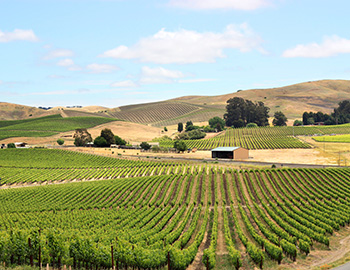 Country
USA
The United States is the third-largest nation on the planet in terms of both land area (after Russia and Canada) and population (after China and India). Every conceivable climate zone can be found in the US, from hot deserts to arctic frost. Thanks to immigration from all over the world, the US is probably the most multicultural country on the planet. Thus it has the ideal conditions for producing internationally recognized wine.
Rating