 Les Pavots 2015
AVA Knight Valley, Peter Michael Winery, 750 ml
Assortment Baur au Lac Vins
Gift box available!
In stock
Article nr. 50045715
Items available in the stores
Gift box available!
Description
Grown on the slopes of Mount St. Helena in Knights Valley, the distinctive aromas and flavors of our proprietary blend of Cabernet Sauvignon, Cabernet Franc, and Merlot clearly display their hillside origins. Rocky, rhyolitic soils created through volcanic activity millennia ago, contribute a mineral richness and add to the wine's complexity. Spanning 46 acres, Les Pavots ascends to an elevation of nearly 1,400 feet. Merlot and Cabernet Franc grow on the cool upper slopes and Cabernet Sauvignon grows just below.The nose has a deep bouquet of cacao powder, potpourri, black cherry, blueberry and licorice, with nuances of cedar, cigar box, black tea, graphite, vanilla, black truffle, and a stylish 'garrigue' touch. Extremely full- bodied and elegant, the wine offers the same rich, ripe fruit impressions on the palate. The mouth feel is dense and round, with supple tannins and earthy notes that lead to a long finish. Complex, the wine will age gracefully for two decades and provides a classic presentation of the estate's terroir.
Producer
Peter Michael Winery
In the 1970s, Sir Peter Michael came to California as a young engineer and discovered the emerging wine world of California, with some excellent names already drawing international attention.
This awakened his desire to try something new. The search for a suitable piece of land ended in the secluded Knights Valley on the western slope of Mount St. Helena, in the east of Sonoma County, north of Napa Valley. The first vines were planted in 1983. His son Paul was helping out at the time and was full of enthusiasm, although the rows of vines were extremely difficult to set up on the very steep (inclines of up to 40%), stony layers of primarily volcanic rock. Later, Sir Peter was able to buy more plots of land on the coast and in Oakville, in Napa: Fort Ross-Seaview, with perfect growing conditions for Pinot Noir, and Au Paradis, planted with Cabernet Sauvignon and Cabernet Franc.
Grape variety
Cabernet Franc
Merlot
Petit Verdot
Cabernet Sauvignon
Region
California
California: Lots of fruit and ripe tannins
Around 90 percent of the wine produced in the USA comes from California. The Napa Valley, situated roughly 100 kilometers north of San Francisco, is the most prominent wine region in the western hemisphere. California vintners first caused an international sensation with Chardonnay and Cabernet Sauvignon. Today, however, superior wines are also produced from Pinot Noir, Syrah and other varieties. California's wine country shows more variety today than ever before.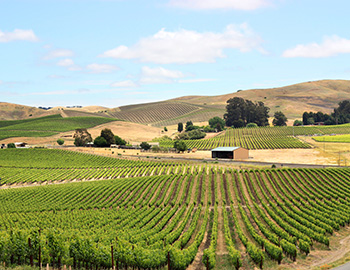 Country
USA
The United States is the third-largest nation on the planet in terms of both land area (after Russia and Canada) and population (after China and India). Every conceivable climate zone can be found in the US, from hot deserts to arctic frost. Thanks to immigration from all over the world, the US is probably the most multicultural country on the planet. Thus it has the ideal conditions for producing internationally recognized wine.
Rating