 Pinot Noir Le Moulin Rouge 2016
AVA, Peter Michael Winery, 750 ml
750 ml
Selection Baur au Lac Vins
40
Gift box available!
In stock
Article nr. 50058716
Gift box available!
Attributes
| | |
| --- | --- |
| Origin: | USA / California / Sonoma Coast |
| Site / vineyard: | Ost- / Südost auf 1300 Meter |
| Grape variety: | Pinot noir |
| Serving temperature: | 16 to 18 °C |
| Food pairing suggestion: | Châteaubriand, Filet Wellington, Goulash, boeuf bourguignon, Rabbit ragout with olives, Roast saddle of venison, Hearty stew with pulses |
| Vinification: | soft pressing |
| Harvest: | hand-picking with simultaneous grape sel |
| Maturation: | in partly new and used barriques/ Pièces |
| Maturation duration: | 16 months |
| Volume: | 14.5 % |
| Note: | Contains sulphites |
Producer
Peter Michael Estate
In the 1970s, Sir Peter Michael came to California as a young engineer and discovered the emerging wine world of California, with some excellent names already drawing international attention.
This awakened his desire to try something new. The search for a suitable piece of land ended in the secluded Knights Valley on the western slope of Mount St. Helena, in the east of Sonoma County, north of Napa Valley. The first vines were planted in 1983. His son Paul was helping out at the time and was full of enthusiasm, although the rows of vines were extremely difficult to set up on the very steep (inclines of up to 40%), stony layers of primarily volcanic rock. Later, Sir Peter was able to buy more plots of land on the coast and in Oakville, in Napa: Fort Ross-Seaview, with perfect growing conditions for Pinot Noir, and Au Paradis, planted with Cabernet Sauvignon and Cabernet Franc.
The winery is not easy to find. If you're not careful, you can easily drive past it and continue up the hill, where you will be rewarded with a fantastic view over the vineyards and two lakes. It seldom rains, which is why the artificial lakes were built for irrigation. The dry climate promotes sustainable and natural resource management.
In the Les Pavots area, Cabernet Sauvignon, Merlot and Petit Verdot ripen to produce the eponymous cult wine. In the vineyards of Belle Côte and La Carrière they grow Chardonnay and in L'Après-Midi Sauvignon Blanc. The Ma Belle-Fille and Ma Danseuse vineyards are planted with Chardonnay and Pinot Noir and have been named in honour of Sir Peter's daughter-in-law and of Lady Michael, who as a young woman was an enthusiastic dancer.
In the cellar, Frenchman Nicolas Morlet has been in charge since 2005, producing successful wines year after year, many of which feature in the top League of California. With a cool glass of wine, resting on the terrace of the winery in a deck chair, you will feel like a king in California. You could almost forget that you are in the United States, because the wines are reminiscent of their counterparts in France. Sir Peter has achieved his goal: to produce wines which combine the best of California and France.
Grape variety
Pinot noir
No other variety expresses its terroir as precisely as Pinot noir. It is a sensitive, fragile grape. But when it succeeds, it gives the world some of its very greatest wine plants. It especially excels in Burgundy, where it has been cultivated for at least 700 years. Even in the middle ages, it was considered so precious that it was kept separate from other grapes so as to not diminish its value. The finest examples are delicate and fragrant with aromas of cherries and red berries. With maturity, notes of forest floor, leather and truffles enter as well. An irresistible fruity sweetness still shines through, even after several decades. The Pinot noir does well in cool locations: in Switzerland and in Germany, where it is known as Blauburgunder and Spätburgunder respectively; in Alsace and in South Tyrol, in Oregon, New Zealand and Tasmania. Not least, it yields fantastic champagnes. It is a wonderful culinary companion. With its soft tannins and charming bouquet, it meshes with everything, from Güggeli and cheeses to fried fish.
Region
California
California: Lots of fruit and ripe tannins
Around 90 percent of the wine produced in the USA comes from California. The Napa Valley, situated roughly 100 kilometers north of San Francisco, is the most prominent wine region in the western hemisphere. California vintners first caused an international sensation with Chardonnay and Cabernet Sauvignon. Today, however, superior wines are also produced from Pinot Noir, Syrah and other varieties. California's wine country shows more variety today than ever before.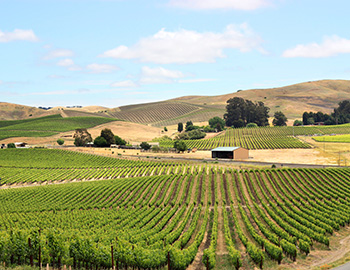 Country
USA
The United States is the third-largest nation on the planet in terms of both land area (after Russia and Canada) and population (after China and India). Every conceivable climate zone can be found in the US, from hot deserts to arctic frost. Thanks to immigration from all over the world, the US is probably the most multicultural country on the planet. Thus it has the ideal conditions for producing internationally recognized wine.
Rating