 Certified organic or biodynamic wine
Ribas rosado
VdT, Ribas, 2019
In stock
Article nr. 37136719
| | |
| --- | --- |
| Grape variety: | Mantonegro, Gargollassa |
| Producer: | Bodegas Ribas |
| Origin: | Spain / Mallorca |
Description
A Mallorcan rosé that heralds the arrival of summer. Red fruity notes of Bigarreau cherries, raspberries and the scent of ripe bananas and pears blend wonderfully with rose petals. On the palate, its pleasant astringency, juicy acidity and creamy texture make it an amazing drink while exotic aromas of cherimoya, passion fruit, banana and bitter oranges take you straight to the south.
Attributes
| | |
| --- | --- |
| Origin: | Spain / Mallorca |
| Grape variety: | Mantonegro, Gargollassa |
| Ripening potential: | 1 to 3 years |
| Serving temperature: | 9 to 12 °C |
| Food pairing suggestion: | Italian antipasti, Paella, Risotto ai frutti di mare, Seafood salad |
| Vinification: | long must fermentation, fermentation in steel tank, soft pressing |
| Harvest: | hand-picking, strict selection |
| Maturation: | in steel tank |
| Maturation duration: | 12 months |
| Volume: | 13.5 % |
| Note: | Contains sulphites |
Countries
Spain
Spain – Variety and perfection
"Somewhere in la Mancha, in a place whose name I do not care to remember...," begins Don Quixote's odyssey.
The most famous part is definitely when Don Quixote thinks windmills are his enemy and wants to fight them – until they nearly kill him. It's possible there was a bit too much of the La Mancha wine at play. Spanish vines fight for their survival in rugged landscapes, battling fierce drought and rough soils. But they fight well.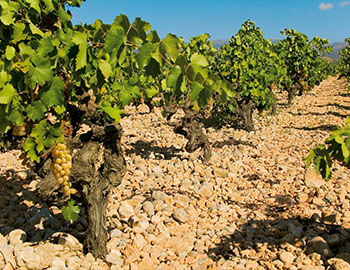 Regions
Mallorca
Mallorca: new premium wines from old varieties
The party island is showing an entirely different, more delightful side: every year, more premium wines are produced in Mallorca. While international varieties like Chardonnay, Cabernet Sauvignon and Merlot yield excellent wines in Mallorca's terroir, top winemakers increasingly use the best native varieties, such as Manto Negro, Callet and Prensal Blanc. The results are independent wines with Mediterranean charm and surprising freshness.
Producers
Bodegas Ribas
The island wines from Mallorca have been blessed for years with high quality and Mediterranean charm.
Grape varieties
Mantonegro
The word "negro" – black – in this variety's name is misleading. It refers to a red wine grape, and a relatively light one at that. Some grapes even shimmer more pink than red. The Manto negro is the most important variety, and a real native, of the holiday island of Mallorca. It yields bright-red, soft wines with plenty of alcohol and an unusual bouquet of blackberry, fig and pomegranate. A small amount of Callet – a slightly stronger Mallorcan variety – is usually added to lend it structure. Wines from Manto negro are well suited for barrel maturation, especially if they come from old vines. These provide particularly concentrated musts that are full of character.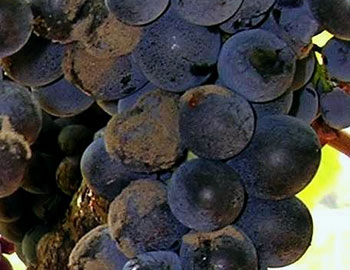 Gargollassa
Nearly extinct, today seductively full of temper
This red vine has been cultivated on the Balearic island of Mallorca since 1711. It is more alive than ever, and always good for surprising novelties. But this was not always the case; around the turn of the millennium, the Gargollassa vine faced extinction. In 2000, there were only four vines on the whole of Mallorca.
But thanks to a group of passionate vintners, wine from Gargollassa grapes can once again be found on shelves. These vintners began by systematically cultivating the four remaining vines in their vineyards.
Gorgollassa yields a sensual, very seductive wine, reminiscent of a fine Pinot Noir. It is full of strength and character, with charm and finesse. In the nose, wild berries and red fruits typically present themselves, along with a piquant, peppery zest. On the palate, inelegantly named Gargollasa flatters with a silky texture and animating freshness.
Gargollassa ergibt einen sinnlichen, sehr verführerischen Wein, der an einen edlen Pinot Noir erinnert. Temperament- und kraftvoll, mit Charme und Finesse. In der Nase zeigen sich typischerweise Waldbeeren und rote Früchte, dazu eine pikante, pfeffrige Würze. Am Gaumen schmeichelt der wenig schöne Name Gargollassa sehr elegant mit seidiger Textur und einer trinkanimierenden Frische.