 Cava brut Nature Gran Reserva
DO, Maria Casanovas, 2016
750 ml
Selection Baur au Lac Vins
30
In stock
Article nr. 60168716
| | |
| --- | --- |
| Grape variety: | Chardonnay, Pinot noir, Xarel-Lo, Macabeo, Parellada |
| Producer: | Maria Casanovas |
| Origin: | Spain / Catalunya / Penedès |
Description
At first the Gran Reserva presents itself fresh like a sea breeze. The Gran Reserva has a rather intense bouquet with notes of forest honey, ripe apricots and apples as well as the distinctive floral scent of daffodils and a touch of flint. Its medium strength mousse spreads pleasantly on the palate. The distinctive tangy taste develops notes of nutmeg, bergamot and ripe apple. With a powerful body, it appears full-bodied and offers a long finish.
Attributes
| | |
| --- | --- |
| Origin: | Spain / Catalunya / Penedès |
| Grape variety: | Chardonnay, Pinot noir, Xarel-Lo, Macabeo, Parellada |
| Ripening potential: | 1 to 5 years |
| Serving temperature: | 6 to 8 °C |
| Food pairing suggestion: | Apéro riche, Bouillabaisse, Grilled fish, Giant crevettes, grilled langoustines, Paella |
| Vinification: | bottle fermentation, fermentation in steel tank, soft pressing |
| Harvest: | hand-picking |
| Maturation: | in steel tank |
| Maturation duration: | 30 months |
| Volume: | 11.5 % |
| Note: | Contains sulphites |
Countries
Spain
Spain – Variety and perfection
"Somewhere in la Mancha, in a place whose name I do not care to remember...," begins Don Quixote's odyssey.
The most famous part is definitely when Don Quixote thinks windmills are his enemy and wants to fight them – until they nearly kill him. It's possible there was a bit too much of the La Mancha wine at play. Spanish vines fight for their survival in rugged landscapes, battling fierce drought and rough soils. But they fight well.
Regions
Catalunya
Catalonia: the great range
Spain's second largest wine region has an impressive variety to offer. As a result, there are eleven different designations of origin in Catalonia. As the home of cava, Catalonia is one of the leading producers of sparkling wines produced according to classical methods. There is a wide selection of both elegant white wines and well-structured reds. Areas such as Priorat or Montsant have experienced an enormous upswing in recent years. The traditional sweet wine Moscatel de Sitges is also produced here.
Subregions
Penedès
Penedès: growth thanks to new ideas
With a vineyard area of roughly 25,000 hectares, Penedès is the largest wine-growing region with DO status in Catalonia. The spectrum of locally produced wines here is immense. Aging in a pronounced Mediterranean climate, they range from refreshing sparkling cava wines to sparkling whites and fully textured reds. Premium wines are vinified from long-established and international varieties such as Cabernet Sauvignon or Chardonnay.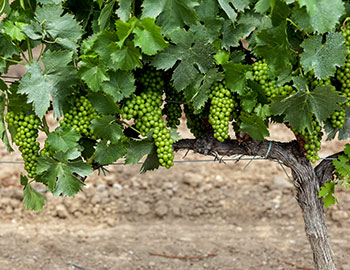 Producers
Maria Casanovas
The Bodega or Cava Maria Casanovas is located in the heart of the Penedès, in Sant Sadurní d'Anoia, the centre of Cava production. It is owned by the Casanovas family and managed by three children of Maria Casanovas. Jordi and Jacint are responsible for the vineyards and the cellar, Rosa for administration and marketing.
Maria Casanovas' parents were already grape growers and sold their produce to the large cava wineries. Cava has been produced under their own name since 1984. 13 hectares are owned and planted with the local grape varieties Xarel-lo, Parellada and Macabeo (Viura) as well as the international varieties Pinot Noir and Chardonnay. Maria Casanovas was one of the pioneers who introduced Pinot Noir to Penedès. Fossils can be found occasionally in the calcareous, gravelly clay soils.
Grape varieties
Macabeo
For fruity cava and white Rioja
Still or sparkling: the Macabeo can do both. In its native Catalonia, it forms, with Parellada and Xarello, the triumvirate of cava grapes. It gives the sparkling wine its fresh apple fruit; the Parellada provides elegance, and the Xarello contributes body and fullness. Pressed as a still white wine, the Macabeo smells of apple, pear, flowers and herbs. A light almond note often comes as well. This can be tasted in the classic white wines from Rioja: they are made from this variety, which there is called Viura. The Macabeo – also spelled Macabeu – migrated from northern Spain across the border into French Roussillon.
Parellada
Almost 200 million bottles of cava are pressed in Spain each year, and the white Parellada is put into almost all of them. It lends its floweriness and elegance to bottle-fermented sparkling wines. Its traditional assemblage partners are Macabeu and Xarello. The first of these ensures the typical apple fruit of cava, the second the body and fullness. The Parellada grape has its roots in Aragon, in northwestern Spain, where it has been known since the 14th century. Today, it grows mainly in the cava stronghold, Catalonia and in the high altitudes of the Penedés near Barcelona. Due to its delicate structure and elegant acidity, it is also called the "Riesling of the Penedés".
Pinot noir
No other variety expresses its terroir as precisely as Pinot noir. It is a sensitive, fragile grape. But when it succeeds, it gives the world some of its very greatest wine plants. It especially excels in Burgundy, where it has been cultivated for at least 700 years. Even in the middle ages, it was considered so precious that it was kept separate from other grapes so as to not diminish its value. The finest examples are delicate and fragrant with aromas of cherries and red berries. With maturity, notes of forest floor, leather and truffles enter as well. An irresistible fruity sweetness still shines through, even after several decades. The Pinot noir does well in cool locations: in Switzerland and in Germany, where it is known as Blauburgunder and Spätburgunder respectively; in Alsace and in South Tyrol, in Oregon, New Zealand and Tasmania. Not least, it yields fantastic champagnes. It is a wonderful culinary companion. With its soft tannins and charming bouquet, it meshes with everything, from Güggeli and cheeses to fried fish.
Chardonnay
Hardly any variety of vine shows such a broad spectrum of quality as the Chardonnay. Its wines range from faceless neutrality to breath-taking class. It is an extremely low-maintenance vine, which explains why it is grown around the world – even in places where it probably should not be. The aromas of the Chardonnay variety are not very pronounced: a bit of green apple, a little hazelnut; in warmer latitudes, also melon and exotic fruits. The wines are often defined by maturing in casks. They develop more or less subtle notes of butter, toasted bread and vanilla. The grapes achieve their highest expression in their region of origin, Burgundy. Its heart beats in the Côte de Beaune: one might think of the plant growth of Meursault or Puligny-Montrachet. With their finesse and complexity, they can survive for decades. Chardonnay also achieves first class in some Blanc-de-Blancs champagnes. It additionally yields great wines in the Burgundian Chablis, and increasingly in Australia and Chile. A simple rule of thumb for pairing with food: When butter and cream are involved, you cannot go wrong with Chardonnay.
Xarel-Lo
Charmingly coarse and unspoilt
This vine is almost indispensable for the production of Cava, the Spanish answer to champagne.
Xarel-Lo is cultivated on roughly 1,000 hectares. The vine has a rustic character, yet produces elegant wines. Since the 1990s, however, Xarel-Lo has been increasingly pressed as a varietal wine. These wines are characterized by their golden-yellow color and their richness.
It is speculated that Xarel-Lo is identical to Avesso, a variety from the Vinho wine growing area in northern Portugal. This is also true of the Doradillo variety, which is, however, no longer cultivated under this name.