 Château Coutet
AC Barsac 1er Grand cru classé, 2014
In stock
Article nr. 11111714
| | |
| --- | --- |
| Grape variety: | Sémillon, Sauvignon Blanc, Muscadelle |
| Producer: | Château Coutet |
| Origin: | France / Bordeaux / Sauternes, Barsac & Cadillac |
Description
complex bouquet with razor-sharp, minerally, citrus fruit mixed with wild honey and a touch of Riesling-like petrol. The palate is totally convincing. There is a great thrust of rich botrytized fruit sliced through with Coutet's trademark acidity, despite the spoonfuls of sugar, that lends this such vibrancy and tension. It possesses and almost clinical precision with long persistence on the finish. This is a divine Coutet that may warrant a higher score subject to how it evolves in barrel.
Product information
Wine description with logo
Wine description whitout logo
Wine description with logo
Wine description whitout logo
Attributes
| | |
| --- | --- |
| Origin: | France / Bordeaux / Sauternes, Barsac & Cadillac |
| Grape variety: | Sémillon, Sauvignon Blanc, Muscadelle |
| Serving temperature: | 16 to 18 °C |
| Drinking suggestion: | Fish terrine, Foie gras, Blue cheese, Oysters, Calamari alla romana |
| Vinification: | short must fermentation, fermentation in wooden barrel, fermentation at low temperatures, fining |
| Harvest: | hand-picking |
| Maturation: | in partly new and used barriques/ Pièces |
| Maturation duration: | 18 months |
| Volume: | 14.0 % |
Countries
France
France – Philosophy in a bottle
According to French philosophy, wine should be an expression of the soil and climate. They use the word "terroir" to describe this. Terroir makes every wine different, and many especially good. French wine is regarded worldwide as an expression of cultural perfection. The French believe that humans are responsible for the quality of the berries, the vine variety for their character, and nature for the quantity. This philosophy can be expressed succinctly as: "the truth is the vineyard, not the man."
Regions
Bordeaux
Bordeaux: high prestige, high quality
With a total area of around 115,000 hectares, Bordeaux may not be France's largest wine-growing region, but it is certainly its most prestigious. The range of wines produced here today is enormous: ranging from red everyday wines with a great relationship between price and quality to exclusive, and accordingly expensive, premier crus. Elegant white wines and noble sweet specialties round out the spectrum.
Grape varieties
Sémillon
The Sémillon grape is the basis of the legendary sweet wines of Sauternes. Its origins are there, in the southern part of the Bordeaux region. Its secret to success is its susceptibility to the Botrytis fungus, which pierces the skin of the ripe berries. Thus the water evaporates, and the sugar in the fruits concentrates. The musts are as thick as syrup. They present the citrus-fresh, fruity aromas of the Sémillon varieties. In addition, the Botrytis fungus contributes complex notes of honey, dry apricot and candied orange to the wine. The Sémillon is closely related to the Sauvignon blanc, and almost all sweet wines from Sauternes and its surroundings contain a small proportion of Sauvignon. The dry whites from Bordeaux are the opposite: the Sémillon mostly plays the supporting role. In early-19-century South Africa, Sémillon was the most planted grape. However, only vanishingly small quantities still grow there today. However, the vine has since taken root in California and Australia.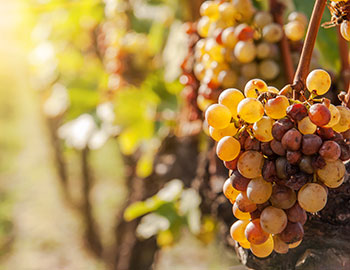 Sauvignon Blanc
The Sauvignon blanc can be recognized with your eyes closed. Its typical bouquet is marked by green notes: freshly cut grass, tomato bunches, gooseberry. Citrus fruits, cassis and flint join into the mix. In warmer latitudes it also shows exotic aromas, such as passion fruit. Its acidity is decidedly lively. In all likelihood, it comes from the Loire Valley, where it is vinified in Pouilly-Fumé and Sancerre in its purest form: varietally, and without timber. In the 18th century, it found its way to Bordeaux. Ambitious producers assemble it there with Sémillon into substantial whites, which are aged in oak barrels. The Sauvignon blanc has been a sensational success in the past 20 years in New Zealand. With its refreshing sweet-and-sour style, winemakers from down under have conquered the world. The rich Sauvignons from Styria and crisp examples of South Tyrol and Friuli are worth mentioning as well. It pairs with anything from the sea. Or do it like they do on the Loire, and enjoy it with goat cheese.
Muscadelle
Of unknown origin, still internationally widespread
The origin of this white variety has not been definitively explained. It is certain that the Muscadelle does not belong to the family of Muscatel grapes, even though the name, and even the aroma of Muscadelle wines, suggests otherwise. Muscadelle comes partly from the old vine Gouais Blanc, but the other parent is unknown.
Eighty percent of all Muscadelle vines grow in France, are in the Entre-deux-Mers region, on around 1,600 hectares. But it is also found in Hungary, Romania, Ukraine, South Africa, California and Australia. Muscadelle vines were also found in Uruguay, though they were mistakenly marketed as Sémillon. Worldwide, the vines are believed to be planted on around 4,000 hectares.
Rating