 Maddalena dolce 2009
IGT Lazio rosso, Villa Caviciana, 500 ml
500 ml
Selection Baur au Lac Vins
30
In stock
Article nr. 35260509
Description
The aromatic richness of the Aleatico grape expresses itself beautifully in this wonderful sweet wine. It feels elegant and not too heavy, it has a fresh acidity and slightly coating tannins and it is absolutely not sticky. It shows a flowery bouquet with violets and peonies, while the dried fruit aromas are dominated by figs, dates, bitter almonds, raisins accompanied by tobacco, incense and mocha.
Attributes
| | |
| --- | --- |
| Origin: | Italien / Lazio |
| Site / vineyard: | Gradoli |
| Grape variety: | Aleatico |
| Label: | Vegan, Certified organic or biodynamic wine |
| Ripening potential: | 3 to 10 years |
| Serving temperature: | 12 to 14 °C |
| Food pairing suggestion: | Cakes, biscuits, pastries, Panettone, Chocolate and chocolate dessert, Blue cheese |
| Vinification: | fermentation in steel tank |
| Harvest: | hand-picking, drying of the grapes on the vines |
| Maturation: | in small barrels |
| Bottling: | filtration |
| Maturation duration: | 16 months |
| Volume: | 14.5 % |
| Note: | Contains sulphites |
Producer
Villa Caviciana
When, in the early morning, the sun slowly rises over the glittering mirror-smooth water of the Bolsena Lake, and the first blaring of the sheep, the quiet meowing of the domestic cat and the cheerful chirping of birds break the peaceful silence, then one understands that some people have found here their paradise on earth. Away from the big mass tourism of the coast, only an hour's drive away, in still largely intact nature, the lake spreads out in the charming hilly landscape, sometimes calm, sometimes foaming up, wild like the sea.
Before the Romans, Lazio was the land of the Etruscans. Time and again one comes across contemporary witnesses of that culture. The name Caviciana is derived from the ancient Etruscan name of the area where the vines grow today. The sphinx that adorns the name is a delicate Etruscan sculpture found in the surrounding caves. It stands for immortality.
Grape variety
Aleatico
This ancient, red variety is found mainly in central and southern Italy and was almost forgotten for a long time. The juice of these small, dark berries is wonderfully spicy and is mainly used to produce lusciously sweet and intensified liqueur wines. Aleatico has long been grown in Corsica and Elba, which is how Napoleon became acquainted with the grape and the sweet wine produced from it. According to anecdotes, Aleatico wine was his only consolation during his exile.
It is unclear where the vine originates from. Italians suggest it is indigenous to the Apulia Region; the Greeks favor the theory that the vine found its way from Crete to southern Italy.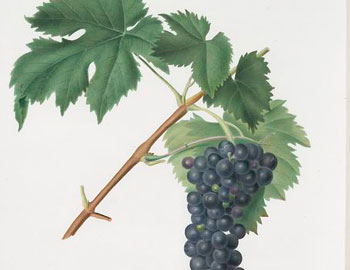 Country
Italy
Italy – Where wine is a way of life
The Italian wine regions are extremely diverse, and this is made clear in their wines. Established varieties such as Merlot, Syrah, and Sauvignon can be found on just 15 percent of the total vine growing area. The remaining 85 percent is reserved for autochthonous, indigenous varieties. More than 2,000 different grape varieties are grown under diverse conditions and pressed with various techniques into wines that reach the top tier of the international wine market.
Epicurean profile