Forteto della Luja 2019
DOC Loazzolo, Forteto della Luja, 375 ml
Exclusivity Baur au Lac Vins
Gift box available!
In stock
Article nr. 12010319
Items available in the stores
Gift box available!
Description
Intense golden yellow with sparkling tinge. Nose marked by white fruit and light vanilla with botrytis notes of dried apricots, figs and saffron. On palate the wine is complex with a beautiful balance of sweetness and freshness. A balanced grand dessert wine.
Attributes
| | |
| --- | --- |
| Origin: | Italy / Piemont / Loazzolo |
| Site / vineyard: | Südwesten au 450 m.ü.M. |
| Grape variety: | Moscato bianco |
| Label: | Certified organic or biodynamic wine |
| Ripening potential: | 4 to 12 years |
| Drinking temperature: | 10 to 12 °C |
| Food Pairing: | Fruit tart, Foie gras, Spicy hard cheese |
| Vinification: | fermentation in wooden barrel, soft pressing |
| Harvest: | hand-picking, strict selection, in several rounds (tries), grapes infected with botrytis, drying of the grapes |
| Maturation: | in partly new and used barriques/ Pièces, long cultivation |
| Volume: | 11.0 % |
| Note: | Contains sulphites |
Grape variety
Moscato bianco
Over 200 varieties have "Muscat" in their names, and many are completely unrelated. What they share is a fragrance of fresh grapes. Muscat owes its name to the intense aroma. It derives from the word "musk", and appears in documents dating from 1230. The most common representative of the Muscat line is the white Muscat blanc à petits grains. In Italy, it is known as Moscato Bianco, and in Germany and Styria as Gelber Muskateller. In Switzerland it is called Muscat du Valais. Researchers largely agree that it originated in Greece, and from there found its way via Italy to southern France. When crafted with expert hands, it turns out fresh, floral and spicy with a slightly tart note. Pressing it into high quality wines is not very easy. Sweet forms have greater renown, such as Muscat de Rivesaltes and Muscat de Beaumes-de-Venise from southern France or Muscat from the Greek island of Samos.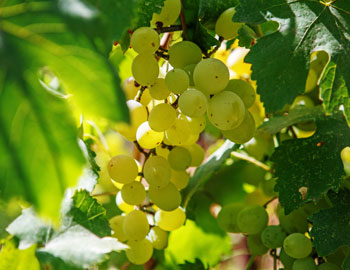 Country
Italy
Italy – Where wine is a way of life
The Italian wine regions are extremely diverse, and this is made clear in their wines. Established varieties such as Merlot, Syrah, and Sauvignon can be found on just 15 percent of the total vine growing area. The remaining 85 percent is reserved for autochthonous, indigenous varieties. More than 2,000 different grape varieties are grown under diverse conditions and pressed with various techniques into wines that reach the top tier of the international wine market.