 Certified integrated production
Cuvée 1858 Or Barrique Bonvin
AOC Wallis, Bonvin, 2016
In stock
Article nr. 10080516
| | |
| --- | --- |
| Grape variety: | Sylvaner, Ermitage |
| Producer: | Bonvin |
| Origin: | Switzerland / Valais |
| Other vintages: | |
Description
The name is not excessive for this sweet elixir that shimmers like liquid gold. Intense, rich in aroma and a deliciously long-lingering taste are certain to make this wine a worthy finale to a festive meal – or even a prelude to it. The scent of orange blossom, dates, dried apricots, quince jelly, leavened baked goods and a hint of saffron complete its aroma spectrum. With its subtle acidity, it doesn't seem too heavy and thus accompanies various delicacies.
Attributes
| | |
| --- | --- |
| Origin: | Switzerland / Valais |
| Grape variety: | Sylvaner, Ermitage |
| Ripening potential: | 2 to 15 years |
| Serving temperature: | 8 to 10 °C |
| Food pairing suggestion: | Cakes, biscuits, pastries, Foie gras |
| Vinification: | fermentation in steel tank, pressed carefully and immediately |
| Harvest: | hand-picking, strict selection, in small boxes, grapes infected with botrytis |
| Maturation: | in partly new and used barriques/ Pièces |
| Maturation duration: | 12 months |
| Volume: | 13.5 % |
| Note: | Contains sulphites |
Countries
Switzerland
Switzerland – A small country with enormous diversity
Switzerland is famous for its banks, watches, and cheese, but not necessarily for its wine. The Swiss didn't invent wine, but they have been extremely open and curious to it. Wine culture arrived in what is now modern Switzerland via several routes: from Marseilles to Lake Geneva and the Lower Valais region; from the Aosta Valley through the Great St. Bernard Pass to the rest of Valais; from the Rhone through Burgundy, across the Jura Mountains to Lake Constance; and from Lombardy to Ticino, and then on to Grisons.
Regions
Wallis
Valais: Alpine wines with class
More than 20 varieties of grapes can yield wines in Valais that are full of character. A large number of them grow on spectacular, steep slopes. Sealed off by mighty chains of mountains, old plantings like Petite Arvine, Amigne and Cornalin have survived in Valais, and today they are highly sought-after by wine enthusiasts. The highest vineyards in Europe are also found in Valais: the Savignin vines (known here as "Heida"), rooted in the mountain community of Visperterminen.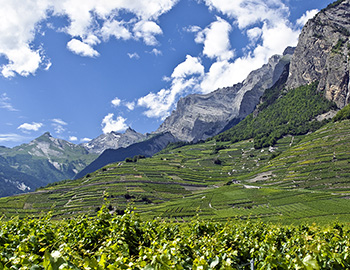 Producers
Bonvin
High above Sion, on the Clos du Château, is the heart of the oldest wine trading house in Valais – today's winery Charles Bonvin SA. The view sweeps over the wide Rhone valley, meets the two castle hills of Tourbillon and Valère and grazes on the magnificent Valais vine landscape with its countless terraces.
In the mid-19th century, Valais was a poor area. The valley was largely marshland. The people, mostly farmers, mainly subsisted from agriculture and the dairy industry. The wineries were set up where nothing else could be grown. The vineyard was smaller than the one in Zurich and the yield was mostly for self-consumption. The Valais wine couldn't leave its borders, although it had been cultivated since Roman times.
Grape varieties
Sylvaner
Asparagus partner and sweet wine star
The Sylvaner was created over a century ago as a spontaneous crossing in Austria. Today, only minute quantities are found there. It occupies the largest area in Germany, where it is spelled "Silvaner". Well into the 1970s, it even trumped Riesling there by area. In France, Alsace has the monopoly on the Sylvaner. There, the variety is prized mainly in Valais; there, it is called Johannisberg or Johannis for short. Dry examples are perfect wines for asparagus: spirited and full-bodied, with moderate acidity and a delicate aroma of herbs, gooseberries and fresh hay. In addition, it yields superb dessert wines that can mature for two to three decades without issue.
Ermitage
Lieber zu zweit als allein
Ein apartes Bouquet von Blüten, Birne und Marzipan zeichnet die Marsanne aus. Vermutlich stammt diese weisse Traube aus der Gegend um das Dorf Marsanna an der Drôme, einem Nebenfluss der Rhone. Heute liegt ihre Hochburg im nördlichen Rhonetal in den Gebieten Hermitage, Crozes-Hermitage und Saint-Joseph. Wo immer die Marsanne wächst, ist die Roussanne nicht weit. Die beiden Trauben sind eng verwandt. Schon in einem Schriftstück von 1781 wurden sie zusammen erwähnt. Sie ergänzen sich ideal: Die säurearme Marsanne bringt ihre originellen Aromen mit in den Mix, die Roussanne ihre Spritzigkeit. Weiter südlich prägen sie zusammen den weissen Côtes du Rhône. Nur in die weissen Exemplare des Châteauneuf-du-Pape darf die Marsanne nicht einfliessen, aus einem einfachen Grund: Als in den 1930er Jahren die Traubensorten bestimmt wurden, war sie dort noch nicht bekannt. Dafür wird sie schon seit den 1860er Jahren in Australien kultiviert. In der Schweiz kennt man sie als Ermitage. Hier ergibt sie trockene und süsse Weine von enormer Lagerfähigkeit.