Weissburgunder Leithaberg 2017
DAC, Erwin Tinhof, 750 ml
Exclusivity Baur au Lac Vins
Gift box available!
Online out of stock
Article nr. 15146717
Items available in the stores
Gift box available!
Description
Subtle nuances of quince, pear, yellow melon, star anise and cloves. A hint of freesia and lime blossom. Juicy, somewhat creamy texture, beautifully balanced, with a fine-grained haptic. Slightly tart minerality with a fine acid range and subtle fruit sweetness. A bouquet of apple peel, citrus fruits, mint and some honeycomb. A citric-salty finish and rounded flow make this Pinot Blanc an impressive companion for various culinary delights.
Attributes
| | |
| --- | --- |
| Origin: | Austria / Burgenland / Leithaberg |
| Site / vineyard: | Eisenstädter Ried Feiersteig |
| Grape variety: | Weisser Burgunder |
| Label: | Vegan, Certified organic or biodynamic wine |
| Ripening potential: | 1 to 12 years |
| Drinking temperature: | 10 to 12 °C |
| Food Pairing: | Fresh water fish with cream sauce, Vitello tonnato, Spicy hard cheese, Vegetable flan, quiche |
| Vinification: | fermentation with grapes' own yeast, cooling period |
| Harvest: | hand-picking, strict selection |
| Maturation: | in large wooden barrel/foudre, long cultivation |
| Volume: | 13.0 % |
| Note: | Contains sulphites |
Grape variety
Weisser Burgunder
Lively sparkling, substantial white
The Pinot blanc has the same genetic fingerprint as Pinot gris and Pinot noir. They only differ in colour. The mutation from red to white was noted over a century ago in Burgundy. Suddenly, berries of differing colorations were hanging on the same stock. The bouquet of the Pinot blanc is fresh and floral with notes of citrus, apple, pear and apricot. In Alsace, it yields fragrant sparkling wines; it also enters into some champagnes. Vintners in Germany and Austria produce an abundance of Pinot blanc with a good deal of substance, blending and backbone. Representatives from Switzerland demonstrate a similar profile. There, the Pinot blanc grows mainly in Valais, Vaud and in Grisons.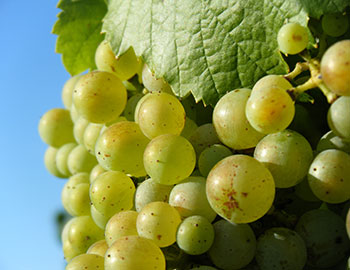 Region
Burgenland
Burgenland: Reds, sweets and other wonders
Burgenland is often referred to in Austria as the new wine world. In fact, wines – with exceptions like the nobly sweet Ruster Ausbruch – were almost entirely unknown here 20 years ago. Today, the most substantial red wines in Austria mature here. And the sweet wine scene is also stronger than ever before. Even the whites – for instance, in the Leitha Mountains – are on the upswing. The basis for this wine wonder are the various terroirs that overlay the land in a complex patchwork.
Country
Austria
Austria – Sumptuous culture, accessible to all
Austria is characterized by unbelievable topographical diversity. A flat steppe in the east, forests and hills in the Alpine regions, wetlands and Mediterranean landscapes in the south. This in addition to a rich tradition and even greater love. It's no surprise that the Romans found joy on this patch of Earth and cultivated wine growing. Austrian wine is not abundant, but it is high quality.
Epicurean profile