 Timotheus (weiss) 2017
QWt Burgenland, Gut Oggau, 750 ml
Exclusivity Baur au Lac Vins
Gift box available!
In stock
Article nr. 15081717
Items available in the stores
Gift box available!
Description
Mechthild's and Bertholdi's son. Joschuari's and Emmeran's brother. Always a long-distance runner and a complex, long-lived white wine from vineyards that are about 40 years old. Eduard Tscheppe-Eselböck: "As usual, Grüner Vetliner and Weissburgunder, comes across very likeable, relaxed and exuberant, a real flatterer. We have continued with 2018 and 2017 where we were already in 2016, the wines are no longer discriminated by colour, the vinification for white and red is the same, all wines are partially fermented on the skins, but largely pressed in the same way, so we combine structure, freshness, fruit and elegance and the barren limestone, gravel and slate soils so prominent in our region are expressed best." This wine is a great, variable food companion and shows what the adult generation at Gut Oggau can achieve.
Attributes
| | |
| --- | --- |
| Origin: | Austria / Burgenland / Neusiedlersee |
| Site / vineyard: | Rieden rund um Oggau |
| Grape variety: | Grüner Veltliner, Weisser Burgunder |
| Label: | Vegan, Certified organic or biodynamic wine |
| Ripening potential: | 1 to 7 years |
| Drinking temperature: | 10 to 12 °C |
| Food Pairing: | Moroccan specialities, Bouillabaisse, Fish terrine, Succulent chicken breast with cream sauc, Cheese board, Risotto ai frutti di mare |
| Vinification: | fermentation with grapes' own yeast, fermentation in wooden barrel |
| Maturation: | in large wooden barrel/foudre, on the yeast |
| Bottling: | no filtration |
| Maturation duration: | 9 months |
| Volume: | 12.0 % |
| Note: | Contains sulphites |
Producer
Gut Oggau
What's the secret of the wines of Austria's Gut Oggau?
Gut Oggau wines are among the best organic wines in Austria, and are produced by Eduard Tscheppe and his wife Stephanie Tscheppe Eselböck on the shores of Lake Neusiedl in Burgenland.
Before Eduard founded the winery, he produced conventional wine with his father in Styria, while Stephanie's family owned and operated the Michelin-star restaurant & hotel Taubenkobel. They restored the 17th century winery, which had been abandoned for many years. When the restoration was completed in 2007 they started with nine hectares. Today, almost 15 years later, they own 15 hectares and are Demeter certified. The previous owner of the winery was a 92-year-old woman with no children. She hadn't tended the vineyards for several years. That was an exciting challenge for the young couple. Fortunately, there had been a gap of several years between owners, so the soils had a chance to recover from the chemicals that had been used previously. It was important to Stephanie and Eduard not to change the vineyard, and instead they embraced its natural potential. From the very beginning their approach has been to work with nature and to handle the soil and the vines with great care with the focus on sustainability. They were amazed at just how much character the barrels revealed in the very first vintage; each wine seemed so alive, shining bright with its own personality – and thus the Gut Oggau family was born.
Grape variety
Grüner Veltliner
From Austria to the world
With the Grüner Veltliner, the Austrians have conquered the world. In New York bars today, people order "a glass of Gruner" as nonchalantly as if they have never drunk anything else. Despite its name, it has nothing to do with the northern Italian region of Valtellina (Veltlin in German). It is a natural cross between Traminer and a grape Methuselah with a unique DNA profile, found in Sankt Georgen in the Leitha Mountains. As far as is known, this is the only stock of its kind. Grüner Veltliner demonstrates exceptional versatility. It yields fresh, lively whites with the typical "pfefferl" – a spicy, piquant note – as well as dense, mineral top wines. Sparkling and sweet wines are also pressed from them. In total, it occupies almost two-thirds of Austrian vineyards. It achieves its best along the Danube, around the Kamp Valley, in Kremstal or in the Wachau.
Weisser Burgunder
Lively sparkling, substantial white
The Pinot blanc has the same genetic fingerprint as Pinot gris and Pinot noir. They only differ in colour. The mutation from red to white was noted over a century ago in Burgundy. Suddenly, berries of differing colorations were hanging on the same stock. The bouquet of the Pinot blanc is fresh and floral with notes of citrus, apple, pear and apricot. In Alsace, it yields fragrant sparkling wines; it also enters into some champagnes. Vintners in Germany and Austria produce an abundance of Pinot blanc with a good deal of substance, blending and backbone. Representatives from Switzerland demonstrate a similar profile. There, the Pinot blanc grows mainly in Valais, Vaud and in Grisons.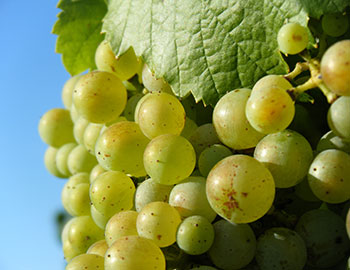 Region
Burgenland
Burgenland: Reds, sweets and other wonders
Burgenland is often referred to in Austria as the new wine world. In fact, wines – with exceptions like the nobly sweet Ruster Ausbruch – were almost entirely unknown here 20 years ago. Today, the most substantial red wines in Austria mature here. And the sweet wine scene is also stronger than ever before. Even the whites – for instance, in the Leitha Mountains – are on the upswing. The basis for this wine wonder are the various terroirs that overlay the land in a complex patchwork.
Country
Austria
Austria – Sumptuous culture, accessible to all
Austria is characterized by unbelievable topographical diversity. A flat steppe in the east, forests and hills in the Alpine regions, wetlands and Mediterranean landscapes in the south. This in addition to a rich tradition and even greater love. It's no surprise that the Romans found joy on this patch of Earth and cultivated wine growing. Austrian wine is not abundant, but it is high quality.
Rating