 Certified organic or biodynamic wine
Weissburgunder Ried Golden Erd
QwT, Burgenland, Weingut Erwin Tinhof, 2016
750 ml
Selection Baur au Lac Vins
30
In stock
Article nr. 15148716
Description
Intense nuances of honey, saffron, curry, vanilla, hay flowers, dried apricots and ripe mirabelles. On the palate, it has a refreshing acidity and a powerful opening, which is very velvety, but also fresh with spicy-minerality. Powerful yet elegant, with an appealing structure. Multifaceted aromas of dried apple peel and ripe yellow pears, pineapple, white flowers and wet stone. A fresh finish that demands the next sip. A white wine with considerable ageing potential.
Attributes
| | |
| --- | --- |
| Origin: | Österreich / Burgenland |
| Site / vineyard: | Eisenstädter Ried Golden Erd |
| Grape variety: | Weisser Burgunder |
| Ripening potential: | 1 to 16 years |
| Serving temperature: | 9 to 11 °C |
| Food pairing suggestion: | Fish ragout with saffron sauce, Rabbit ragout with olives, Crispy roast chicken, Spicy hard cheese |
| Vinification: | fermentation with grapes' own yeast, cooling period |
| Harvest: | hand-picking, strict selection |
| Maturation: | in large wooden barrel/foudre, long cultivation |
| Volume: | 14.0 % |
| Note: | Contains sulphites |
Countries
Austria
Austria – Sumptuous culture, accessible to all
Austria is characterized by unbelievable topographical diversity. A flat steppe in the east, forests and hills in the Alpine regions, wetlands and Mediterranean landscapes in the south. This in addition to a rich tradition and even greater love. It's no surprise that the Romans found joy on this patch of Earth and cultivated wine growing. Austrian wine is not abundant, but it is high quality.
Regions
Burgenland
Burgenland: Reds, sweets and other wonders
Burgenland is often referred to in Austria as the new wine world. In fact, wines – with exceptions like the nobly sweet Ruster Ausbruch – were almost entirely unknown here 20 years ago. Today, the most substantial red wines in Austria mature here. And the sweet wine scene is also stronger than ever before. Even the whites – for instance, in the Leitha Mountains – are on the upswing. The basis for this wine wonder are the various terroirs that overlay the land in a complex patchwork.
Producers
Weingut Erwin Tinhof
VINEYARD ESTATE ERWIN TINHOF - WINE FROM THE LEITHABERG
Tinhof is Neuburger - Neuburger is Austria - Small quantities - Great wines
For 11 generations now, the Tinhof family has been growing wine in Eisenstadt on the Leitha Range in Burgenland. This constellation is the source of their knowledge and experience as to which grape varieties flourish particularly well in this location, allowing the production of wines characteristic for the area. Neuburger, Pinot Blanc and Blaufränkisch, Sankt Laurent, some on vines established 55 years ago – are the focus of their expertise. Together with his team of idealists, Erwin Tinhof pursues the uncompromising goal of vinifying authentic wines bursting with character. A concentration on essentials, continuous refinement and consistent exchange of competence between dedicated specialists combine to create the distinctive Tinhof wines.
Tinhof's aim is to create harmonious, terroir wines with minerality, elegance and structure. They are never kitschy, loud or coarse. Origin and character in a wine are what makes it unique and important to the producer. The essential qualities need to achieve this aim comes exclusively from the vineyard. Through organic cultivation (certified organic since 2012) Tinhof grows balanced grapes, which provide them with an optimal basis for their wines. Mashing time and long yeast storage of their grapes, harvested exclusively by hand, give the wines depth and longevity.
The vineyard is located in Eisenstadt in Burgenland, 40 km southeast of Vienna, on the Leitha Range. Thanks to the Pannonian environment and that great climate regulator, the Lake Neusiedler, we have here on the Leitha Range the superb benefits needed to vinify white, red and sweet wines of the highest quality. Hot, dry summers and cold, dry winters together with the wind so typical for the Burgenland characterise the vegetation. As the final elevation of the Alps towards the Pannonian lowlands, the Leitha Range with its shell limestone soil millions of years old provides vines with optimal conditions for producing multi-layered wines. This unique soil, together with the cool breezes from the adjoining forests, gives the wines their unmistakable minerality, allowing them to reflect their authentic and unadulterated origin in the glass.
Grape varieties
Weisser Burgunder
Lively sparkling, substantial white
The Pinot blanc has the same genetic fingerprint as Pinot gris and Pinot noir. They only differ in colour. The mutation from red to white was noted over a century ago in Burgundy. Suddenly, berries of differing colorations were hanging on the same stock. The bouquet of the Pinot blanc is fresh and floral with notes of citrus, apple, pear and apricot. In Alsace, it yields fragrant sparkling wines; it also enters into some champagnes. Vintners in Germany and Austria produce an abundance of Pinot blanc with a good deal of substance, blending and backbone. Representatives from Switzerland demonstrate a similar profile. There, the Pinot blanc grows mainly in Valais, Vaud and in Grisons.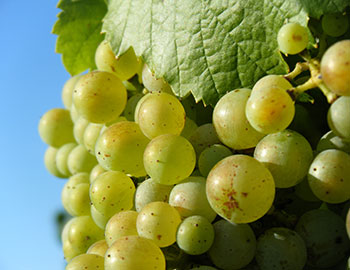 Epicurean profile