 Certified organic or biodynamic wine
Carnuntum Weiss
QWt Carnuntum, Weingut Trapl, 2018
750 ml
Selection Baur au Lac Vins
30
In stock
Article nr. 15150718
Description
This white wine cuvée impresses with its freshness and liveliness and presents itself with aromas of citrus fruits, a hint of forest honey and nuances of hazelnuts. The texture is juicy and stimulating. The finish of the cuvée is slightly peppery and spicy.
Attributes
| | |
| --- | --- |
| Origin: | Österreich / Niederösterreich / Carnuntum |
| Grape variety: | Weisser Burgunder, Grüner Veltliner, Welschriesling |
| Ripening potential: | 1 to 4 years |
| Serving temperature: | 10 to 12 °C |
| Food pairing suggestion: | Apéro riche, Fresh water fish with cream sauce, Asparagus specialities |
| Harvest: | hand-picking |
| Maturation: | partly in steel tank, partly in wooden barrel/foudre |
| Maturation duration: | 6 months |
| Volume: | 11.5 % |
| Note: | Contains sulphites |
Countries
Austria
Austria – Sumptuous culture, accessible to all
Austria is characterized by unbelievable topographical diversity. A flat steppe in the east, forests and hills in the Alpine regions, wetlands and Mediterranean landscapes in the south. This in addition to a rich tradition and even greater love. It's no surprise that the Romans found joy on this patch of Earth and cultivated wine growing. Austrian wine is not abundant, but it is high quality.
Regions
Niederösterreich
Lower Austria: crus near and far from the Danube
Austria's largest state is also its largest wine region. 46,000 hectares are planted with vines in Lower Austria. It is a heterogenic wine region, consisting of eight wine growing areas. While white varieties like Grüner Veltliner and Riesling dominate in the areas north and west of Vienna, red varieties set the tone in the south and in the southeast (Thermenregion and Carnuntum). The internationally famous white crus from Grüner Veltliner and Riesling develop in the picturesque Wachau and Kamptal.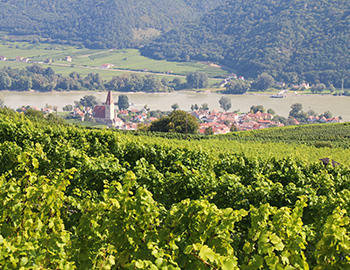 Subregions
Carnuntum
Carnuntum: Red finesse in Zweigelt country
With a cultivation area of just 910 hectares, stretching from Vienna's city limits to the Slovak border, Carnuntum is one of Austria's smallest wine regions. However, a wide diversity of red wines is cultivated here, from drinkable Zweigelt Rubin to multi-faceted Blaufränkisch from Spitzerberg to Merlot and Cabernet Sauvignon. Also highly interesting is the interplay between Bordeaux varieties and the native Zweigelt and Blaufränkisch cultivars.
Producers
Weingut Trapl
With such consistency, it is not surprising that Johannes Trapl has been farming his fine family business, on which 70% red grape varieties thrive, biodynamically since 2015 - followed by Demeter certification in 2019.
Grape varieties
Grüner Veltliner
From Austria to the world
With the Grüner Veltliner, the Austrians have conquered the world. In New York bars today, people order "a glass of Gruner" as nonchalantly as if they have never drunk anything else. Despite its name, it has nothing to do with the northern Italian region of Valtellina (Veltlin in German). It is a natural cross between Traminer and a grape Methuselah with a unique DNA profile, found in Sankt Georgen in the Leitha Mountains. As far as is known, this is the only stock of its kind. Grüner Veltliner demonstrates exceptional versatility. It yields fresh, lively whites with the typical "pfefferl" – a spicy, piquant note – as well as dense, mineral top wines. Sparkling and sweet wines are also pressed from them. In total, it occupies almost two-thirds of Austrian vineyards. It achieves its best along the Danube, around the Kamp Valley, in Kremstal or in the Wachau.
Weisser Burgunder
Lively sparkling, substantial white
The Pinot blanc has the same genetic fingerprint as Pinot gris and Pinot noir. They only differ in colour. The mutation from red to white was noted over a century ago in Burgundy. Suddenly, berries of differing colorations were hanging on the same stock. The bouquet of the Pinot blanc is fresh and floral with notes of citrus, apple, pear and apricot. In Alsace, it yields fragrant sparkling wines; it also enters into some champagnes. Vintners in Germany and Austria produce an abundance of Pinot blanc with a good deal of substance, blending and backbone. Representatives from Switzerland demonstrate a similar profile. There, the Pinot blanc grows mainly in Valais, Vaud and in Grisons.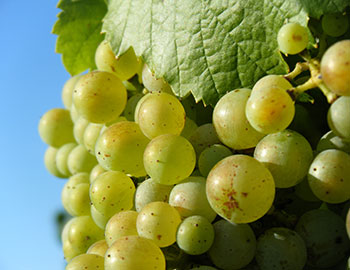 Welschriesling
Welschriesling is grown on about ten percent of Austria's cultivation area, but it is also widespread in Slovenia, Croatia, and Hungary. The origin of Welschriesling is entirely unknown. Despite its name, Welschriesling is not related to the Riesling. The word "welsch" means strange or foreign; Welschriesling likely originates in France or Italy, which were formerly referred to as Welschland.
Welschriesling ripens late, but it is nonetheless safe from winter frost. The vine needs deep soils with lots of nutrients, especially magnesium. If magnesium is lacking, the harvest will be significantly affected.