 Urgestein Riesling 2021
DAC Kamptal, Schlosskellerei Gobelsburg, 750 ml
Exclusivity Baur au Lac Vins
Gift box available!
In stock
Article nr. 15010721
Items available in the stores
Gift box available!
Description
he vines for the Urgestein Riesling are located on the Gaisberg and the Heiligenstein, but are still relatively young being less than 15 years old. With a certain self-confidence, however, the wine shows its existing qualities: a clear mineral facet, a robust body and a strong start. Ripe apricot, yellow apple and almond dominate its bouquet. Its strong herbal spicy taste with a ripe peach note makes it the perfect companion for lighter dishes.
Attributes
| | |
| --- | --- |
| Origin: | Austria / Niederösterreich / Kamptal |
| Grape variety: | Riesling |
| Label: | Vegan |
| Ripening potential: | 1 to 3 years |
| Drinking temperature: | 10 to 12 °C |
| Food Pairing: | Italian antipasti, Fish terrine, Goat's cheese, Vegetable flan, quiche, Salad with vegetables, pulses, pasta |
| Vinification: | pressed carefully and immediately, fermentation at low temperatures |
| Harvest: | hand-picking, strict selection, in small boxes |
| Maturation: | in steel tank |
| Bottling: | filtration |
| Volume: | 12.5 % |
| Note: | Contains sulphites |
Producer
Weingut Schloss Gobelsburg
The first written evidence of Schloss Gobelsburg dates from 1074, but it was in 1171 that the Cistercian monks from the Zwettl monastery obtained the first vineyards at Heiligenstein and at Gaisberg in the Kamptal. Visitors entering the baroque-style complex built on a slight mound sense this tradition, this spirit, this experience accumulated over the centuries. The view takes in all the surroundings, from the village of Gobelsburg to the vine-covered hills of Heiligenstein. Inside, near the parish church where couples say yes for life, when the weather is pleasant, the pretty and romantic garden invites all to rest for a while.
Grüner Veltliner and Riesling cover most of the countryside, while Zweigelt, Pinot Noir, St. Laurent and Merlot occupy about a quarter of the surface. Production guidelines are strict, and the winegrowing has adapted to the latest developments while still respecting the methods practiced by the monks. Wines are vinified and aged exceptionally gently. The Gobelsburg team tries to obtain authentic wines which respect and express their origin's personality and individuality. Michael Moosbrugger's ingeniously simple idea illustrates this quest for progress: casks on wheels use gravity to avoid damaging the wine through pumping. The casks are made from wood from nearby Manhartsberg and not from popular French or American oak.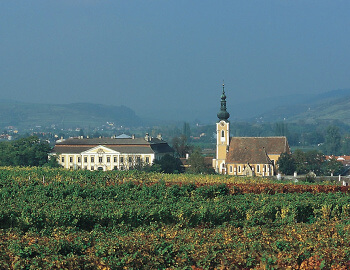 Grape variety
Riesling
The Riesling is the flagship of the German wine industry. It grows from north to south in all growing areas. It is also comfortable in the neighbouring Alsace region and in Austria. Its specialty is being vinified to a variety of degrees of sweetness, from bone-dry wines to ice wine. Moreover, thanks to its spirited acidity, it ages better than many reds. The typical Riesling smells of citrus, peach and apricot, shows hints of flint, and with maturity develops an idiosyncratic petrol note. It reflects its terroir like hardly any other white variety. Thus, it often gets fuller and more aromatic in Austria than in Germany. In Alsace, in turn, it has a particular mineral taste. Riesling is a wonderful culinary companion. It fits well not only with fish and shellfish, but also takes the heaviness from hearty meals. And with a fine sweetness and acidity balance, it works wonders for Asian cuisine.
Subregion
Kamptal
Kamptal: a dynamic atmosphere north of the Danube
With an ever-growing number of leading vintners, Kamptal has increasingly stood out in recent years from the shadow of the legendary Wachau region. The basis for this are the various terroirs in this broad-ranging valley. At Loisium, the region is also host to a spectacular, futuristic visitor center.
Region
Niederösterreich
Lower Austria: crus near and far from the Danube
Austria's largest state is also its largest wine region. 46,000 hectares are planted with vines in Lower Austria. It is a heterogenic wine region, consisting of eight wine growing areas. While white varieties like Grüner Veltliner and Riesling dominate in the areas north and west of Vienna, red varieties set the tone in the south and in the southeast (Thermenregion and Carnuntum). The internationally famous white crus from Grüner Veltliner and Riesling develop in the picturesque Wachau and Kamptal.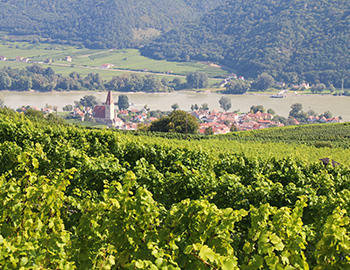 Country
Austria
Austria – Sumptuous culture, accessible to all
Austria is characterized by unbelievable topographical diversity. A flat steppe in the east, forests and hills in the Alpine regions, wetlands and Mediterranean landscapes in the south. This in addition to a rich tradition and even greater love. It's no surprise that the Romans found joy on this patch of Earth and cultivated wine growing. Austrian wine is not abundant, but it is high quality.
Epicurean profile
Rating