 Gelber Muskateller 2020
DAC Südsteiermark, Polz, 750 ml
Exclusivity Baur au Lac Vins
Gift box available!
In stock
Article nr. 15065720
Items available in the stores
Gift box available!
Description
In the nose a cheerful and very open aroma of nutmeg, elderflower, orange blossom and mint; on the palate extremely elegant, yellow fruity and very drinkable. Despite the lightness very complex. Fine acidity, lots of drinking pleasure. Beautiful, fruity finish - a straightforward and typical muscatel.
Attributes
| | |
| --- | --- |
| Origin: | Austria / Steiermark / Südsteiermark |
| Grape variety: | Gelber Muskateller |
| Label: | Vegan |
| Ripening potential: | 1 to 3 years |
| Drinking temperature: | 10 to 12 °C |
| Food Pairing: | Apéro pastries, Vegetable dip |
| Vinification: | fermentation in steel tank |
| Maturation: | in steel tank |
| Volume: | 11.5 % |
| Note: | Contains sulphites |
Grape variety
Gelber Muskateller
Over 200 varieties have "Muscat" in their names, and many are completely unrelated. What they share is a fragrance of fresh grapes. Muscat owes its name to the intense aroma. It derives from the word "musk", and appears in documents dating from 1230. The most common representative of the Muscat line is the white Muscat blanc à petits grains. In Italy, it is known as Moscato Bianco, and in Germany and Styria as Gelber Muskateller. In Switzerland it is called Muscat du Valais. Researchers largely agree that it originated in Greece, and from there found its way via Italy to southern France. When crafted with expert hands, it turns out fresh, floral and spicy with a slightly tart note. Pressing it into high quality wines is not very easy. Sweet forms have greater renown, such as Muscat de Rivesaltes and Muscat de Beaumes-de-Venise from southern France or Muscat from the Greek island of Samos.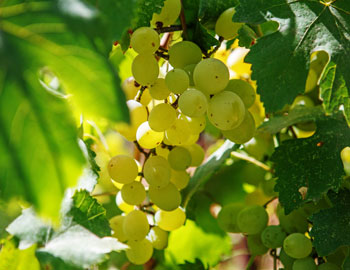 Subregion
Südsteiermark
Südsteiermark: Weisse Klasse in vielen Nuancen
Nirgendwo sonst zeigt der Sauvignon Blanc so einen Facettenreichtum wie in der Südsteiermark. Als «Steirische Klassik» lernen wir ihn geradlinig und erfrischend unkompliziert kennen, im «High End»-Bereich begegnet er uns als vielschichtige und auch lagerungsfähige Lagen-Selektion von alten Reben, die heute zumeist im grossen Eichenfass ausgebaut wird. Neben dem Sauvignon überzeugen hier besonders auch die Muskateller Weine. Sie vereinen intensive Aromatik mit animierender Bekömmlichkeit.
Region
Steiermark
Styria: the fresh, white wave
The southern cultivation area of Austria surprises with its refreshing white wines. Sauvignon Blanc, Riesling and Chardonnay (referred to here as Morillon) impress with their own profiles. Since the opening of the border with Slovenia – where the Iron Curtain once hung in its more moderate form – a dynamic, cross-border wine culture has developed. It almost seems as if the vibrancy of the hilly landscapes is reflected in the wines themselves.
Country
Austria
Austria – Sumptuous culture, accessible to all
Austria is characterized by unbelievable topographical diversity. A flat steppe in the east, forests and hills in the Alpine regions, wetlands and Mediterranean landscapes in the south. This in addition to a rich tradition and even greater love. It's no surprise that the Romans found joy on this patch of Earth and cultivated wine growing. Austrian wine is not abundant, but it is high quality.
Epicurean profile